Risotto is not really hard to make. It does require almost constant attention during the cooking process so you need to make a commitment. Sun Dried Tomato Risotto is a creamy, filling and flavorful dish. It would make a nice side dish but is hearty enough to be eaten as a meal.
The two most important things about risotto are the right type of rice and the stirring. You need to buy Arborio to make this recipe. This is an Italian short grain rice with rounded grains. As it cooks with the broth, it will slowly release its  starch and become creamy. The rounded grains will stay firm and chewy.
This risotto will take about 20 minutes of stirring. Warm broth is added ½ cup at a time to the rice and stirred until the broth has been absorbed. The process keeps repeating until all of the broth has been stirred in. You will need to watch this and stir almost constantly to avoid the rice sticking and keep the broth mixing in.
Risotto can also be made with rice shaped pasta. Check out Orzo Risotto if you would like to try that. If you are looking for a special meal check out Roasted Shrimp Risotto. Arancini is a ball made with risotto that is stuffed with cheese, then breaded and fried.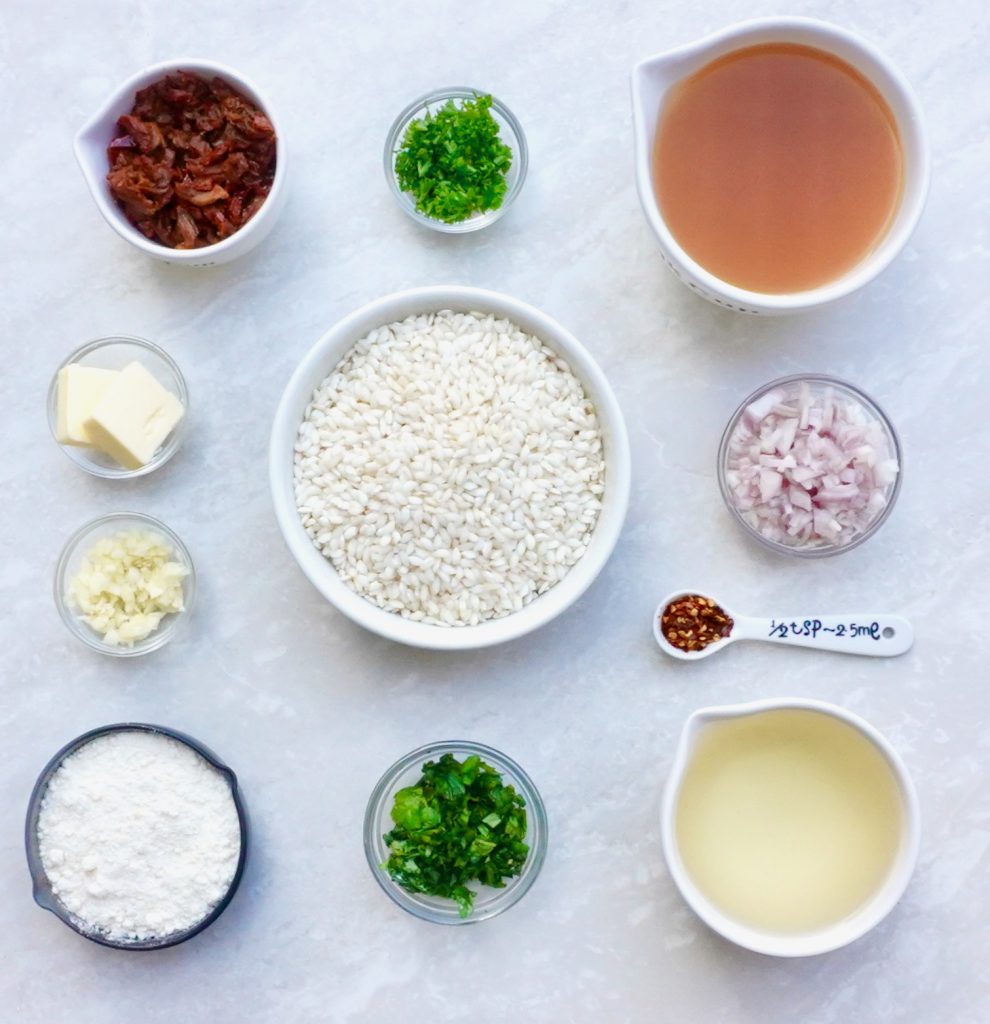 Sun Dried Tomato Risotto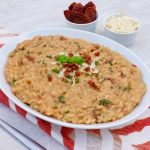 Print This
Ingredients
2 tablespoons butter

1 large shallot, diced

2 cloves garlic, minced

10 sun dried tomatoes in oil, drained and chopped

2 cups Arborio rice

½ teaspoon crushed red pepper

1 cup white wine

6 cups vegetable broth

½ cup parmesan cheese

2 tablespoons fresh basil leaves, chopped

1 tablespoon fresh parsley, chopped
Instructions
Heat the broth in a large saucepan over high heat until it reaches the boiling point. Turn the heat to the low setting to keep the broth warm. You will need to keep it warm until it has all been stirred into the rice.
Add the butter to a large saucepan over medium low heat. Add the shallots and garlic and cook, stirring occasionally for 2 minutes.
Add the sun dried tomatoes, rice and crushed red pepper to the pan and stir it so that all of the grains become coated with butter. Let it cook for 1 minute.
Add the wine to the pan and stir it in completely. Cook, stirring until it has been entirely absorbed by the rice.
Add a half cup of the warm broth to the pan and stir it in to the rice. You need to stir this almost constantly until it has been entirely absorbed.
Turn your heat down to the low setting. You want the rice to absorb the broth very slowly so that it releases its starch and becomes creamy.
Once the first addition of broth is absorbed, add another half cup of broth and stir until that has been absorbed as well. Keep repeating the process of adding the broth a half cup at a time until it is absorbed while stirring almost constantly.
It is going to take just about 20 minutes for the broth to be absorbed and the risotto to be finished.
As you are reaching the end of the process of adding broth, taste the rice to see if it is still too firm or ready to serve. If it is a tenderness you like, you may not need to add all of the broth.
Once the risotto has absorbed most or all of the broth and is ready to serve, stir in the parmesan cheese, basil and parsley.