Grey Sole Meunière is a simply prepared fish recipe. White fish fillets are dredged in seasoned flour and pan seared in butter. A simple lemon butter sauce and parsley top the cooked fillets. This classic dish comes together in minutes.
This recipe calls for clarified butter. This is butter that is cooked to remove the water and milk proteins. It can be stored for much longer and has a higher smoking point. It is richer and adds a nice flavor to the recipe. If you are up to a challenge and would like to know how to make clarified butter go ahead and try it. If you are not, simply substitute the clarified butter with butter and it will still taste delicious.
Sole is an ocean flatfish which yields a very thin fillet. Lemon sole, Dover Sole, or even flounder can be substituted. White fish is a great option for a simple meal that cooks fast. Check out Cod with Tomato Wine Sauce for another flavorful meal.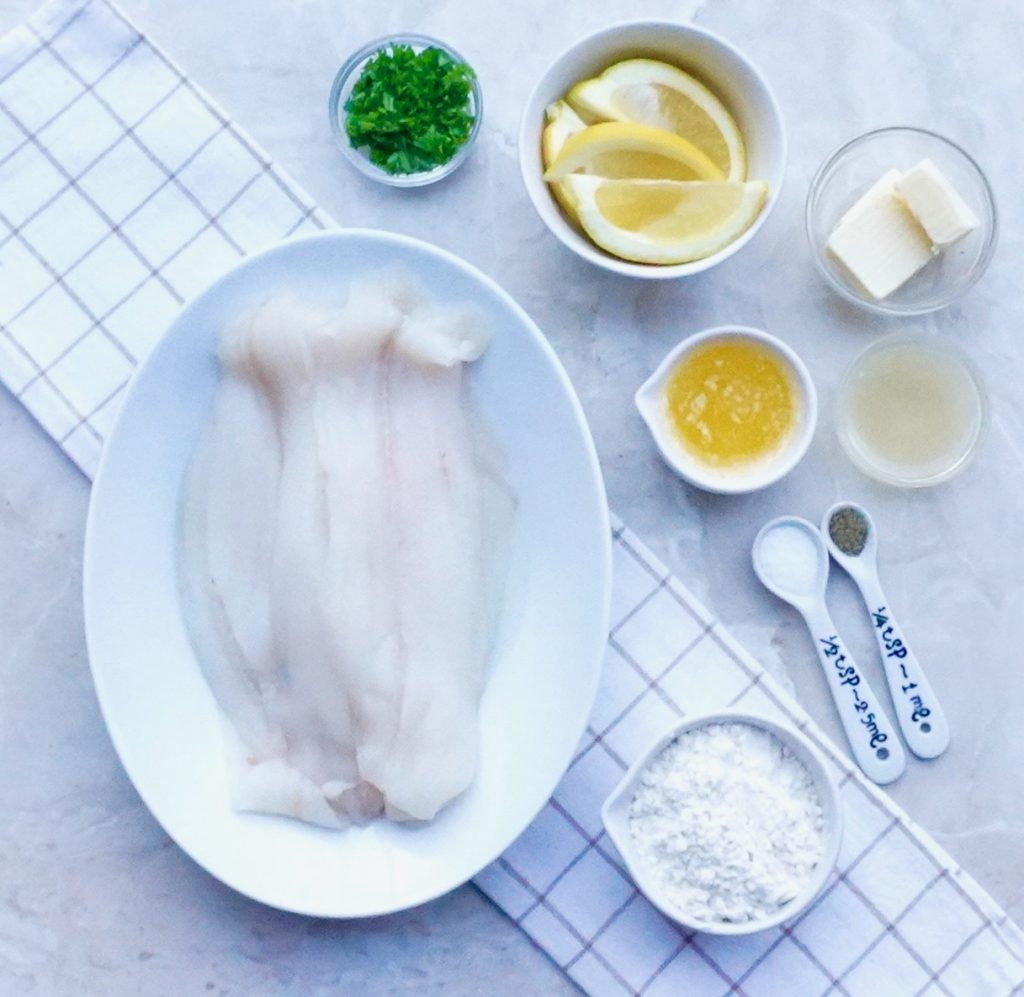 Grey Sole Meunière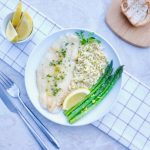 Print This
Ingredients
½ cup all purpose flour

½ teaspoon kosher salt

¼ teaspoon black pepper

1 pound grey sole, sole, or flounder (four fillets)

4 tablespoons clarified butter

2 tablespoons butter, room temperature

2 tablespoons lemon juice

2 tablespoons fresh parsley, chopped
Instructions
Preheat the oven to 200 degrees.
Line a baking sheet with parchment paper or foil.
Add the flour, salt and pepper to a pie plate and mix together well. 
Dredge each piece of the fish into the flour mixture, coating both sides of the fillets.
In a 12" skillet, heat 2 tablespoons of the clarified butter over medium low heat.
Add two of the fillets to the pan and cook for 2 minutes.
Using a large spatula, turn the fillets over to the other side. You need to be very careful and gentle as these fillets are thin and easily fall into pieces.
Cook for 2 minutes on the second side.
Remove the two fillets to the baking sheet and place into the oven to keep warm.
Heat the remaining 2 tablespoons of clarified butter. Add the remaining two fillets to the skillet. 
Cook for 2 minutes on the first side. Turn them over and cook for an addition 2 minutes.
Remove the fillets to a serving plate.
Add the two tablespoons of butter to the skillet. Add the lemon juice and stir. Cook until melted.
Take the other two fillets from the oven and place them onto the serving platter.
Sprinkle with the parsley.
Spoon the lemon butter sauce evenly over the fillets.
Serve at once.
Notes
I would recommend using a long metal spatula that will lift the entire length of the fillet.