Red Velvet Cupcakes are a great way to celebrate a special occasion. With their bright red color, they are great for Valentine's Day and Christmas. Have some fun with sprinkles to make them extra festive.
Colorful, moist and delicious these cupcakes have just a hint of cocoa, and they get a bit of tang from adding buttermilk. Buttermilk is slightly acidic and helps tenderize baked goods and gives them a nice texture. You can make buttermilk yourself if you do not want to buy an entire container for this recipe.
Red Velvet Cupcakes are frosted with a rich cream cheese icing. The combination is delicious.
If you are a fan of red velvet, check out Red Velvet Waffles.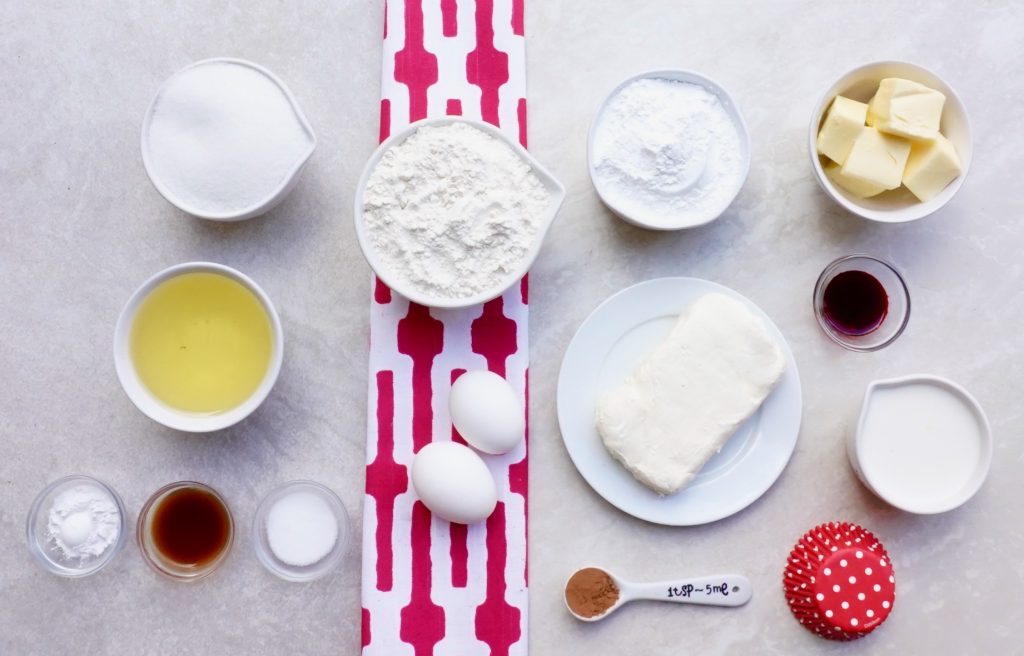 Red Velvet Cupcakes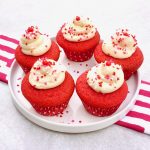 Print This
Ingredients
CUPCAKES:

1 ¼ cups all purpose flour

¾ teaspoon baking powder

¾ teaspoon salt

1 teaspoon cocoa powder

¾ cup granulated sugar

2 large eggs

½ cup buttermilk * see note

1 tablespoon red liquid food coloring

1 teaspoon vanilla extract

Paper muffin liners

ICING:

8 ounces cream cheese, at room temperature

1 stick butter, at room temperature

1 ¼ cup powdered sugar

1 teaspoon vanilla extract
Instructions
CUPCAKES:
Preheat the oven to 350 degrees.
Line a 12 cup muffin tin with paper liners
In a large bowl combine the flour, baking powder, salt, cocoa powder, and granulated sugar. 
In a medium bowl, beat the eggs with a whisk. Add the buttermilk, red food coloring, and vanilla extract. Combine well.
Pour the egg mixture into the dry ingredients and stir with a rubber spatula to combine well. 
Spoon the batter evenly into the muffin pan. Each cupcake will take about 1/3 cup of batter.
ICING:
Place the cream cheese and butter into a large bowl. 
Beat them with an electric mixer until they are well combined and fluffy.
Add the powdered sugar and vanilla extract. 
Beat until everything has been totally combined.
Top the cupcakes with the cream cheese icing. This can be done by piping it with a cake decorating bag and tip or simply by using a knife to spread it evenly over the tops of the cupcakes.
Red Velvet Cupcakes can be frozen for up to 2 months. Place them on a baking sheet and put them into the freezer. Once they are frozen, place them in an airtight freezer container or bag.
Notes
To make buttermilk add 1½ teaspoons white vinegar to the ½ milk. Stir to combine and let it sit for 5 minutes.