Baileys Irish Cream Frosting is a flavorful, topping for your cake and cupcake recipes. It is a very easy recipe with only 4 ingredients that will take you 2-3 minutes to mix together into a light and fluffy frosting. If you are having a St. Patrick's Day celebration, this would be a good addition.
Baileys Irish Cream is an Irish cream liquor. It is a blend of Irish Whiskey, heavy cream and cocoa. It is a sweet drink which is delicious on it's own and it makes the best addition to this whipped frosting.
We are using the Baileys Irish Cream frosting on Guinness chocolate cupcakes and they are so good together! If you would like to try this rich chocolate cake that gets it's unique flavor from Guinness Stout ale check out Chocolate Guinness Cake.   It is a dark, moist cake that is made with cocoa powder and sour cream. There are baking instructions given for both a layer cake and cupcakes.
This frosting would also be good on Mini Chip Layer Cake.
SOME THINGS TO KNOW:
WHAT IS POWDERED SUGAR?
Powdered Sugar is granulated sugar that has been pulverized into a light powder. It may also have a bit of cornstarch added. This recipe calls for powdered sugar. Depending on where you live or what brand you buy, it can also be labeled as confectioners' sugar, icing sugar and 10X. They are all the same. You can use any one of them. You can also make it yourself. Check out How to Make Powdered Sugar if you want to try this.
SUBSTITUTIONS:
There are many brands of Irish Cream that are similar to Bailey's Irish Cream Liqueur and can be substituted. You could try Emmets Classic Cream, Carolans Irish Cream , Molly's Irish Cream, Ryan's Irish Cream, and Saint Brendan's Irish Cream Liqueur. If you are a Costco member, there is a Kirkland Brand with is priced much lower than Bailey's.
Butter can be substituted with margarine, vegan butter, or cream cheese. There may be a slight change to the consistency of the frosting and the cream cheese will have more of an effect on the taste.
If you do not have vanilla extract, you can substitute an equal amount of vanilla bean powder, vanilla bean paste or vanilla syrup. If you leave it out all together it will change the taste of the frosting slightly but it will still be very flavorful with the Bailey's.
STORAGE:
You can keep Baileys Irish Cream frosting in an airtight container in the refrigerator for 3-5 days.
You can freeze the frosting in an airtight freezer container for 2-3 months. Let it sit on the counter in the container to defrost.
You do not need to keep cupcakes frosted with this in the refrigerator. The manufacturers of Baileys state that the alcohol is an effective preservative and refrigeration is not required.
YIELD:
This recipe will make 3 cups of creamy frosting. This will be enough to frost a two layer cake or 24 cupcakes. However, if you use a pastry bag and tip to pipe the frosting higher on the cupcake, you will only be able to do 12 cupcakes.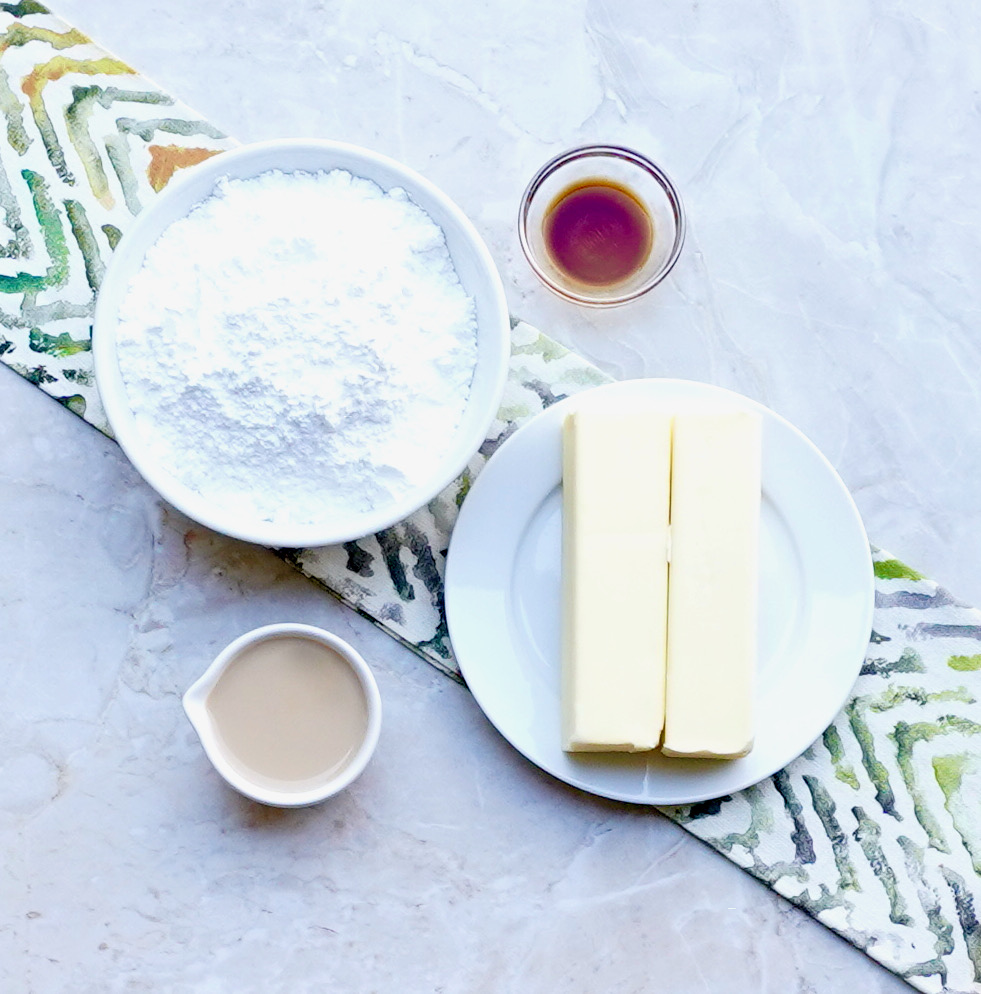 Baileys Irish Cream Frosting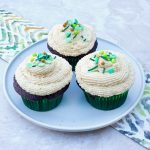 Print This
Ingredients
1 cup unsalted butter, at room temperature (2 sticks of butter)

3 cups powdered sugar

⅓ cup Baileys Irish Cream

1 teaspoon vanilla extract
Instructions
Place the butter into either a large bowl or a stand mixer with a paddle attachment or whisk attachment. Make sure that you are starting with soft butter.
Using an electric mixer, beat the butter on medium speed until it is light and fluffy.
Add the powdered sugar to the bowl and start off by slowly mixing it in at a low speed. It is very light and will go flying if it is initially mixed too fast. Use a rubber spatula to scrape down the sides of the bowl.
Once the butter and powdered sugar are thoroughly combined, add the Baileys Irish Cream and the vanilla extract.
Combine them at a medium-high speed until they are mixed in and the frosting is a smooth consistency.
This will take about 2-3 minutes to make.
WHAT HAPPENS IF?
If the frosting seems too thick, add more Baileys a teaspoon at a time and beat well after each addition until it is the consistency that you want.
If the frosting seems too loose, add more powdered sugar, one tablespoon at a time and beat well after each addition until it is the consistency that you want.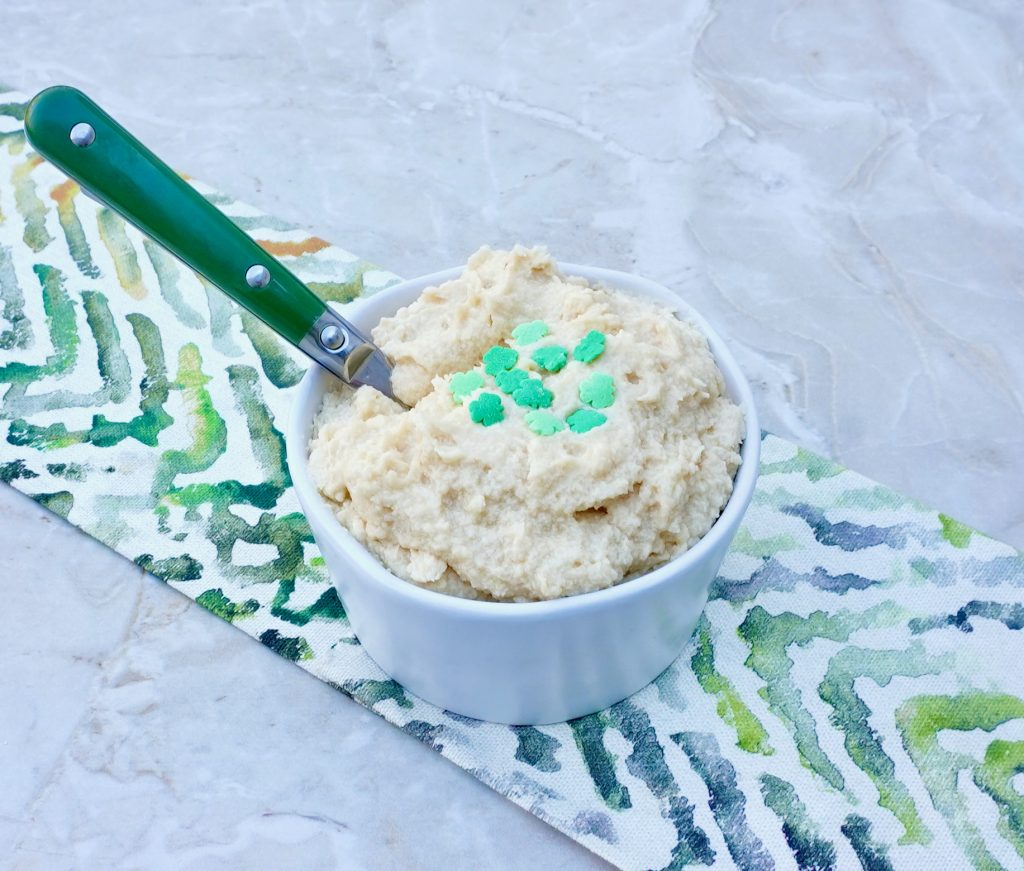 This buttercream frosting would also be good on vanilla cupcakes and coffee cupcakes. It is shown on Guinness cupcakes.