A Chicken Burrito Bowl is a creative endeavor. You can follow this recipe exactly or you can substitute some of the ingredients in the bowl for what you have on hand. The key here is the flavorful chicken and tomato sauce.
Boneless chicken breast is cooked in a mixture of tomatoes, garlic, onion, chili powder, cumin and oregano. This makes the chicken flavorful and creates a sauce that is used in the bowl. Rice, corn, black beans and avocado turn it into a complete meal.
If you would prefer a pulled chicken in the bowl, check out Mexican Pulled Chicken. If you would like to add something creamy to the bowl, check out Avocado Crema. You could also make Black Bean Corn Salsa and use it in place of the beans and corn in the recipe.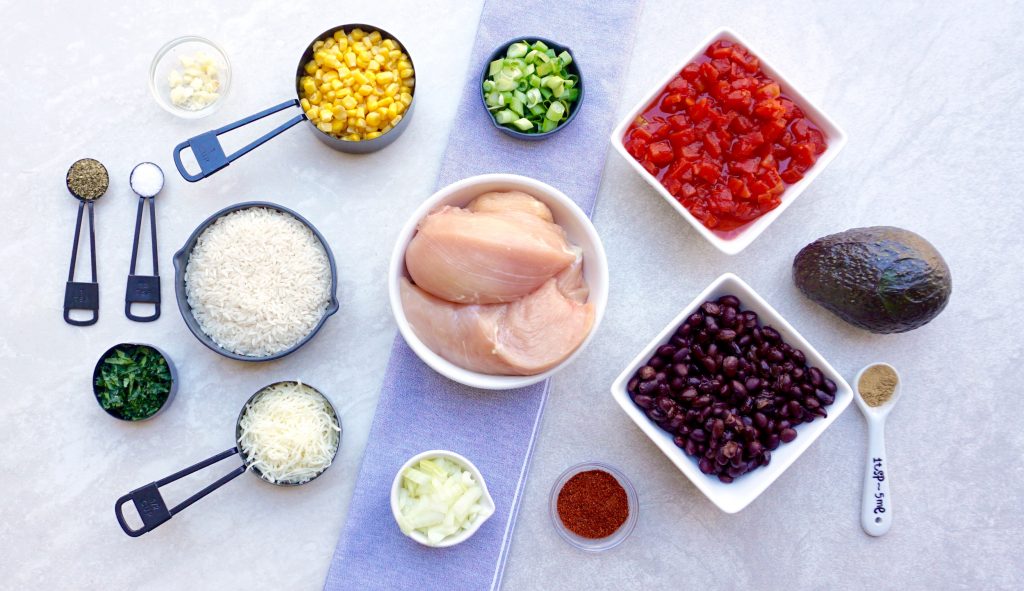 Chicken Burrito Bowl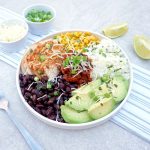 Print This
Ingredients
1 pound boneless chicken breast

14.5 ounce can diced tomatoes

¼ cup yellow onion, chopped

1 clove garlic, minced

2 teaspoons chili powder

1 teaspoon dried oregano

1 teaspoon cumin

½ teaspoon kosher salt

1 cup long grain rice cooked

1 cup black beans, drained and rinsed

1 cup corn kernels,cooked

1 avocado, sliced

¼ cup fresh cilantro, chopped

¼ green onions, chopped

½ shredded Monterey Jack cheese
Instructions
Add the boneless chicken breasts whole to a large saucepan with a lid. Add the tomatoes, onion, garlic,chili powder, oregano, cumin, and salt.  Bring  it to a boil over high heat. When it reaches boiling, reduce the heat to low and cover the pan. Let it simmer, stirring the sauce occasionally for 20 minutes until the chicken is thoroughly cooked.
Remove the chicken from the pan and let the tomato sauce simmer on low, uncovered for an additional 5 minutes to thicken. Let it cool.
When the chicken cools, cut it into slices.
While the chicken is cooking add the rice to a small saucepan that has a lid. Add 2 cups of water and a pinch of salt. Turn the heat to high and bring the mixture to a boil. Reduce the heat to low and cover the pan. Simmer covered for 20 minutes or until all of the water is absorbed. Do not lift the cover to check too frequently! You will let all the steam out.
To assemble the burrito bowls, divided the tomato mixture between four bowls and place it in the center.
Divide the chicken and place in the bowl. Continue by evenly adding to each bowl, the rice, beans and avocado.
Sprinkle the  bowls with the cilantro, green onions and cheese.