Summer Squash Zoodles are a great side dish that are actually yellow squash noodles.Yellow summer squash and green zucchini are abundant in the summer months and either one of them can be used to create this recipe. You could make zucchini noodles or use half of each of the squashes if you want to have a bit more color in the dish.
This recipe is healthy eating and a good substitute for pasta. Yellow squash zoodles can be used as part of a low calorie diet.
This easy, light recipe is ready in minutes. The zoodles are quickly cooked with garlic and fresh herbs then seasoned with simple salt, pepper and lemon zest. It is a simple, fresh and flavorful side dish that just might become one of your favorite things!
Summer Squash Zoodles would go well with just about any type of protein you are serving and you can use any type of fresh herbs that you like and have on hand.
If you are looking for another way to cook summer squash check out Squash Fritters and Summer Squash Basil Pasta. You might also like Crispy Fried Yellow Squash.They are all easy recipes to make!
If you are looking for some other warm-season vegetable recipes check out Roasted Eggplant Ziti, Cucumber Hummus, and Roasted Eggplant Dip. They are all healthy recipes to make this time of year.
For additional ways to cook with seasonal squash, check out 15 Simple Summer Squash Recipes.
SOME THINGS TO KNOW:FAQ'S
INGREDIENT TIPS:
SPECIAL EQUIPMENT NEEDED:
Julienne Peeler or  Vegetable Spiralizer
Vegetable Peeler
Large Skillet
SUBSTITUTIONS:
If you do not have a fresh lemon for the zest, a teaspoon of bottled lemon juice can be used.
If you cannot find the fresh herbs at your grocery store, a teaspoon of each of them dried will work.
1½ tablespoons of butter can be substituted for the olive oil. You could also use canola oil or vegetable oil.
If you want some heat in the zoodles, replace the black pepper with red pepper flakes.
HOW TO STORE LEFTOVER SUMMER SQUASH ZOODLES:
You can keep the leftover zoodles in an airtight container in the refrigerator for up to 5 days.
You can freeze the cooked zoodles in an airtight freezer bag for 2-3 months. The texture of the zoodles may change slightly when frozen.
HOW TO REHEAT SUMMER SQUASH ZOODLES:
You can reheat the zoodles covered in a microwave dish in the microwave oven. Cook at 1-2 minutes intervals until heated through.
You can reheat the zoodles in a skillet on the stovetop over medium low heat. You might need to add a little bit of olive to the pan.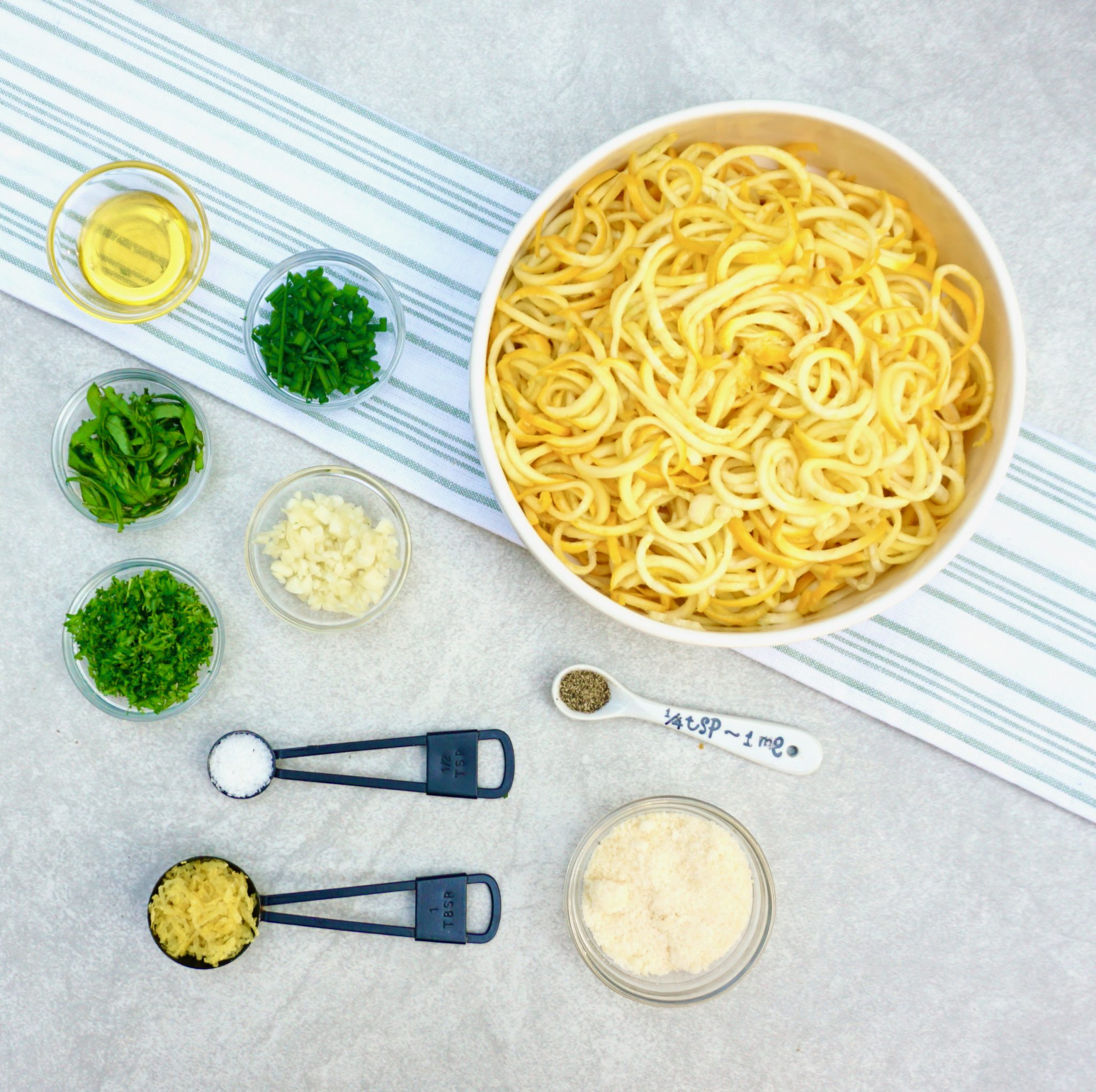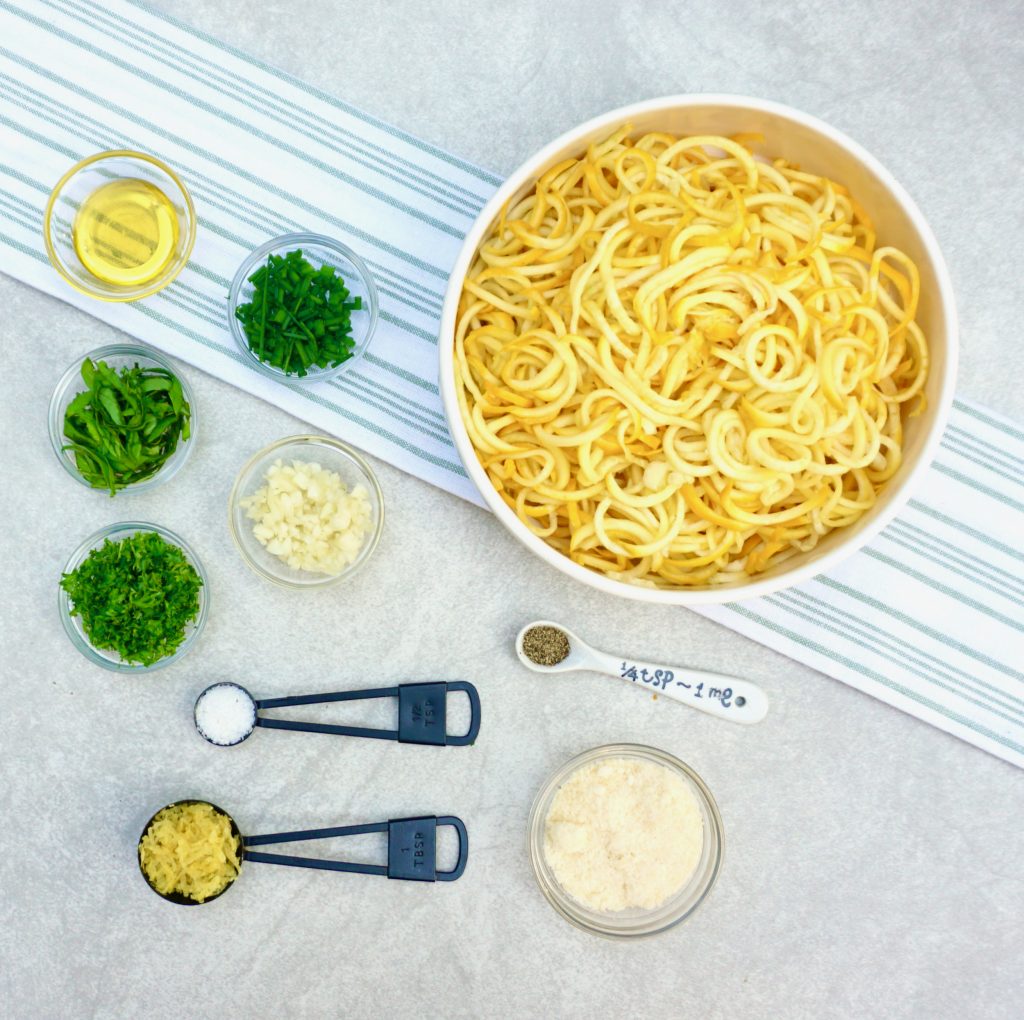 Summer Squash Zoodles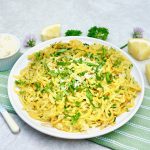 Print This
Ingredients
6 cups summer squash zoodles

1½ tablespoons olive oil

2 garlic cloves, minced

3 tablespoons fresh basil, fresh mint and fresh parsley

1 tablespoon lemon zest

½ teaspoon salt

½ teaspoon black pepper

2 tablespoons grated parmesan cheese
Instructions
Use a julienne peeler or spiralizer to cut the yellow squash into thin noodles. The squash has a high water content so squeeze the zoodles in a paper towel to absorb any extra moisture. You could also place them into a salad spinner to remove the moisture.
Heat the olive oil in a large skillet over medium low heat. Add the garlic and the spiralized summer squash to the hot skillet and cook for 3 to 4 minutes until they are slightly softened.
Add the fresh herbs, lemon zest, salt and pepper and cook for an additional minute.
Place into a large bowl to serve and sprinkle with parmesan cheese. You could also add some marinara sauce or alfredo sauce.