Take a bite of summer with this savory Crispy Fried Yellow Squash recipe. A classic Southern dish, this recipe features fresh yellow summer squash in a crunchy coating made from cornmeal and flour, then deep-fried to a golden perfection.
This easy side dish is one that you will want to make often while there is an abundance of summer squash at the farmer's markets. With a few simple ingredients, you can create the seasoned cornmeal mixture to coat the beautiful yellow squash. It fries up very quickly so you can get this side dish on the dinner table fast.
It would make a perfect side dish for Lemon Chicken Chimichurri Kabobs. You could dip the squash rounds into the chimichurri sauce.
If you would like to try another yellow squash recipe, check out Summer Squash Zoodles. You might also like Squash Fritters and  Roasted Summer Vegetable Penne.
Check out 15 Simple Summer Squash Recipes for more ways to cook with this seasonal squash.
SOME THINGS TO KNOW: FAQ'S
STEPS TO MAKING CRISPY FRIED YELLOW SQUASH
Prepare the ingredients
Dredge (lightly coat) the squash rounds
Fry the Squash
Drain and Serve
SPECIAL EQUIPMENT NEEDED:
2 pie plate, shallow dish or shallow bowl
Large skillet or large cast iron skillet
Meat thermometer (Can be used to check the oil temperature)
Slotted spoon
Paper Towels
DIPPING SAUCE SUGGESTIONS:
SUBSTITUTIONS:
Zucchini can be used instead of yellow squash if you cannot find it at your grocery store. You can also use yellow crookneck squash which is a yellow squash with a bulbous body and a long curved neck. If you are not familiar with them, check out What are Crookneck Squash.
If you do not have canola oil, you can use vegetable oil, Grapeseed oil, or olive oil.
The all purpose flour can be swapped for whole what flour at a 1.1 ratio.
ADDITIONS:
You can add more seasonings to the cornmeal mixture if you want. Add a teaspoon of your favorite things like onion powder, garlic powder or fresh herbs.
HOW TO STORE AND REHEAT CRISPY FRIED YELLOW SQUASH:
You can store leftover squash rounds in the refrigerator in an airtight container for 3-5 days.
You can also freeze Crispy Fried Yellow Squash for 2- 3 months. To freeze the rounds, place them onto a baking sheet that is lined with parchment paper in a single layer. Place the baking sheet into the freezer. Once the rounds are frozen, place them into a freezer bag or airtight freezer container and return them to the freezer.
Defrost the squash rounds by placing them onto a wire rack.
To reheat the squash rounds into a preheated 350 degree oven on a lined baking sheet, uncovered. It will take about 5 minutes to heat them through.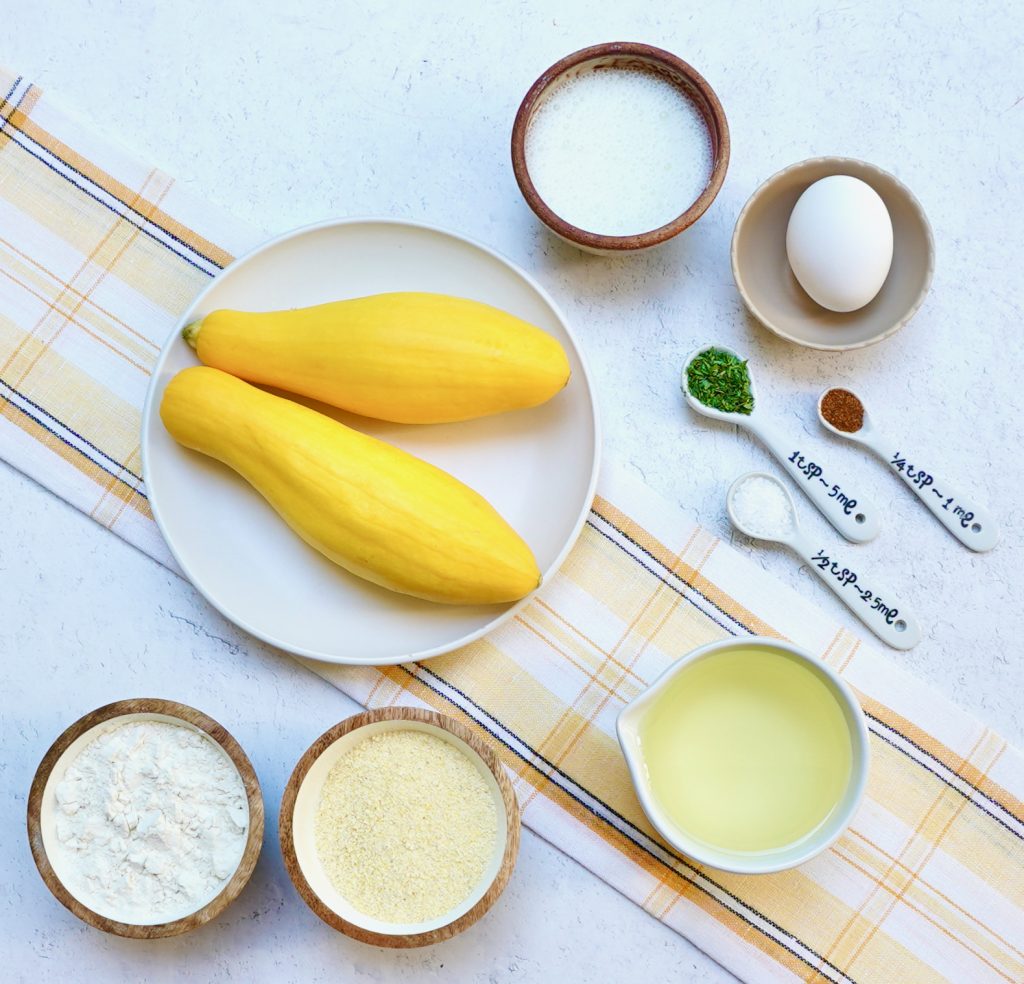 Set up a breading station using two pie plates. In the first pie plate combine the egg and milk. Use the second pie plate to combine the cornmeal,  flour, cayenne pepper, salt and dried parsley.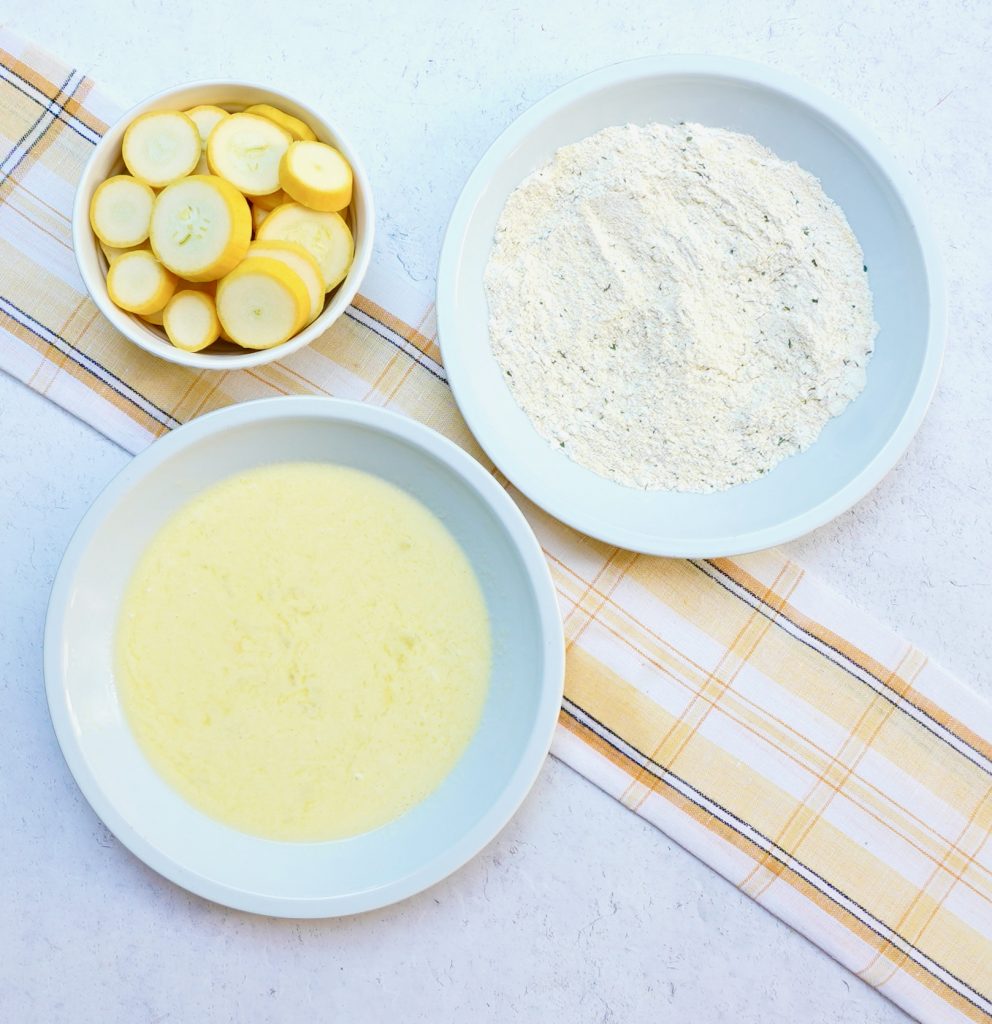 Crispy Fried Yellow Squash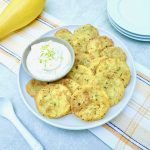 Print This
Ingredients
2 fresh yellow squash (1 pound total, sliced ¼ inch thick)
1 large egg
½ cup whole milk
½ cup cornmeal
½ cup all-purpose flour
½ teaspoon kosher salt
¼ teaspoon cayenne pepper
1 teaspoon dried parsley
Canola oil for frying
Instructions
Preheat the oven to 200 degrees if you will be frying the squash in small batches due to your pan size.
Slice the yellow squash into ¼ inch thick slices.
In a shallow bowl or pie plate, beat the egg and milk together.
In another bowl, mix together the cornmeal, flour, salt, cayenne pepper, and dried parsley. Combine this flour mixture well.
Dip each squash slice into the egg mixture, ensuring it is thoroughly coated.
Dredge the squash round it in the cornmeal mixture. Make sure each slice is fully coated with the dry mix.
Line the squash rounds in a single layer on a piece of parchment paper or wax paper as you work. Finish coating all the rounds.
Heat about ¼ inch of oil in a large frying pan over medium heat. You want the oil temperature to be 350 degrees.
Add the coated squash slices to the hot oil. Be careful not to overcrowd the pan.
Fry them until they are golden brown on both sides, about 1.5-2  minutes per side.
Use a slotted spoon to remove the fried squash from the pan and drain on paper towels to remove the excess oil.
If you still have additional rounds to fry. Place the cooked rounds onto a parchment paper lined, rimmed baking sheet and place it into the pre-heated oven.
Place the rounds onto a serving plate or a cooling rack if you are making them ahead of time.
Serve hot and enjoy the crisp, flavorful taste of summer!