What's better than caramelized onions? They are so flavorful and delicious and they make the best Vegetarian French Onion Soup.
This soup is made with vegetable broth and bit of molasses and brandy to give it a depth of flavor. It is so simple to make but requires some time to get it right. This could be a great Meatless Monday meal. It has all the comforting vibes and the bread and cheese make it filling enough to be a complete meal.
If you are a fan of French Onion Soup you also might like French Onion Ziti and French Onion Chicken Thighs.
Check out Leek Dip if you are a fam of caramelized onions.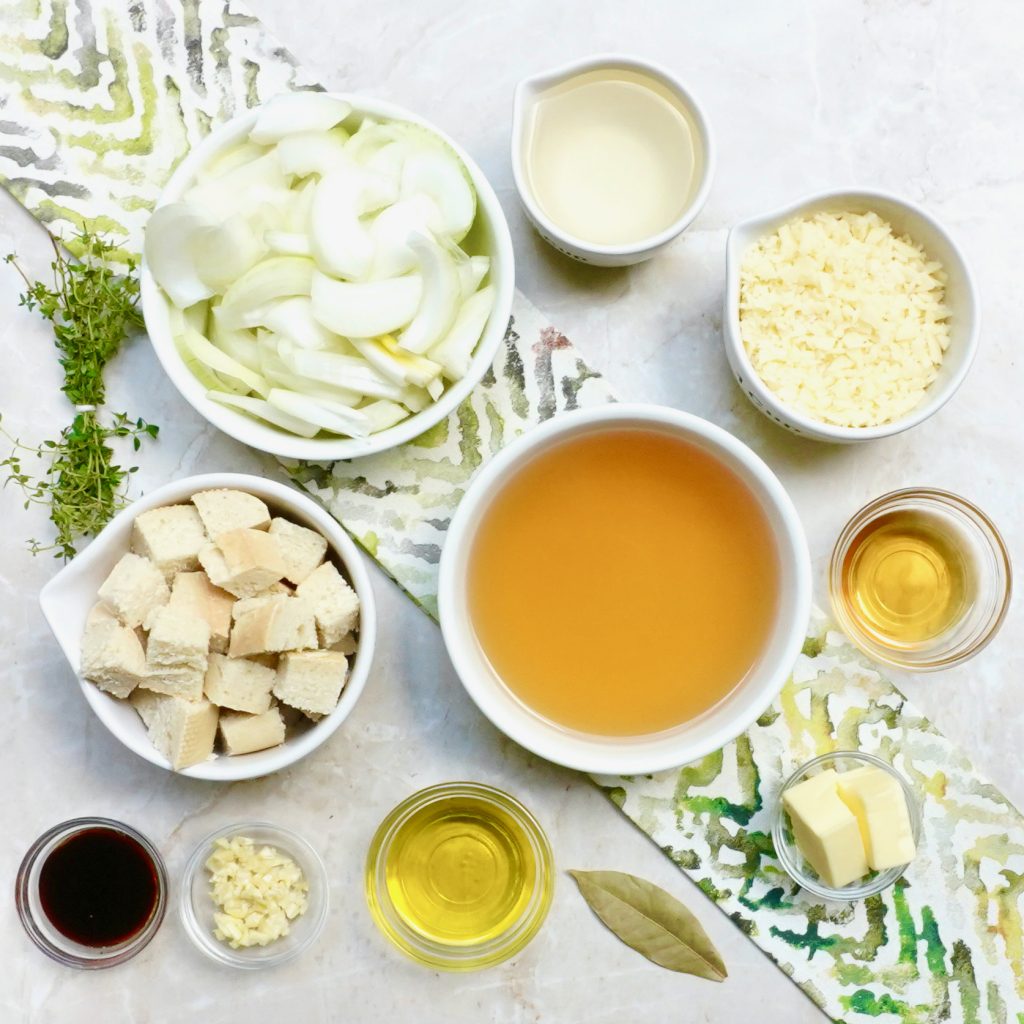 Vegetarian French Onion Soup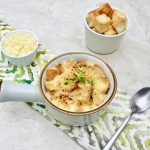 Print This
Ingredients
2 tablespoons butter

5 cups yellow onions, sliced (1.5 pounds)

2 cloves garlic, minced

½ cup white wine

6 cups vegetable broth

2 teaspoons molasses

2 tablespoons brandy

1 dried bay leaf

1 teaspoon fresh thyme leaves or ½ teaspoon dried

2 cups bread cubes cut into 1 inch squares

2 tablespoons olive oil

1 cup shredded Swiss cheese
Instructions
Preheat the oven to 350 degrees.
In a large pot, melt the butter over medium low heat.
Add the onions and garlic. Cook, stirring them often until the onions have caramelized and are a golden brown color. This will take about 20 minutes. Stirring is important as you want them to brown evenly.
Add the white wine, vegetable broth, molasses, brandy,  bay leaf and thyme.
Raise the heat to the high setting to bring the mixture to a boil. Lower the setting to medium low and let it simmer, uncovered for 20 minutes. Taste and add salt and pepper to taste.
While the soup is simmering, add the bread to a baking sheet lined with foil for easy clean up. Drizzle the olive oil evenly over the cubes. Use a rubber spatula to mix them together. You want the cubes to be evenly coated with the olive oil.
Place bread cubes into the preheated oven and bake for 15 minutes. Halfway through, stir the bread cubes to turn them over so they brown evenly.
Spoon the soup into four soup bowls. Evenly distribute the bread cubes over the soup.
Evenly sprinkle each bowl with the grated Swiss Cheese.
Make sure you have your oven rack in the top slot. Turn on your oven broiler on and place the soup bowls onto a baking sheet.
Place the baking sheet into the oven and broil for 2-3 minutes, watching it closely until the cheese is melted and lightly browned.
Serve at once.
Both the soup and croutons can be frozen in airtight freezer containers for 2-3 months if this quantity is more than you need.
If you are planning on freezing some of it, adjust the amount of Swiss cheese you grate for the amount of servings you are making. You need ¼ per serving and the cheese should always be freshly grated and never frozen.