French Onion Ziti is a simple to make, one pot pasta recipe that has all the great flavors of French Onion Soup. It makes a great vegetarian meal or it can be served as a side dish. This easy pasta dish has a cooking time of 30 minutes so it could be a weeknight dinner that the whole family would enjoy.
Caramelized onions form the base of the recipe. Make sure you put in the time to let them really cook down and get nice and brown. Once the onions are ready, vegetable broth and ziti pasta are added and cooked to the tenderness you prefer. Baby Swiss cheese and fresh thyme are stirred in at the end to add some freshness and comfort.
If you are a fan of French onion  soup flavor, you should also check out the recipe for French Onion Chicken Thighs and Swedish Meatballs. You might also like Vegetarian French Onion Soup.
If you like the idea of simple one pot pasta recipes, check out Chili Mac Cheese, Tomato Broccoli One Pot Pasta, and One Pot Asparagus Gnocchi. The best thing about one pot recipes is the easy clean up!
SOME THINGS TO KNOW:
SUBSTITUTIONS:
You can replace the vegetable broth with beef broth or beef stock and get good results. Chicken broth would also work well.
If you do not have ziti pasta, you could use penne or rigatoni pasta.
If you do not have yellow onions you could use white onion or sweet onions.
If you do not have fresh thyme, use 1 teaspoon of dried thyme.
STORAGE:
You can keep any leftover French Onion Ziti in an airtight container in the refrigerator for 3-5 days.
You can also freeze this pasta for 2-3 months in an airtight freezer container.
Defrost the pasta overnight in the refrigerator.
You can reheat the pasta on the top of the stove in a pot. Add a bit of vegetable broth or water to the bottom of the pot and then add the leftover ziti. Let it reheat for several minutes over low heat, stirring occasionally.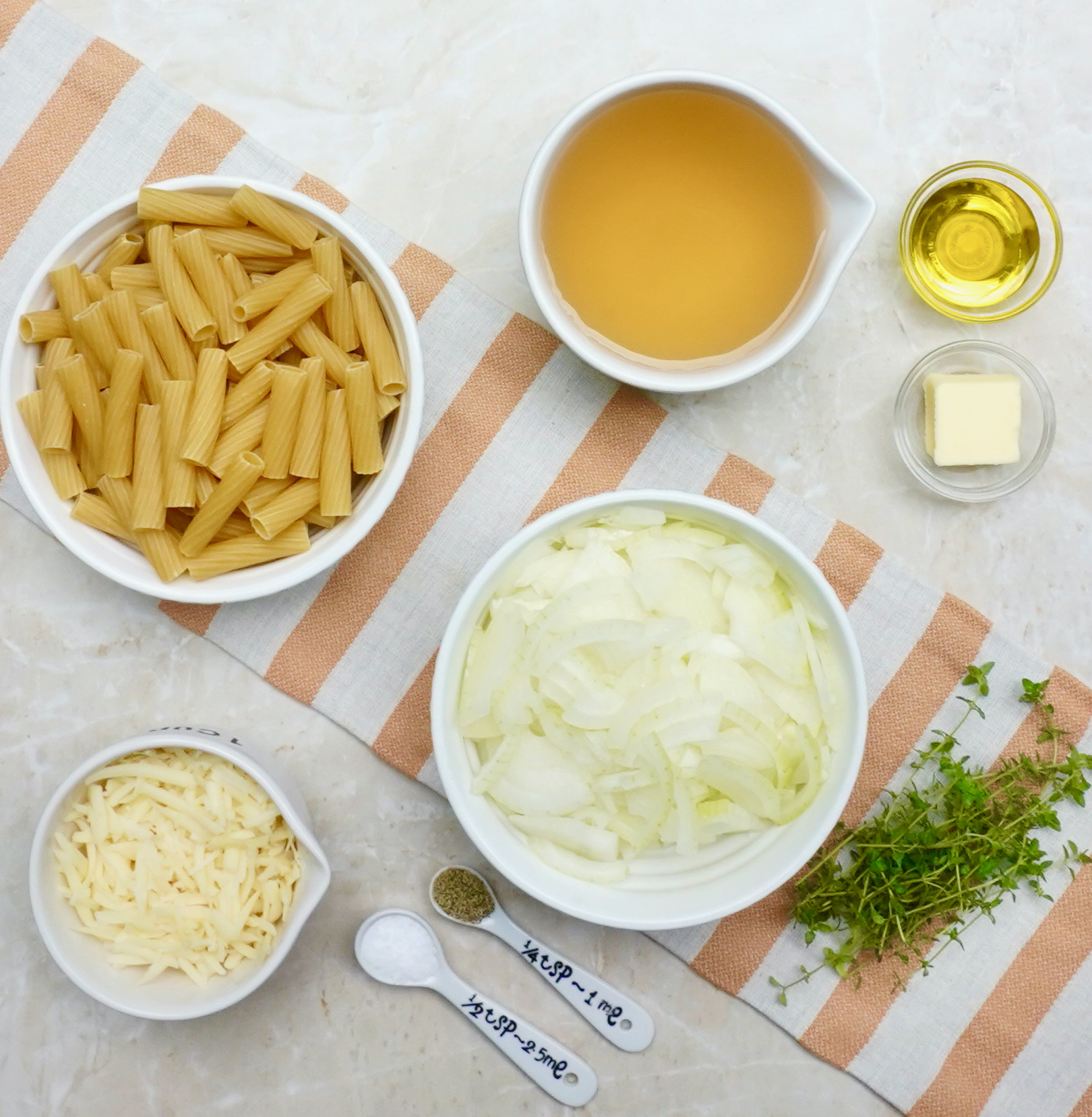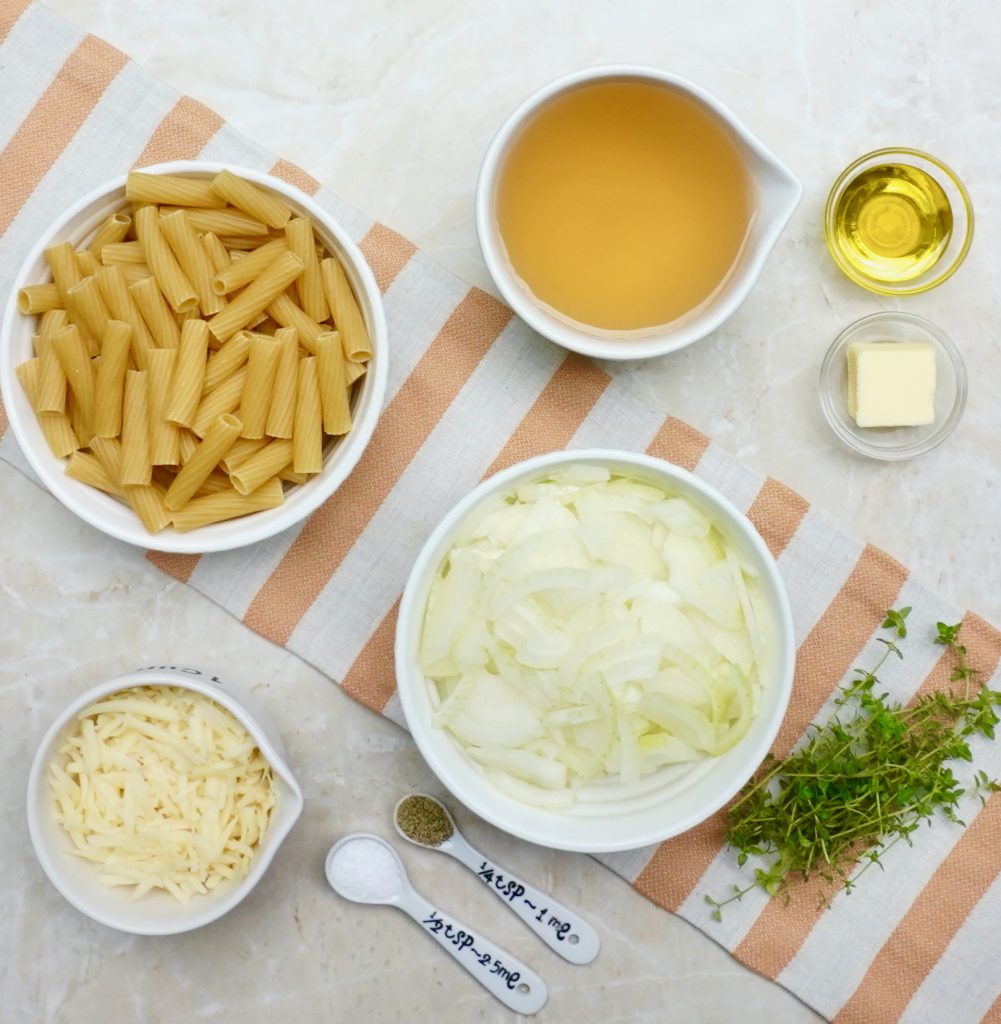 French Onion Ziti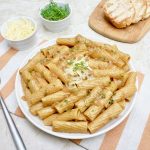 Print This
Ingredients
1 tablespoon unsalted butter or vegan butter

1 tablespoon olive oil

4 cups yellow onions, thinly sliced ( 2 large onion)

½ teaspoon kosher salt

¼ teaspoon black pepper

6 cups vegetable broth

8 ounces ziti pasta

1 cup shredded baby Swiss or Swiss cheese

I tablespoon fresh thyme leaves

2 teaspoons cornstarch

2 tablespoons water
Instructions
Melt butter and olive oil in a large stock pot, large dutch oven, or very large skillet over medium low to medium heat.
When the butter has melted, add the onions, kosher salt and black pepper. Cook, stirring occasionally for 15-20 minutes, stirring often over medium low heat. You want the sliced onions to be caramelized and deep brown. Make sure you keep stirring them so they brown evenly during the caramelization process.
Add the vegetable broth and ziti. Turn the heat up to medium-high heat to bring the mixture to a boil.
Reduce the heat to medium low and cover the pot.
Cook covered for 8 minutes, stirring occasionally if you prefer al dente pasta. Cook for 10 minutes if you prefer a softer pasta.
You should still have some broth left in the pot when the pasta is done. If you do not, add another ½ cup vegetable stock or some water to the pot.
Combine the cornstarch with the water and make sure it dissolves.
Add the mixture to the pot and cook stirring over medium low heat until the broth thickens into a sauce.
Stir in the Swiss cheese and thyme.
Remove from the heat and serve. You could garnish this with sprigs of thyme.