Chili Mac Cheese is a great combination of two favorite comfort foods. Ground beef chili is made with tomatoes, beans and all of the typical chili seasonings. It gets really interesting when macaroni and cheese are added. The result is delicious. 
This is an easy one pot recipe that is ready in about 30 minutes. It is made from mostly pantry items that you may already have and it feeds a crowd!
Chili Mac Cheese would be great for your Super Bowl gatherings. If you prefer a chili without pasta go check out Chicken Chili, Taco Chili, White Chicken Chili and Lentil Chili for a vegan option.
You might also want to try Goulash.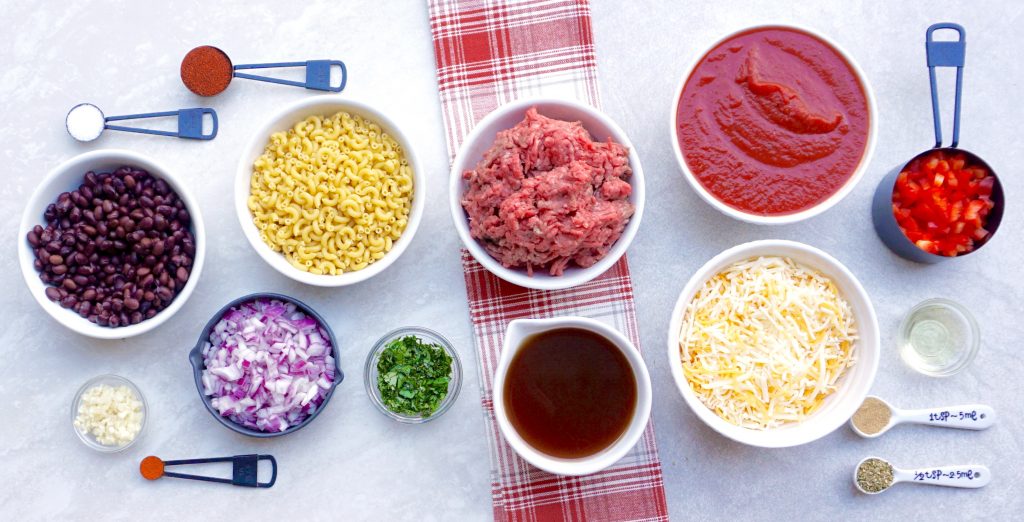 Chili Mac and Cheese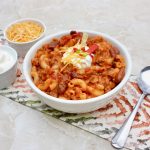 Print This
Ingredients
1 tablespoon olive oil

1 cup red onion, chopped

2 garlic cloves, minced

1 red bell pepper, chopped

1 pound lean ground beef

28 ounce can crushed tomatoes

15 ounce can kidney beans

2 ½ cups beef broth

2 cups elbow macaroni

1 tablespoon chili powder

½ teaspoon dried oregano

1 teaspoon cumin

1 teaspoon salt

¼ teaspoon cayenne pepper

2 cups shredded Mexican blend cheese

2 tablespoons fresh cilantro, chopped
Instructions
Heat the olive oil in a large stock pot over medium low heat. 
Add the red onion, garlic and bell pepper and cook for 2 minutes until they just begin to soften.
Add the ground beef and cook until it is browned, breaking it up with a fork and knife as it cooks. 
Add the tomatoes, kidney beans, beef broth, elbow macaroni, chili powder, oregano, cumin, salt and cayenne. Raise the heat to high until it comes to a boil.
Reduce the heat to medium low and cover the pot. Simmer for 10-12 minutes, stirring often until the macaroni is cooked to al dente. 
Add the cheese and cilantro to the pot and stir it through making sure the cheese is melted.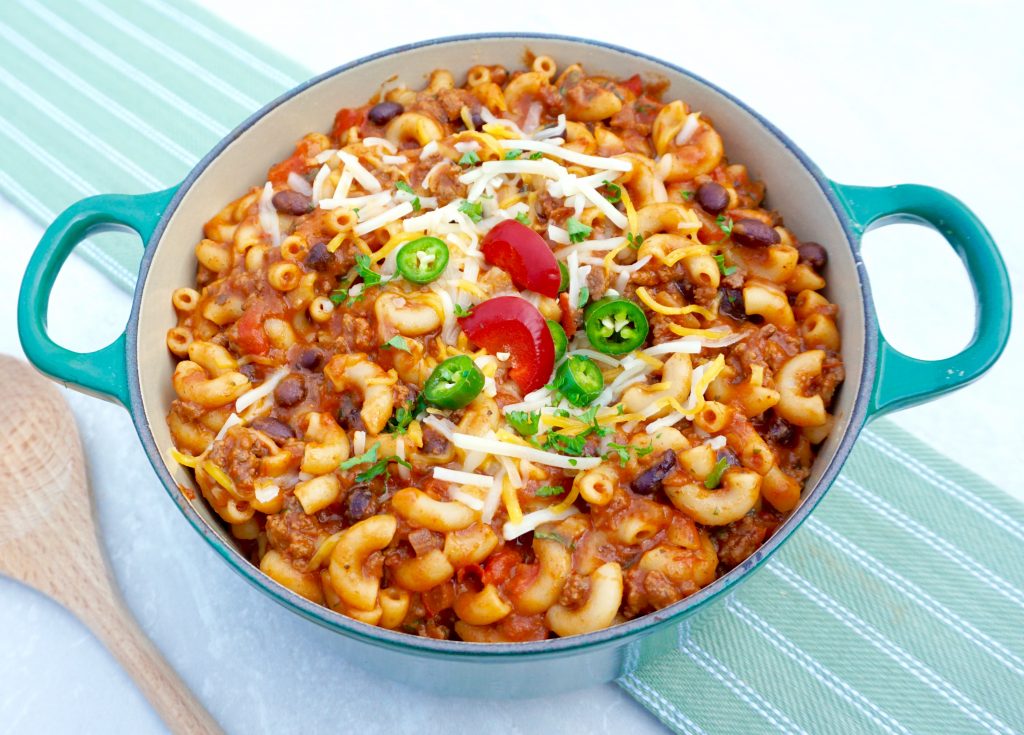 Lots of flavor in this hearty meal!