Tuscan Gnocchi is a creamy, comforting dish that you can have on the table in 20 minutes or less. Made with sun dried tomatoes, baby spinach, shallots and garlic, it is a flavorful recipe that is very easy to make.
Gnocchi are soft Italian dough dumplings that can be made from different things but commonly have flour, potato, egg, and cheese. You can buy them frozen, fresh or dried depending on what types of stores you have in your area. They are also fairly easy to make from scratch if you are up for a project!
Tuscan Gnocchi would make a hearty vegetarian meal or can be served as a side dish.
If you like this recipe, try Creamy Tuscan Shrimp Fusilli and Tuscan Chicken Baked Ziti.
You might also like Vegetable Gnocchi and Cheesy Gnocchi Casserole.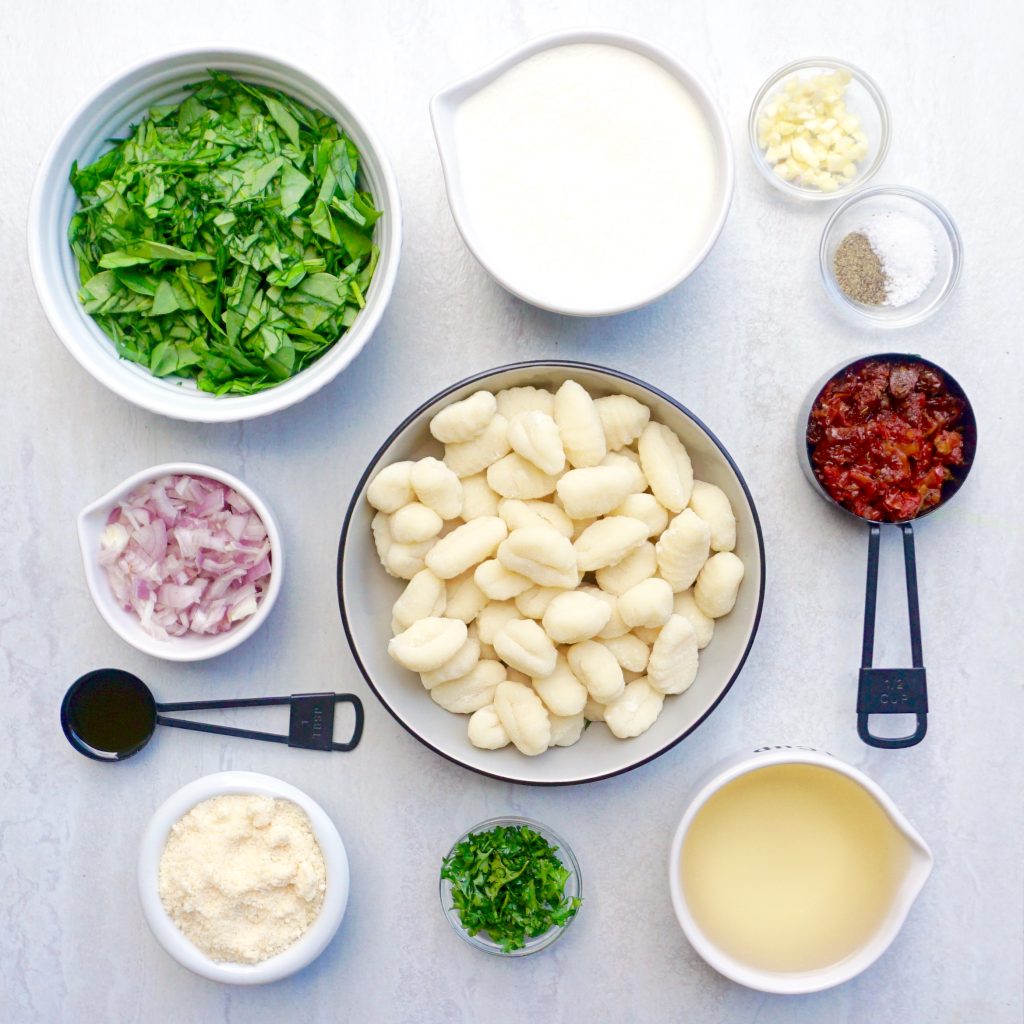 Tuscan Gnocchi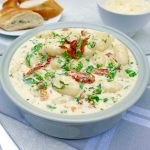 Print This
Ingredients
1 pound gnocchi

2 tablespoons olive oil

2 cloves garlic, minced

¼ cup shallots, chopped

½ cup sun dried tomatoes, packed in oil, cut into thin strips

1 cup dry white wine

1 ½ cups heavy cream

½ cup grated parmesan cheese

1 tablespoon fresh parsley chopped fine or 1 teaspoon dried parsley

2 cups fresh baby spinach, chopped
Instructions
Bring a pot of water to a boil to cook the gnocchi. Add the gnocchi to the water and cook until it rises to the top of the pan. This will take about 2-4 minutes. Remove from the heat and drain. Set aside while you make the sauce.
Place the olive oil into a large skillet and heat over medium low heat. Add the shallots and garlic. Cook for 2-3 minutes until you see them start to soften.
Add the wine and sun dried tomatoes to the skillet and bring to a boil. Adjust the heat back down to low and simmer until one half of the wine has cooked off.
Add the heavy cream, parmesan and parsley. Return the heat to medium low until the cream is heated through.
Add the spinach and stir until it wilts. This will only take a minute or two.
Stir in the gnocchi and cook for 2-3 minutes until it is heated through.