Creamy Tuscan Shrimp Fusilli is one of those wonderful recipes that is delicious, easy and quick to put together. Once you have all of your ingredients prepped for the dish, the sauce comes together in just a few minutes. You can put on a large pot of water for the pasta on at the same time that you begin preparing the sauce. By the time your water boils and you cook the fusilli, the sauce will be finished.
What I really like about this Creamy Tuscan Shrimp Fusilli  recipe is the flexibility. Last night I wanted to have a fresh tortellini dish for dinner. I took this recipe and switched out the shrimp for sliced boneless chicken breast and used 8 ounces of tortellini in place of the fusilli. It was so good! You could really play around with this basic cream sauce and have some fun.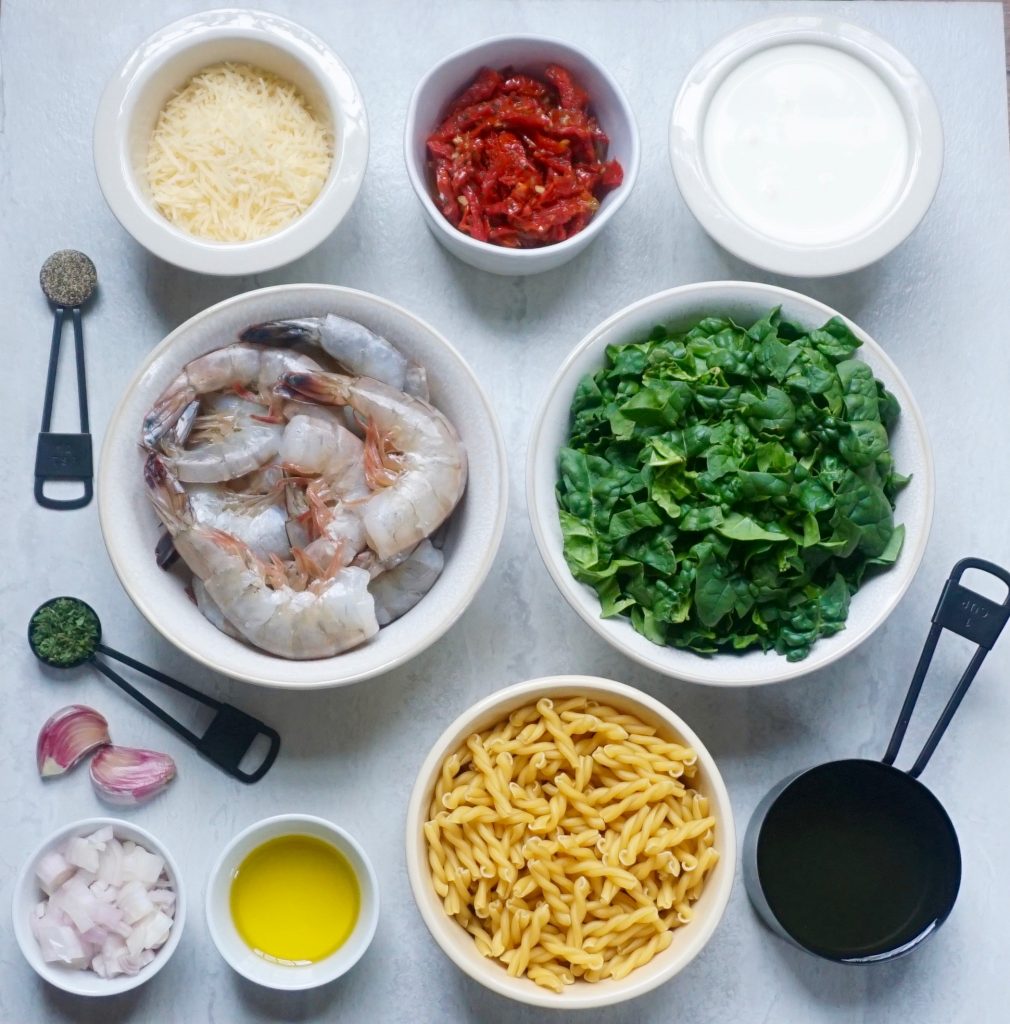 Creamy Tuscan Shrimp fusilli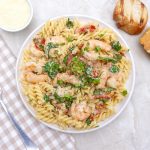 Print This
Ingredients
1 pound large shrimp, peeled and deveined

2 large cloves garlic, minced

2 tablespoons olive oil

1/2 cup chopped shallots

1 cup white wine

1/2 cup sun dried tomatoes, packed in oil, sliced into strips

1 and 1/2 cups heavy cream

1/2 cup grated parmesan cheese

1 -5 ounce bag fresh baby spinach, stems removed and chopped

1 teaspoon dried parsley

8 ounces dried fusilli pasta

salt and pepper to taste
Instructions
Fill a large pot with water and place on high heat for your fusilli.
Heat the olive oil in a large skillet over medium low heat. Add the shrimp and cook, stirring until they are just pink. This should take about 3 minutes. Remove the shrimp to a plate.
Add the chopped shallots to the pan. Cook stirring occasionally over medium low heat for 2 minutes. Add the garlic and cook for 1 additional minute.
Add the wine to the skillet and let it simmer until it is reduced by half.
Add the sun dried tomatoes and heavy cream. Bring to a low simmer.
Add the chopped spinach and stir until the spinach wilts. This will only take a couple of minutes.
Add the dried parsley and parmesan cheese and let the cheese melt into the sauce. Taste, and season with salt and pepper if desired.
Add the shrimp back to the skillet and heat through.
Cook the fusilli according to the directions on the box for your desired tenderness. Drain.
Return the drained fusilli to the large pot and add the sauce to the pan. combine and serve.