I keep thinking that spring is finally here. The last of the snow in my yard melted over the weekend and the first herbs in my garden started to pop up through the soil. I had just allowed myself to get excited and then I woke up this morning and here we go again. Snow. Lots of snow! Now I have to wait for all of this new snow to melt so my chives and mint can see the sun again. Regardless, I am going to start to cook like it is spring despite it all!
This Lemon Shrimp Orzo with Asparagus is a lighter recipe that is fast and easy to make. I think that lemon adds a certain brightness to just about anything and I am using both juice and zest in this recipe to impart a nice citrus flavor. When the spring asparagus is in season I like to use the small thin stalks, when I can get them, in just about anything.
This recipe goes together pretty fast so it is a good option for a weeknight dinner. The sauce should be ready by the time you boil your water and cook your orzo!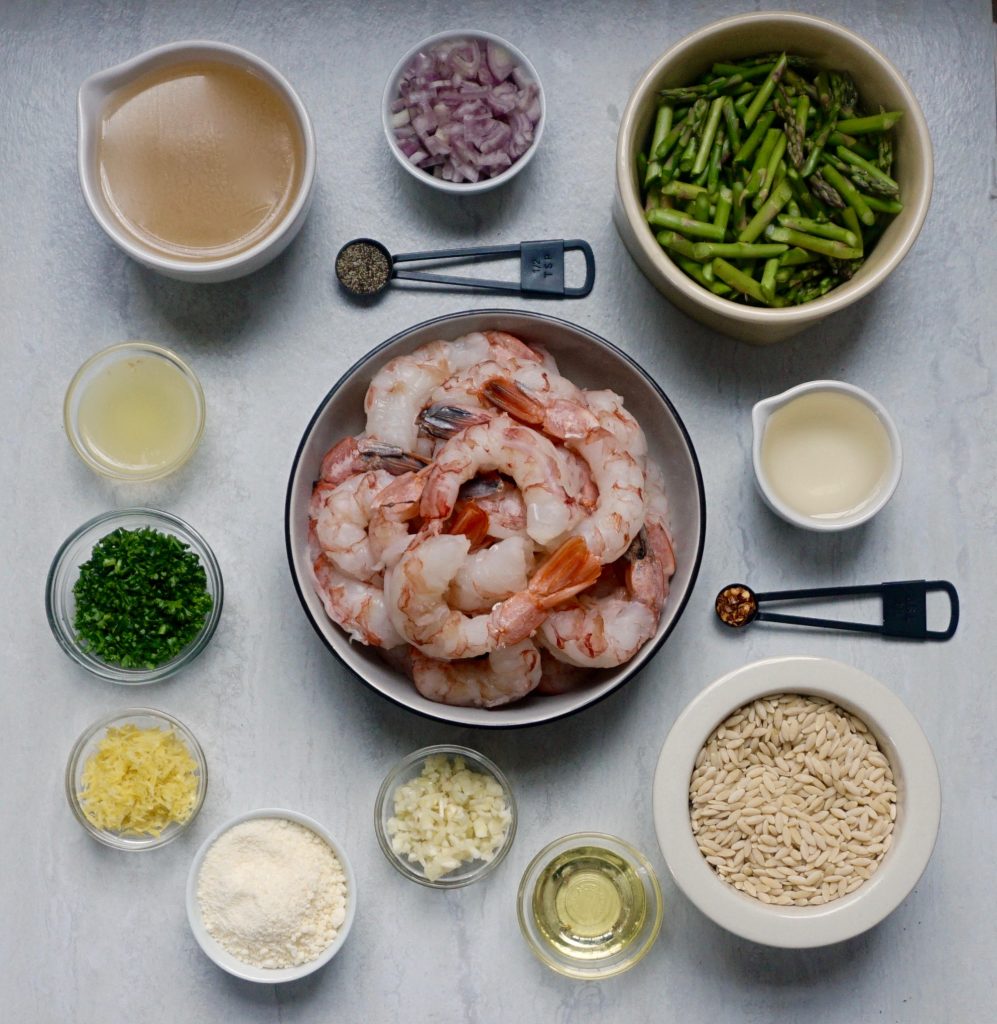 Lemon Shrimp Orzo with Asparagus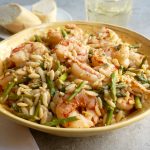 Print This
Ingredients
2 tablespoons olive oil

2 cups asparagus cut into 1 ½ inch pieces

½ cup shallots, chopped

2 garlic cloves, minced

1 ½ pounds large shrimp, cleaned and deveined

½ cup white wine

2 tablespoons fresh lemon juice

½ tsp crushed red pepper

1 tablespoon lemon zest

2 tablespoons fresh parsley, chopped

½ cup parmesan cheese

8 ounces orzo pasta

1 cup chicken broth

salt and pepper to taste
Instructions
Fill a large pot with water and place over high high heat. Bring to a boil. Add the orzo and cook it according to the instructions on the box for the firmness you want.
Heat the olive oil in a large skillet over medium low heat. Add the asparagus and shallots and cook for about 4 minutes, stirring occasionally. You want the asparagus to be slightly tender. Add the garlic and cook for 1 additional minute.
Add the shrimp to the pan and cook for 3-4 minutes turning them until they are pink on both sides. Add the wine, lemon juice, and red pepper to the pan. Bring to a simmer. Remove from the heat.
Drain the orzo and return it to the pan. Add the chicken broth and stir over medium low heat until the orzo has absorbed most of the broth and it has achieved a creamy consistency.
Add the orzo to the skillet with the shrimp. Add the lemon zest, parmesan cheese and parsley to the pan. Stir to combine well.  Heat over medium low heat until hot. Season to taste with salt and pepper.