Seafood lovers, this easy recipe is for you! Today, we are cooking with one of the most loved delicacies straight from the ocean, butterflied shrimp. Easy Breaded Fried Butterfly Shrimp Recipe takes jumbo shrimp to a whole new level. The shrimp are seasoned to perfection, and fried to a golden, crunchy finish. It's an easy seafood dinner that you will want to make on repeat and that your family will love!
This Easy Breaded Fried Butterfly Shrimp Recipe has an irresistible crunch on the outside, and is tender on the inside, thanks to a balance of all-purpose flour, a blend of spices, and the dual power of plain and panko breadcrumbs. With a cooking time of under 5 minutes, you will get dinner on the table fast!
If you would like to try another easy dinner made with fresh shrimp, check out Roasted Shrimp Risotto,  Chimichurri Shrimp Skewers, and Honey Garlic Shrimp. You might also like, Creamy Tuscan Shrimp Fusilli, Lemon Shrimp Orzo with Asparagus, and Summer Shrimp Quesadilla.
SOME THINGS TO KNOW: FAQ'S 
SPECIAL EQUIPMENT NEEDED:
3 pie plates or shallow bowls for the breading station.
Large deep frying pan or deep fryer
Tongs
Paper towels
STEPS TO MAKING THIS EASY BREADED FRIED BUTTERFLY SHRIMP RECIPE:
Preparation of the shrimp
Mix the Dry Ingredients
Prepare the Egg Wash
Breadcrumbs
Dredge and Dip
Heat the Oil
 Fry the shrimp
Drain and Serve
SUBSTITUTIONS:
If you do not have both panko breadcrumbs and plain bread crumbs you could certainly make the recipe with either one. You can also use bread crumbs with Italian seasoning. To learn more about bread crumbs, check out 12 types of Breadcrumbs.
Canola oil can be substituted with vegetable oil, corn oil, peanut oil, safflower oil or even a light olive oil.
You could switch out the all purpose flour with whole wheat flour if that is what you have on hand.
INGREDIENT TIP:
If you want to save yourself a lot of time, buy the shrimp already shelled and deveined. It will cut your prep time in half!
STORING LEFTOVERS AND REHEATING:
Keep any leftover breaded shrimp in an airtight container in the refrigerator for 1-2 days.
You can freeze the leftover shrimp for 2-3 months in an airtight freezer container. Place the shrimp into the freezer in a single layer on a baking sheet. Once they are frozen, place them into your freezer container and return them to the freezer.
Defrost the shrimp in a single layer on a wire rack in the refrigerator.
To reheat the defrosted shrimp. Place them into a 350 degree oven on a baking sheet. It should take about 5-10 minutes to heat them through.
If you have an air fryer, place the shrimp into the air fryer basket and heat at 350 degrees for 2-3 minutes.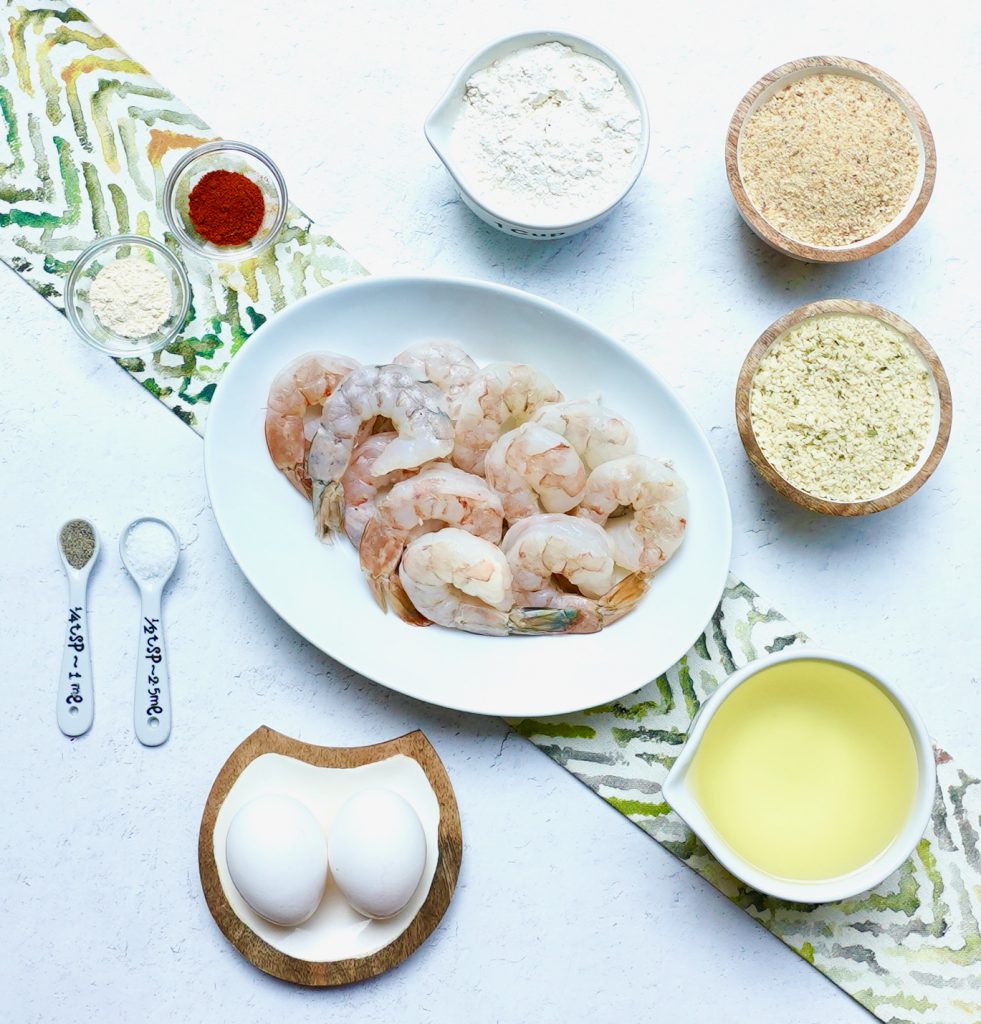 Set up a breading station using 3 pie plates. Mix the bread crumbs and panko bread crumbs together. In another pie plate mix together the flour, garlic powder, paprika, kosher salt and black pepper. In the third pie plate beat the eggs and water together.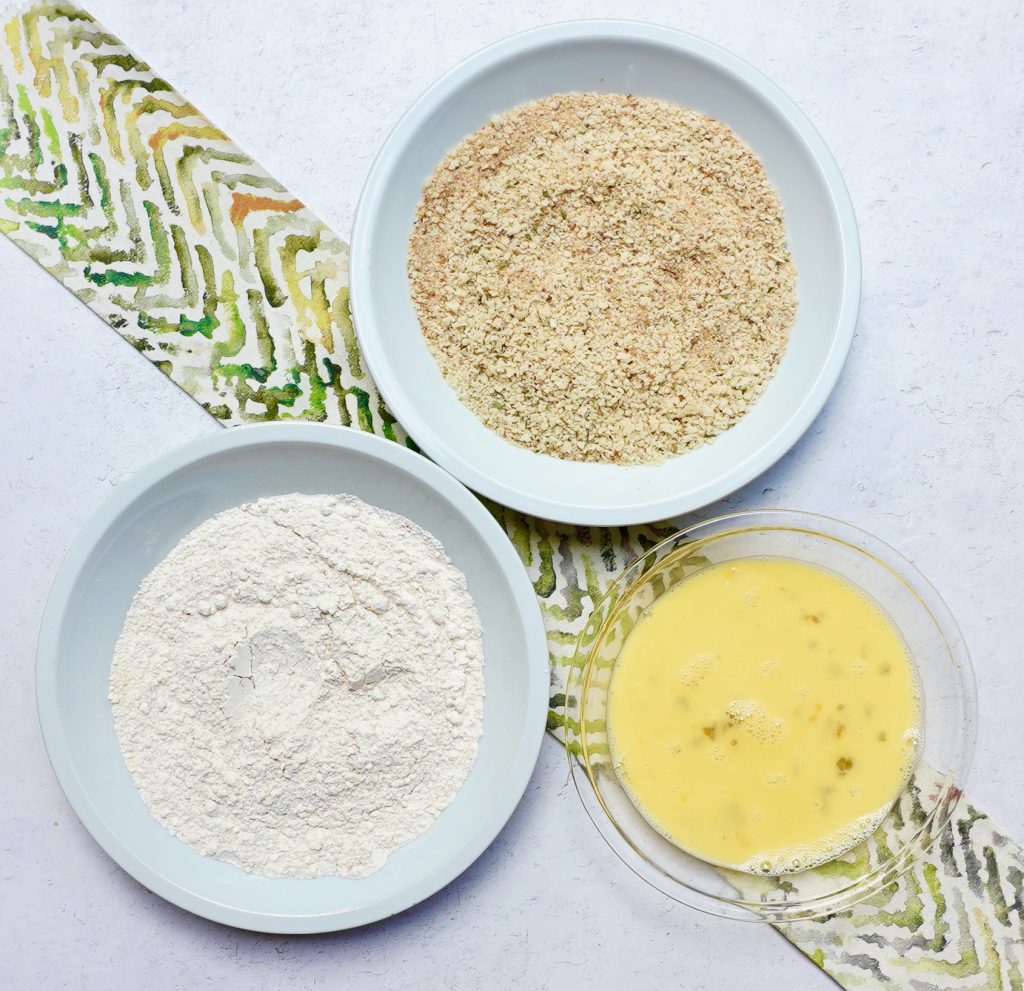 Dip each shrimp into the flour mixture first. Next dip it into the egg mixture and then into the bread crumbs making sure that it is coated well. Place the coated shrimp onto a plate until you have completed the process.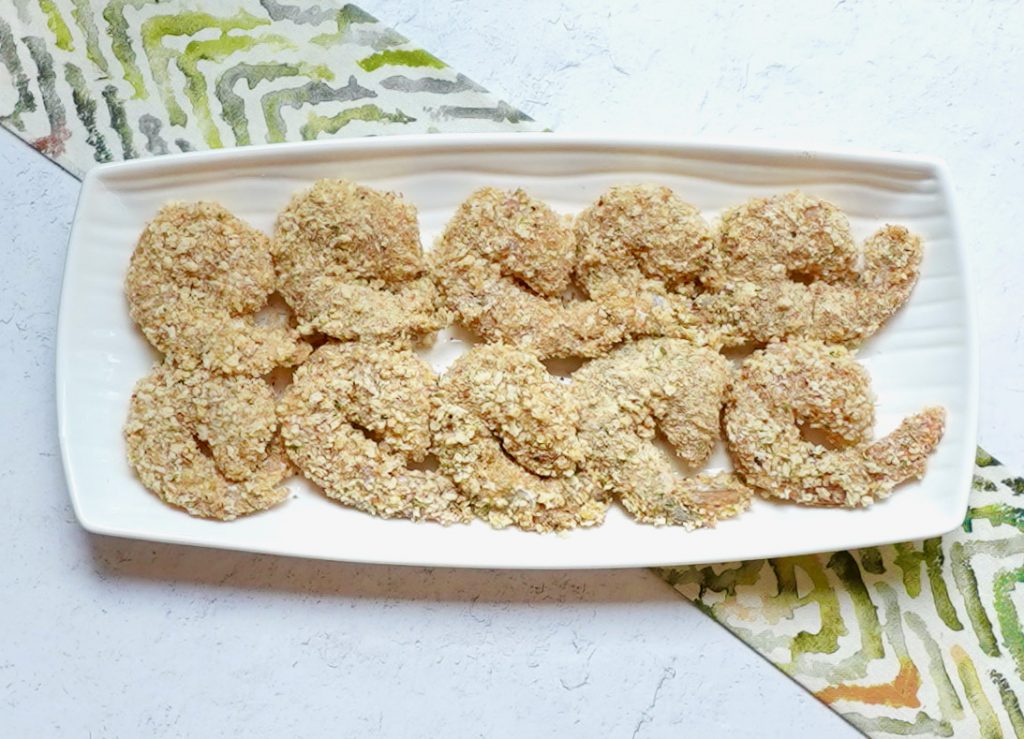 Easy Breaded Fried Butterfly Shrimp Recipe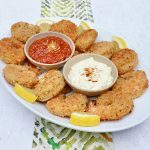 Print This
Ingredients
1 pound jumbo shrimp or large shrimp

½ cup all-purpose flour

½ tablespoon garlic powder

½ tablespoon paprika

½ tablespoon kosher salt

¼ teaspoon black pepper

2 large eggs

2 tablespoons water

1 cup plain dried bread crumbs

1 cup panko bread crumbs

1½ cups canola oil
Instructions
Start by peeling and deveining the shrimp, leaving the tails intact. Butterfly the shrimp by making a lengthwise incision down the back of the shrimp and removing the dark vein from the center of the shrimp.
In a bowl or pie plate, combine flour, garlic powder, paprika, kosher salt, and black pepper. Stir until all the ingredients are well incorporated.
In another pie plate, whisk together the eggs and water.
Combine the plain and panko breadcrumbs in a third pie plate.
Dip each butterfly shrimp into the flour mixture, then the egg wash, and finally coat well in the breadcrumb mixture. Line them up on a plate until you have completed the process.
Heat the canola oil in a deep skillet or deep fryer over medium heat. The oil should be hot enough for frying but not smoking. If you have a thermometer you are looking for the temperature of the oil to be about 350 degrees. If you do not have a thermometer, a good way to see if the oil is ready for frying is to drop a couple of bread crumbs into it and see if they start to sizzle and fry.
Place the shrimp into the hot oil. Fry the shrimp , ensuring not to crowd the pan. Cook until golden brown, usually 1-2 minutes per side for crispy shrimp. Use tongs to turn the shrimp over.
If you are frying  in batches, placed the cooked shrimp onto a baking sheet and into an over that has been pre- heated to 200 degrees f. to keep them warm while you finish the rest.
Once cooked, drain the shrimp on a wire rack or paper towels to remove any excess oil.
Serve the butterfly shrimp recipe with tartar sauce, cocktail sauce and lemon wedges. A squeeze of lemon juice over them would be delicious. Enjoy!