Blueberry Pie is one of the great summer desserts. Locally grown blueberries during blueberry season are the best! A pie is a great way to enjoy the flavor of the blueberries,  but you may not want to have your oven on at 375 degrees for 50 minutes on a hot summer day to bake one!
This pie is a great option to avoid the heat of the oven. The blueberry pie filling comes together on top of the stove in minutes and is poured into a prepared pie bottom crust. There is no top crust on the pie. You can make your own crust, purchase a frozen or refrigerated  store-bought pie crust , or use a graham cracker crust. If you choose a traditional crust, you will bake it for only about 10 minutes and then turn that oven off! If you would like to make your own homemade pie crust for this pie, check out Foolproof Pie Dough. This dough makes a nice flaky crust.
If you like berry pies, check out Blueberry Pot Pie. If you want to try a bar with an easy blueberry pie filling, check out Blueberry Crumble Bars. You might also like Blueberry Lemon Olive Oil Cake. This easy to make cake combines lemon juice and lemon zest with fresh berries for lots of flavor. If you like fruit pies, check out Apple Crumble Pie.  It is a great fall apple pie recipe.
If you are a fan of blueberries, check out 20 Easy Recipes to Make With Fresh Summer Blueberries.
This Blueberry Pie is served chilled with whipped cream. The recipe comes from Pat West who is a friend and part of the Another Tablespoon family.
SOME THINGS TO KNOW FAQ'S:
INGREDIENT TIPS:
SPECIAL EQUIPMENT NEEDED:
9 -inch pie plate or deep-dish pie pan
Large saucepan
SUBSTITUTIONS:
If fresh berries are not available, frozen blueberries can be used. There is no need to defrost them before using.
The granulated sugar can be replaced with pure cane sugar, turbinado sugar or light brown sugar.
The all purpose flour can be replaced with unbleached or whole wheat flour.
HOW TO STORE LEFTOVER BLUEBERRY PIE:
You can store the pie either on the counter at room temperature or in the refrigerator covered with plastic wrap  or aluminum foil for 3-5 days.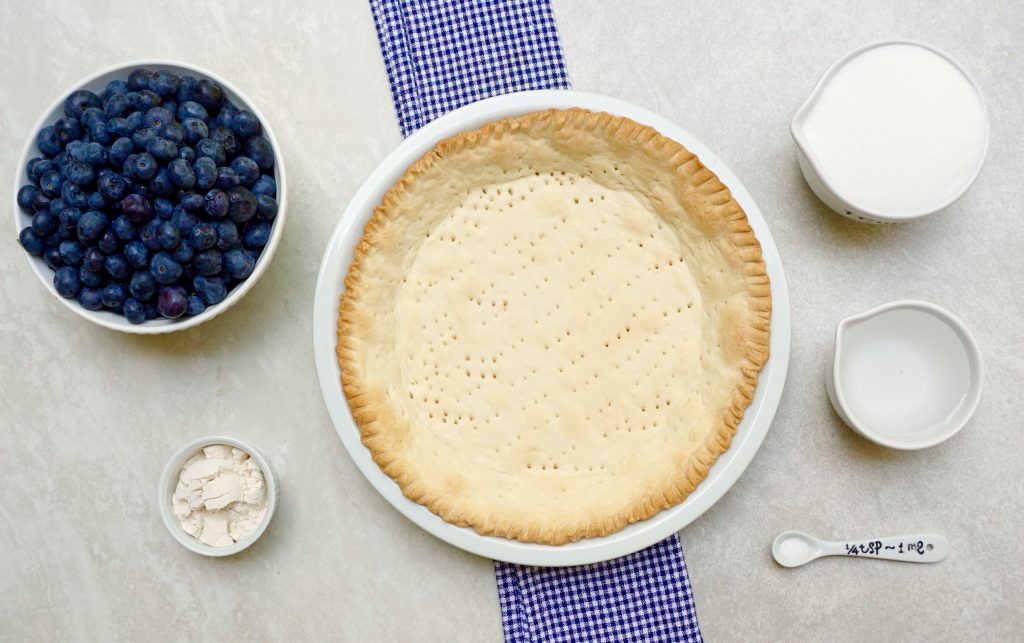 Blueberry Pie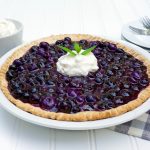 Print This
Ingredients
4 cups fresh blueberries, divided

1 cup granulated sugar

½ water, divided

3 tablespoons all purpose flour

¼ teaspoon salt

whipped cream for serving
Instructions
Preheat the oven temperature to 375 degrees.
Place the pie into the pie dish. Bring the crust up to the edge of the pie plate. Use a fork or a sharp knife to make small cuts into the bottom of the crust.
Bake pie crust according to the package directions if you are using a prepared crust until it is a deep golden brown. You can also check out How To Blind Bake a Pie Crust for instructions on doing this. It helps you to avoid having a soggy crust.
Remove the crust from the oven and place the pie shell on a wire rack to cool.
Pick over your blueberries, remove all stems and rinse well.
In a small bowl, combine the flour, salt and ¼ cup of the water. Stir well until you have a paste.
In a large saucepan bring 1 cup of the blueberries, the sugar and ¼ cup of the water to a boil over medium heat.
Reduce the heat to a slow simmer over medium low heat and add the flour mixture.
Whisk this in well, breaking up any lumps of the flour mixture. Cook for 1-2 minutes until the mixture is clear, free of any lumps and the blueberries are broken down.
Remove from the heat and stir in the remaining 3 cups of blueberries. Combine well.
Spoon the blueberry mixture into the pie crust and chill for 3 hours before serving.
Serve with whipped cream. Directions to make your own whipped cream can be found in the Berry Shortcake post. You can also serve it with a scoop of vanilla ice cream. Enjoy your homemade blueberry pie!