Jam Sandwich Cookies would make a wonderful addition to your holiday cookie platter. It is a buttery cut out cookie sandwich filled with strawberry preserves and a lemony glaze which I think puts it over the top!
This cookie has a history that is worth sharing. I did not create it. This is a  recipe share from a friend .It is a family recipe for cookies that are actually called Hildebrotchen. They are a vintage shortbread cookie that is filled with jam. My friend's  German aunt made them and she actually used a thimble to cut out the small hole in the center of the cookies.
These are simple butter cut-out cookies with a dough that is easy to handle. It creates a sturdy base for the filled cookie and is buttery and delicious.
It makes a great addition to a holiday cookie platter but would also be good for Valentine's day in a heart shape or really anytime of year. The strawberry jam and lemon glaze lighten the cookies  and  make them great for any time of year.
If you like jam holiday cookies you might like to try Raspberry Thumbprint Cookies. If you want to try some other holiday roll out cookies, check out Cookie Cutter Cookies and Gingerbread Cookies. You might also like Holiday Spritz Cookies and Ginger Crinkle Cookies.
SOME THINGS TO KNOW:
You can use any shape cutter you want for these cut out cookies. The cookie cutter pictured is 2 ½ inches and was filled with one teaspoon of jam. If you use a smaller or larger cookie cutter you should adjust the jam quantity accordingly.
You can use a thimble to make small hole in the center of the top cookie if you do not have a small cookie cutter.
Jam Sandwich Cookies resemble Linzer Cookies. The difference is that Linzer cookies use almond flour.
You should never eat raw cookie dough with eggs.
If you prefer sweet raspberry jam, it can easily be substituted. Make sure to choose a seedless raspberry jam.
You can prepare the dough a day or two ahead of the time you want to roll out the cookies. Make sure to keep it in the refrigerator tightly wrapped in plastic wrap and bring it back to room temperature before you roll it out.
These cookies will keep for 2-3 weeks at room temperature. Store cookies in an air-tight container.
You can freeze Jam Sandwich Cookies for 2-3 months in a freezer bag or container. Place them on wire baking rack to defrost them.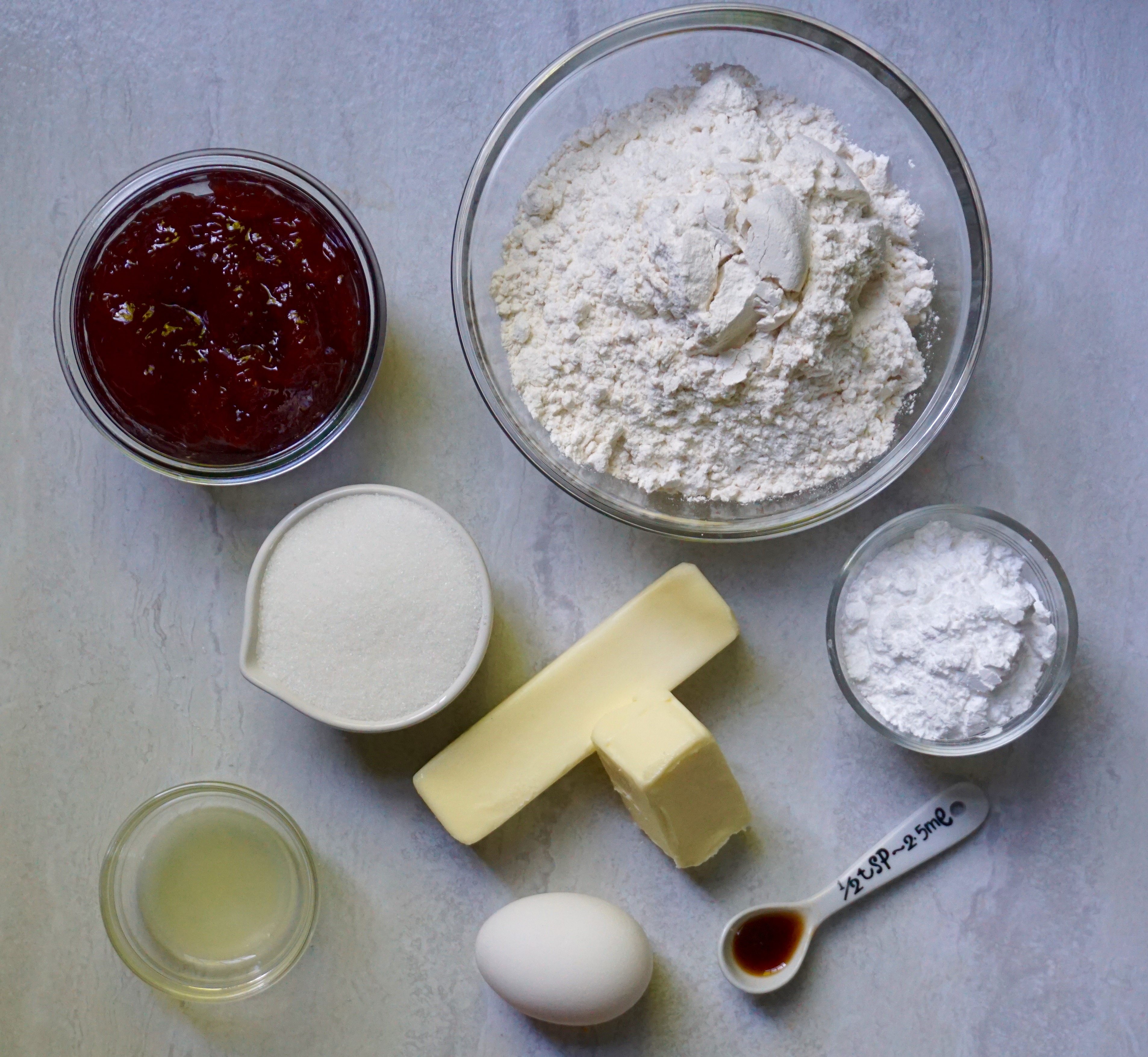 Jam Sandwich Cookies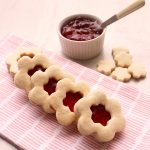 Print This
Ingredients
1 ½ sticks salted or unsalted butter, at room temperature

½ cup sugar (granulated)

1 large egg

1 teaspoon vanilla extract

2 ¾ cups all purpose flour

Strawberry jam or preserves for filling

½ cup confectioners sugar

several drops of lemon juice
Instructions
COOKIES:
Preheat your oven to 375 degrees
Beat the butter with an electric mixer on medium speed until it is fluffy. You can use either a hand mixer and a  large bowl or place the butter into the bowl of a stand mixer with a paddle attachment.
Add the sugar and mix well on low speed, scraping down the sides of the bowl to make sure it fully combines with the butter.
Add the egg and vanilla extract. Mix them in well.
Add the flour and mix until the dry ingredients are completely combined and the dough becomes smooth. Remove from the bowl and work the dough with your hands until it becomes a smooth ball. Cut the ball in half .
Cut an 18 inch piece of wax paper and place on the counter. Place half the dough on the wax paper and cover with another 18 inch piece of wax paper. This makes the rolling process so much easier! Roll dough out into 1/8 inch thickness using a rolling pin.
If you like to roll your cookies on a lightly floured surface, you can do that as well.
Cut the cookies into rounds or whatever shape you are using. You need to use half of the dough for the top cookie and the other half for the bottom cookie. Half of the cookies will be solid for the bottom and the other half  of the top cookie will have a small hole in the center of the cookies.
Use a thimble or smaller cookie cutter to make holes in the center of each cookie top.  You can also use a straw to make the hole. Once you insert it you will need to turn it several times to enlarge the hole.
Place the cookies onto an ungreased cookie sheet. For an easy clean up, you could line your baking sheets with parchment paper.
Bake for 10-12 minutes until the cookies are golden brown.  Remove from the oven and cool thoroughly on a wire rack.
Place the strawberry preserves in a medium size bowl and beat with an electric mixer until smooth.
Place a cookie without a hole upside down and spread 1 teaspoon jam or preserves over it. Cover with the top cookie gently so the preserves do not leak out.
GLAZE:
Place the confectioners sugar in a small bowl. add the lemon juice, a couple drops at a time until you have a fluid icing.  Brush or spread over the top of the cookies and let dry before serving.
Notes
Special equipment needed for this recipe includes a 2 ½ inch round cookie cutter, a 3/4 - 1 inch cookie cutter for the center, or a thimble or straw, rolling pin and wax paper for rolling cookies.