Cookie Cutter Cookies are sturdy cut- out sugar cookies that are easy to roll out and handle. They only have five simple ingredients and come together nicely as long as you have room temperature butter. For the best results, the butter should be out for quite a while or it should have been placed in a warm spot so that it is super soft. Cold butter will not will not produce good results.
Try rolling out the cookie dough between two sheets of waxed paper instead of a floured surface. This makes it so much easier.  When you use the wax paper, you will be able to roll the dough evenly through the paper. The cut cookies will also lift easily off the bottom sheet of the paper using a metal spatula.
Cookie Cutter Cookies are great cut-out cookies because they can be anything that you imagine them to be. Make them your own by choosing your cookie shapes for different events throughout the year. This is my go to holiday cookie. You can add food coloring right into the dough to create hearts, shamrocks, pumpkins,Christmas cookies or whatever you want your theme to be. Go find your favorite cookie cutters and give it a try.
Check out Cookie Glaze so you can decorate your cookies. It dries almost as hard as royal icing and does not have the risk of the raw eggs needed to create it.  If you want to try another butter roll out cookie check out Jam Sandwich Cookies. You might also like Gingerbread Cookies.
SOME THINGS TO KNOW:
SPECIAL EQUIPMENT NEEDED:
Electric mixer
Rolling pin
Cookie Sheets
Parchment paper or silicone mats (Check out the Pro Baking Throwdown Parchment Paper vs. Silicone Baking Mat)
Metal spatula
SUBSTITUTIONS:
Salted or unsalted butter will work equally as well in the recipe.
You could replace the vanilla extract with:
Almond Extract.
Lemon Extract.
Peppermint Extract.
Coconut Extract.
Banana Extract.
Maple Extract.
Orange Extract.
STORAGE:
You can keep any leftover Cookie Cutter Cookies on a plate covered in plastic wrap or in an airtight container in a single layer for up to a week.
These cookies will freeze well, either with or without the cookie glaze. You can place them into an airtight freezer container or freezer bag for 3 months.
Defrost the cookies by placing them onto a wire rack until they come to room temperature.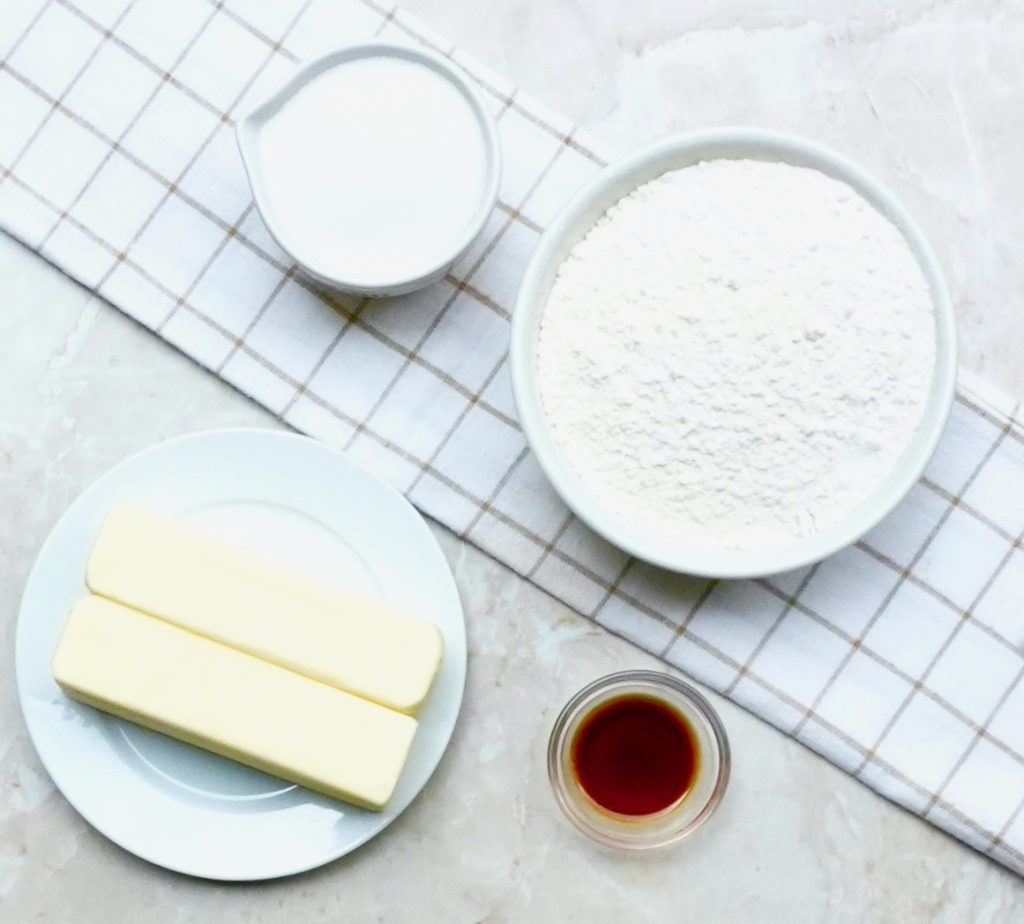 Cookie Cutter Cookies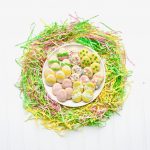 Print This
Ingredients
½ pound salted butter (2 sticks)

½ cup white sugar

1 large egg (not pictured)

2 teaspoons vanilla extract

2 and ½ cups all purpose flour
Instructions
Preheat oven to 350 degrees
Line your baking sheet with either parchment paper or silicone mats.
Cream the butter and sugar together in a stand mixer with a paddle attachment or in a large bowl  with an electric mixer until well combined and fluffy.
If you start with very soft butter this will come together very quickly. If the butter was not soft enough this will take several minutes in order to happen.
** Make sure your butter is so soft that it is shiny and looks like it is on the brink of melting!
Add the egg and mix to combine well.
Add the vanilla and mix in well.
Add the flour and mix on low until combined and the dough starts to pull from the sides of the bowl. You need the dry ingredients completely mixed in with the wet ingredients.
Take half of the dough and place it between two sheets of waxed paper. Place your roller over the top sheet of waxed paper and gently roll the dough in all directions, spreading it out as evenly as you can about 1/8 " thick. Use cookie cutters to cut your cookie shapes as desired.
Use a metal spatula to lift the shapes from the waxed paper to your prepared baking sheet.
You can re-roll the scraps and add additional dough to the scraps. This dough blends easily and will not show any variations. Keep rolling, re-rolling scraps, and cutting shapes until you have used all the dough.
The wax paper can tear during the rolling process and will need to be replaced.
If you prefer to roll out the cookies on a floured work surface, lightly flour a board with as much flour as needed to make a thin coat. You may need to add a bit more flour to the top of the dough to avoid the roller from sticking.
Bake for 8-10 minutes. It is a good idea to turn the cookie sheet halfway through the baking process to avoid uneven baking.  Bake until the cookies are a light golden brown.
Remove the cookies from the oven and let the baked cookies sit for 2 minutes on the cookie sheet. Remove to a wire rack to cool completely.
Decorate your cutout cookies with cookie glaze, candies and sugar.