Strawberry Trifles are easy to make layered desserts. Juicy strawberries are pureed and cooked right into the custard, making for a colorful and flavorful base for these mini trifles.
Vanilla Wafers and sliced sweet strawberries are layered with the creamy pudding in this trifle dessert and then topped with fresh whipped cream. This is a perfect dessert to make ahead of time for special occasions. If it sits for a while before serving, the wafers will soften and become cake like.
If this Strawberry Trifles recipe seems a bit complicated but you would like a strawberry dessert, check out Strawberry Bread Pudding. It is also a custard type delicious dessert with fresh berries that is simple to make. You might also like Strawberry Shortcake Bites.
For additional strawberry recipes, check out 20 Simple Summer Strawberry Recipes.
SOME THINGS TO KNOW:FAQ'S
INGREDIENT TIP:
If you have never made your own custard before, watch this link on Tempering Eggs in puddings and custards. I have explained the process in the instructions but seeing it is helpful and tempering is the key to a successful custard!
SPECIAL EQUIPMENT NEEDED:
Large saucepan
Large Bowl for whipped cream
Medium bowl
 Small clear glass cups /individual glasses for serving. Wine glasses would also be pretty.
 Large glass bowl, trifle dish or glass trifle bowl to serve the complete recipe.
Hand Mixer, electric mixer
SUBSTITUTIONS:
If heavy whipping cream is not available, heavy cream can be substituted.You could also use a pre-made whipped topping.
If you do not have vanilla wafers, sponge cake or layers of angel food cake can be substituted.Store-bought cake would make it easy.
If fresh strawberries are not available, frozen strawberries that have been defrosted can be used. Do not buy frozen berries that have strawberry syrup.
HOW TO STORE LEFTOVER STRAWBERRY TRIFLES:
You can keep the trifles covered with plastic wrap in the refrigerator for 2-3 days.
The layers of fruit, custard and whipped cream will change consistency if frozen. Freezing is not recommended.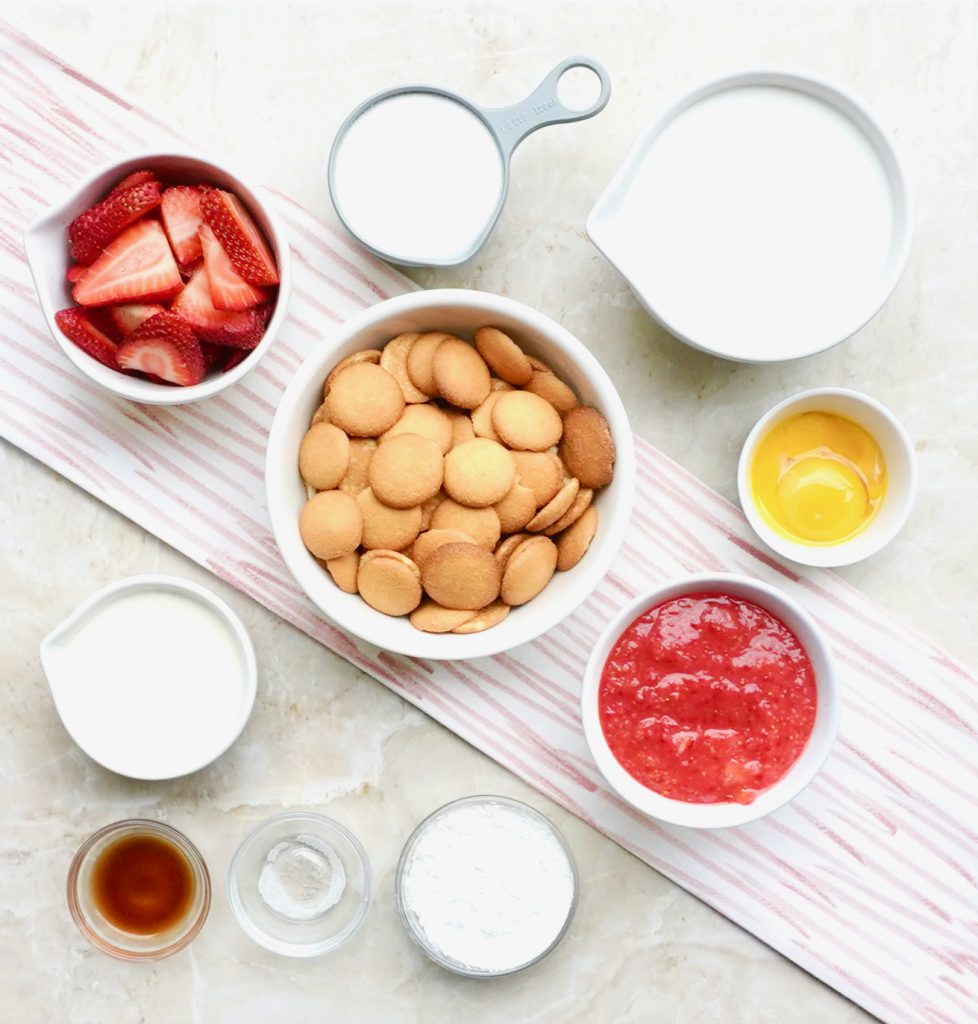 : 
Strawberry Trifles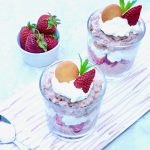 Print This
Ingredients
PUDDING:
½ cup granulated sugar
3 tablespoons cornstarch
Pinch salt
1 ½ cups whole milk
1 cup heavy cream
1 cup strawberries, diced and pureed
2 egg yolks
1 teaspoon vanilla extract
LAYERS:
2 cups mini vanilla wafers
1 cup halved strawberries, sliced
WHIPPED CREAM:
1 cup heavy cream
1 teaspoon vanilla extract
2 teaspoons granulated sugar
Instructions
PUDDING:
In a large saucepan, whisk together the sugar, cornstarch and salt. Add the milk, heavy cream and pureed strawberries.
Heat the mixture over medium heat until it begins to bubble, about 4-5 minutes. Let it boil, stirring constantly for 1 minute. Remove from the heat.
Beat the egg yolks in a medium sized bowl. Slowly pour ⅓ of the pudding into the eggs, whisking constantly. Combine well, then return the egg/ pudding mixture back into the pan. Whisk it in thoroughly.
Turn the heat back to medium low and bring the mixture back to a low boil. Continue to stir for an additional minute. Remove from the heat and stir in the vanilla extract. Let the pudding cool to room temperature.
WHIPPED CREAM:
Pre-chill your bowl and beaters in the freezer. Use a glass bowl for best results. Pour the cream and vanilla extract into the bowl. Beat on low speed to start then gradually increase to high speed with an electric mixer until the cream mixture becomes thickened and holds soft peaks. Add the sugar.This will make the the cream thicker. Continue to beat until the cream is very thick and holds stiff peaks..
ASSEMBLING THE STRAWBERRY TRIFLES:
Line the bottom of your serving bowl or 4 serving dishes with vanilla wafers. Spoon on a layer of strawberry pudding. Top with several strawberry slices. Repeat this again starting with another layer of vanilla wafers, pudding and fresh strawberries. Top with whipped cream. Garnish with fresh strawberries.
The trifle can be prepared a day ahead up to the point of adding the whipped cream. Prepare the layers of pudding, cookies and strawberries and cover with plastic wrap. Serve with the whipped cream and a strawberry garnish on top of the trifle.