Black Bean Mexican Rice is a simple to make recipe that can be served as a side dish or on its own as a vegan meal. It would make a perfect pairing with fajitas, tacos and burritos.
This quick fix recipe is ready from start to finish in about 30 minutes. Made with tomatoes, onions, garlic, chili powder and oregano, it is very flavorful and very hearty. It would make a perfect side dish for Baja Chicken or Mexican Crema Chicken.
If you want to try a Mexican style rice that is a complete meal, check out Salsa Chicken Rice Skillet.
Cinco de Mayo is coming soon and Black Bean Mexican Rice would make a good addition to your celebration. Check out 35 Simple Cinco de Mayo Recipes to get some other ideas for the day!
SOME THINGS TO KNOW:
INGREDIENT TIPS:
Jalapeno Peppers can be very hot and spicy. Removing the seeds and the ribs of the peppers can help to reduce the heat. If you are not familiar with them take a look at How to Check for the Hotness in Jalapenos.
When cooking rice it is important not to lift the lid off the pan too often. When this is done, the steam in the pan is released and it interrupts the cooking process. Check and stir the rice only once or twice while it is cooking.
ADDITIONS:
You can add a cup or two of shredded cooked chicken or cooked chorizo sausage to make this a complete meal.
SUBSTITUTIONS:
If you do not want to use black beans, a few good substitutions are pinto beans, kidney beans and Great Northern beans.
If you do not have a red bell pepper, you can use a green, yellow or orange bell pepper.
You can replace the vegetable broth with chicken broth or chicken stock.
If you do not have a yellow onion, you can use a red onion, sweet onion or shallot.
If you do not have a fresh garlic clove, you can substitute a teaspoon of garlic powder.
HOW TO STORE LEFTOVER BLACK BEAN MEXICAN RICE:
This will keep in the refrigerator for 3-5 days in an airtight container.
You can freeze Black Bean Mexican Rice for 2-3 months. Make sure that the rice is completely cooled and place it into an airtight container to freeze it. Defrost it overnight in the refrigerator and follow the directions for reheating.
HOW TO REHEAT BLACK BEAN MEXICAN RICE:
You can reheat this in a microwave oven in just a few minutes depending on the amount you are reheating. Simply cover the container with a paper towel over the top and add a tablespoon or two of water. Let it heat for a minute or two then check and stir it. Add more cooking time if needed.
You can also reheat the rice in a covered saucepan. Add a tablespoon or two of water to the pan, cover the pan and place it over low heat. Stir it occasionally until it is heated through.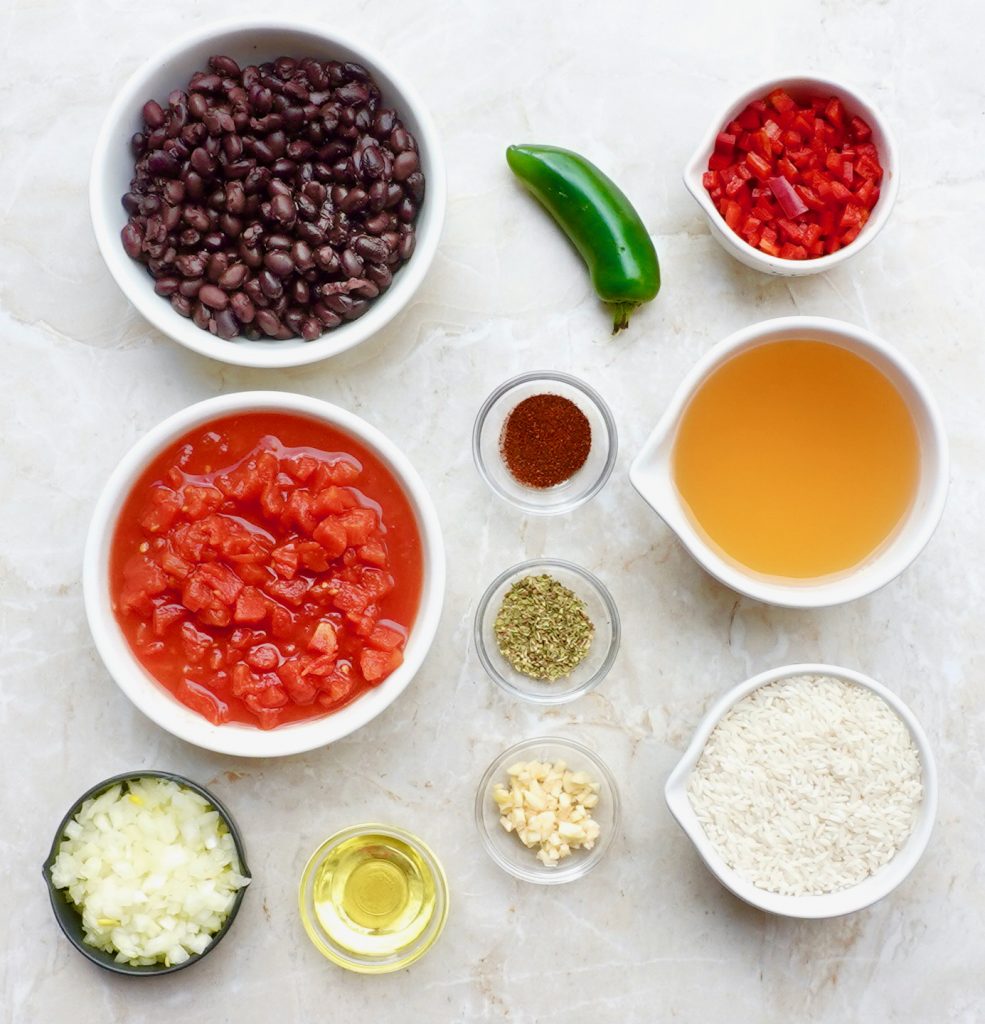 Black Bean Mexican Rice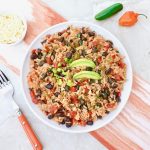 Print This
Ingredients
2 tablespoons olive oil
½ cup yellow onion, chopped
1 garlic clove, minced
½ cup red bell pepper, chopped
1 jalapeno pepper, seeds removed, minced
1 cup long grain rice
1 14.5 ounce can diced tomatoes (do not drain)
14.5 ounce can black beans, drained and rinsed
1.5 cups vegetable stock
1 teaspoon chili powder
1 teaspoon dried oregano
Instructions
Heat the olive oil in a large skillet with a lid over medium low heat.
Add the onion, garlic, red bell pepper, and jalapeno pepper. Cook, stirring occasionally for 2-3 minutes until they begin to soften.
Add the rice, tomatoes, black beans, vegetable stock, chili powder and oregano. Raise the heat to the high setting to bring the mixture to a boil.
Once it boils, reduce the heat to the low setting and place the lid over the skillet.
Let this simmer for 15- 18 minutes until all of the liquid is absorbed and the rice is tender.