Ratatouille is a great dish to make in the summer when you have an abundance of local produce available. This classic vegetable stew originated in the south of France and there are many variations to it.
Ratatouille is a chunky vegetable stew made with eggplant, summer squash, red bell pepper, tomatoes, onions, garlic, fresh herbs and seasonings. It is such a versatile dish that it is well worth the time and effort that it takes to make a batch.
You can serve the Ratatouille hot or cold. It makes a great side dish when you are grilling meat, chicken or fish. I served it with poached eggs and it was delicious! You could also add it to some pasta or fold it into your omelette. I am sure you will find your own way to enjoy this simple to make, healthy and low calorie dish!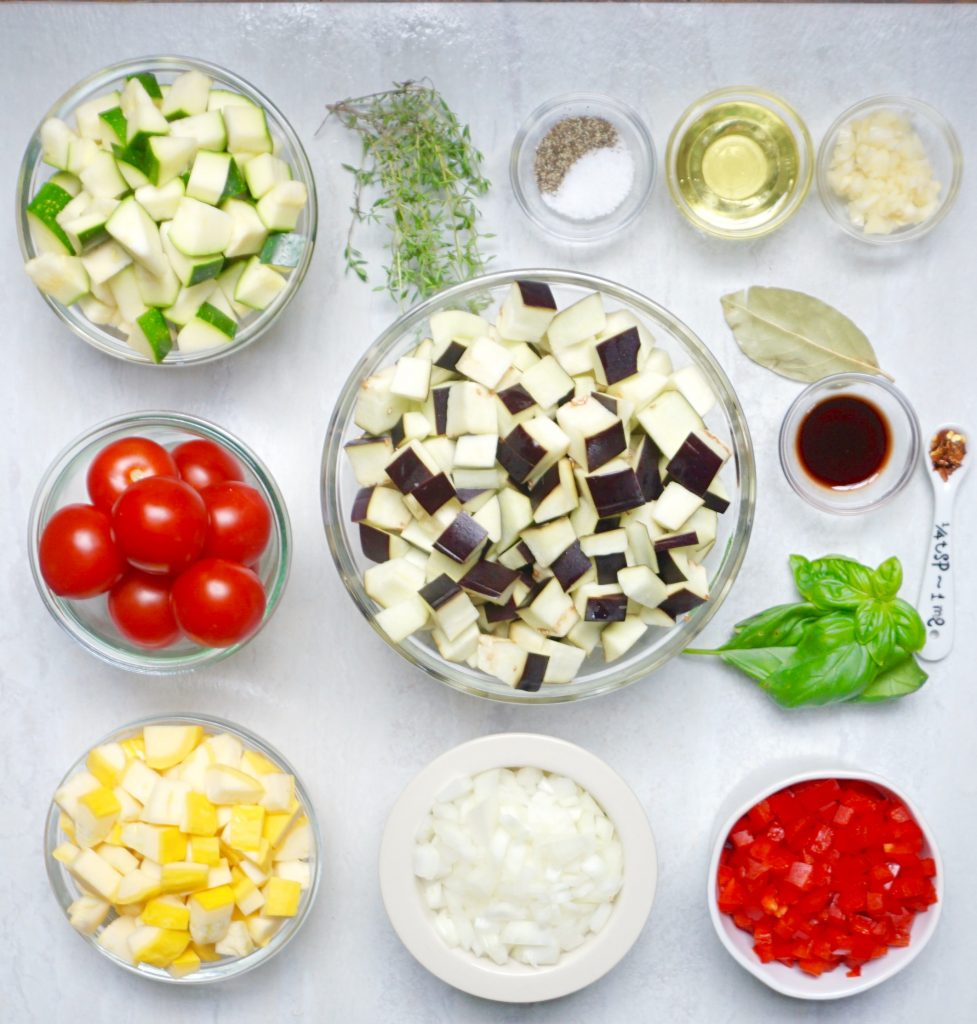 Ratatouille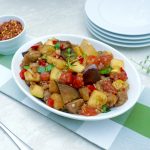 Print This
Ingredients
16 ounces eggplant, cut into 1 inch cubes
1 medium zucchini, cut into 1 inch cubes
1 medium yellow squash, cut into 1 inch cubes
1 red bell pepper,diced
1 medium yellow onion, diced
2 cups ripe tomatoes, diced
3 garlic cloves, minced
2 teaspoons fresh thyme or ½ teaspoon dried thyme
¼ cup fresh basil, cut into chiffonade *see instructions
2 tablespoons balsamic vinegar
1 dried bay leaf
¼ teaspoon crushed red pepper
¼ teaspoon each salt and pepper
Instructions
In a large skillet, heat the olive oil over medium low heat and add the onion, garlic and red pepper. Cook for 5 minutes until they start to soften. Add the eggplant and bay leaf and cook for an additional 5 minutes.
Add the zucchini, yellow squash, tomatoes, thyme, balsamic vinegar, basil, crushed red pepper, salt and pepper.
Simmer on low for 15 minutes.
Chiffonade is a slicing technique for cutting a leaved herb like basil into long thin strips. Check out this link to The Kitchn for instructions on how to chiffonade.