Cranberry Orange Walnut Bread is an easy recipe for a seasonal quick bread that would make a wonderful addition to your Thanksgiving dinner. This delicious bread is made with tart cranberries, zesty orange flavor, and crunchy walnuts, all wrapped in a tender crumb. It is also a great bread to enjoy for breakfast during this time of year and throughout the holiday season. It really is the perfect treat for any time of the day!
Cranberry Orange Walnut Bread is an easy bread to put together, with no mixer required! It freezes well, so you could make ahead of time it and freeze it if you want to serve it for Thanksgiving.
If you want another seasonal quick bread recipe you might also like to try Acorn Squash Bread, Pumpkin Bread, Date Nut Bread, and Cream Cheese Pumpkin Bread. They are all easy bread recipes that let you create your homemade bread simply.
Fresh cranberries have a short season so enjoy them while you can. If you like this cranberry orange bread you might also like Cranberry Orange Muffins. You could make Cranberry Orange Sauce to go with your Thanksgiving dinner. Cranberry Orange Ricotta Cake and Cranberry Gingerbread Cake make wonderful holiday desserts.
​SOME THINGS TO KNOW:FAQ'S
INGREDIENT TIPS:
Toasting the walnuts before adding them to the dough can enhance their flavor.
Organic oranges are preferred for zesting to avoid any wax or pesticides.
Fresh cranberries provide the best flavor and burst with color. If they are out of season, you can use frozen cranberries without thawing them. Check out How to Choose Cranberries and Keep Them Fresh.
SPECIAL EQUIPMENT NEEDED:
Loaf Pan: A standard 9×5 inch loaf pan is used for this bread recipe.
Mixing Bowls: You'll need at least two mixing bowls. You need one large mixing bowl for dry the ingredients and one medium bowl for the wet ingredients.
Whisk: A whisk is helpful for thoroughly combining the dry ingredients and for mixing the wet ingredients until smooth.
Spatula: A rubber spatula is useful for folding in the cranberries and walnuts, as well as for scraping the batter into the loaf pan.
Zester or Microplane: To zest the orange, you will need a zester or a microplane grater.
Juicer: A juicer is handy for efficiently extracting juice from the oranges, though you can also squeeze them by hand.
Cooling Rack: Once the bread is done baking, you will need a wire rack to allow the air to circulate around the bread, cooling it evenly without the bottom becoming soggy.
Toothpick or Cake Tester: This is to check the doneness of the bread. When inserted into the center of the loaf, it should come out clean or with a few moist crumbs attached
SUBSTITUTIONS:
If fresh cranberries are not available, you can use the same amount of frozen cranberries (do not thaw) or dried cranberries soaked in orange juice to plump them up.
For a more wholesome bread, substitute half of the all purpose flour with whole wheat flour.
If you don't have baking soda, you can use 3 teaspoons of baking powder as a substitute for 1 teaspoon of baking soda.
Apple cider vinegar or lemon juice can be used as a substitute for white vinegar, as they both are acidic and will react with baking soda for leavening.
 Vegetable oil can be substituted with melted coconut oil or any other neutral oil like canola or sunflower oil.
Chopped walnuts can be replaced with chopped pecans, almonds, or left out altogether if you prefer a nut-free version.
HOW TO STORE CRANBERRY ORANGE WALNUT BREAD:
Allow the bread to cool entirely on a wire rack before storing to prevent condensation from making it soggy.
Once cooled, wrap the bread tightly in plastic wrap or aluminum foil. This helps to the  keep air out and maintain moisture.
Place the wrapped bread in an airtight container or resealable plastic bag. It can be stored at room temperature for about 3-4 days.
If you want to extend the freshness a bit longer, you can store it in the refrigerator for up to 1 week.
HOW TO FREEZE CRANBERRY ORANGE WALNUT BREAD:
After the bread has completely cooled, wrap it securely in plastic wrap and then again in aluminum foil or place it into a freezer bag. This double layer helps prevent freezer burn.
Place the wrapped bread into the freezer. Properly wrapped and sealed, the bread can be frozen for up to 3 months.
Defrost the bread at room temperature on a wire rack.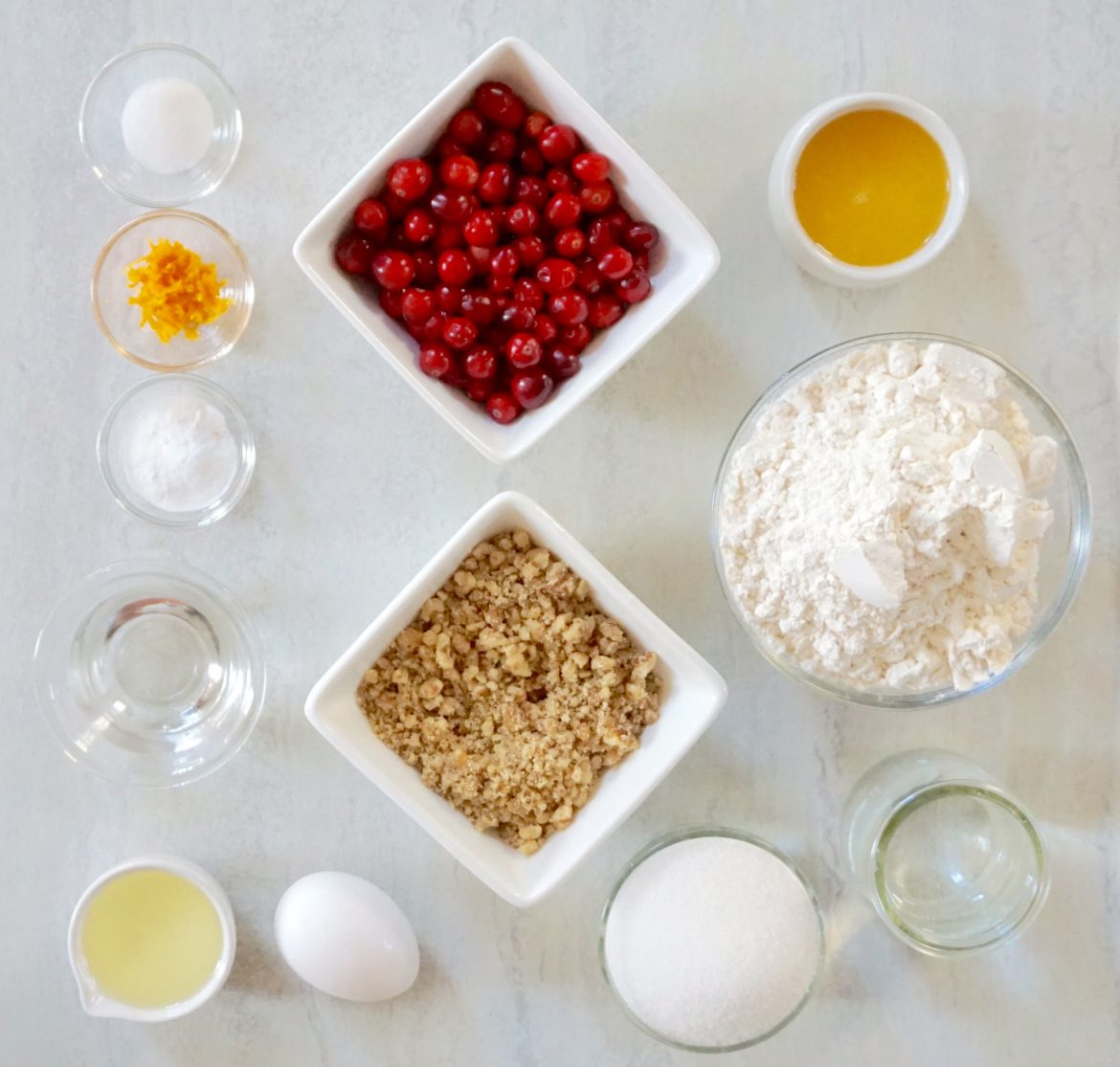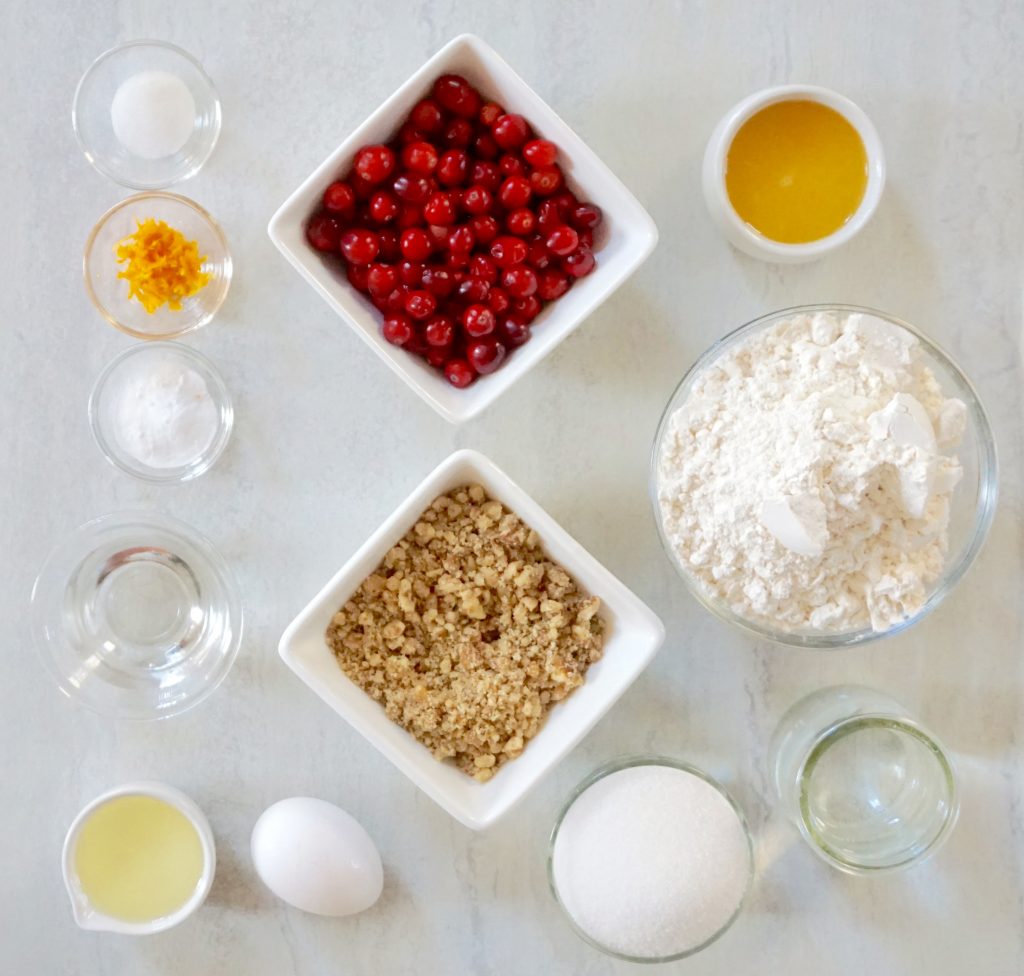 Combine the flour, baking soda, salt and sugar in a large bowl.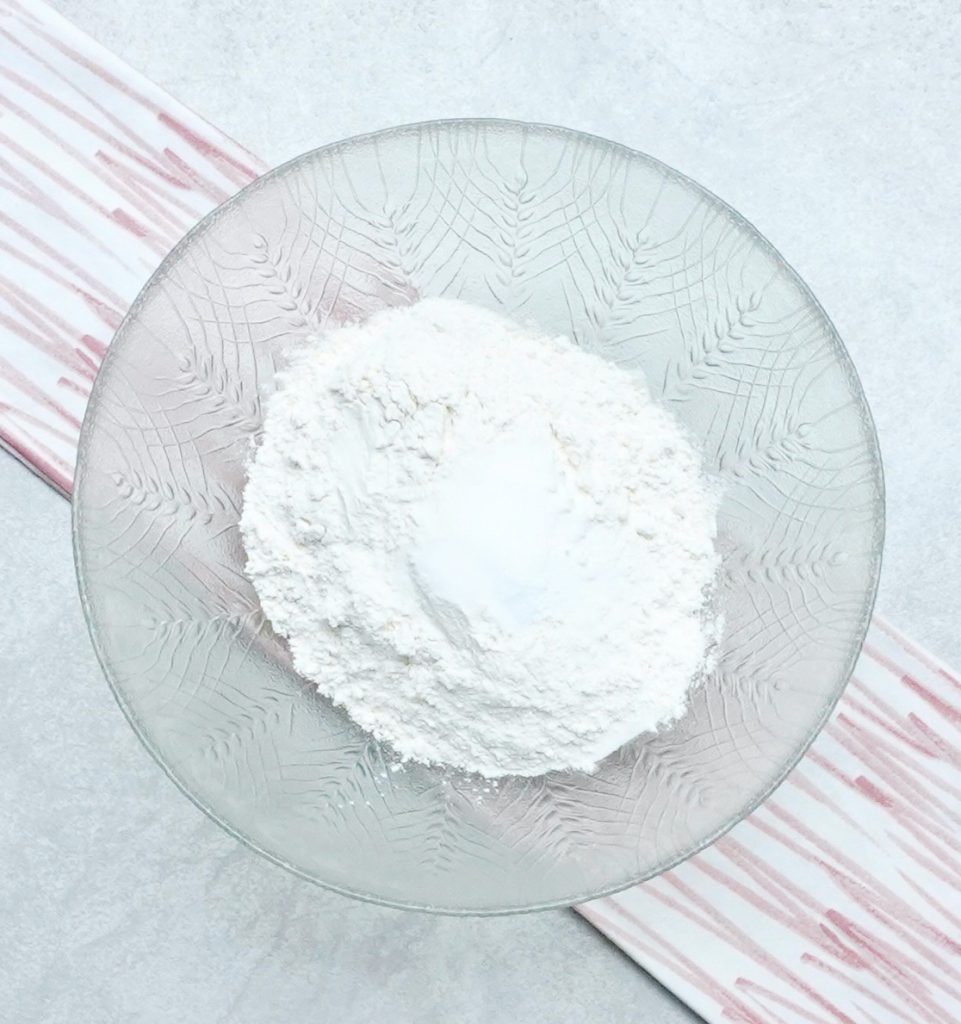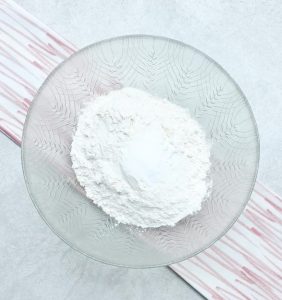 Whisk the egg then add the vegetable oil, orange juice, orange zest, vinegar and water.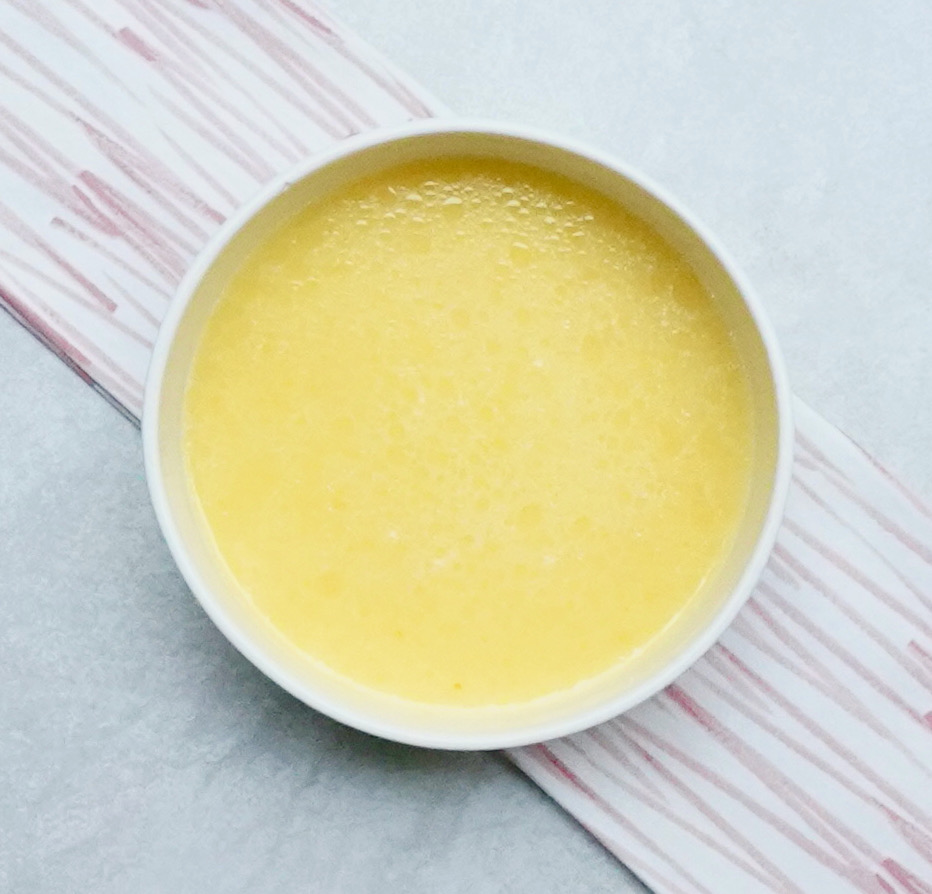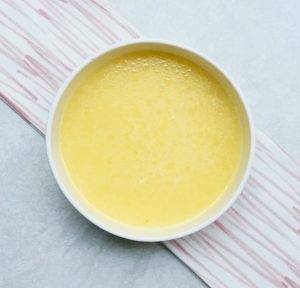 Pour the wet ingredients into the dry ingredients. Combine well and then stir in the cranberries and walnuts.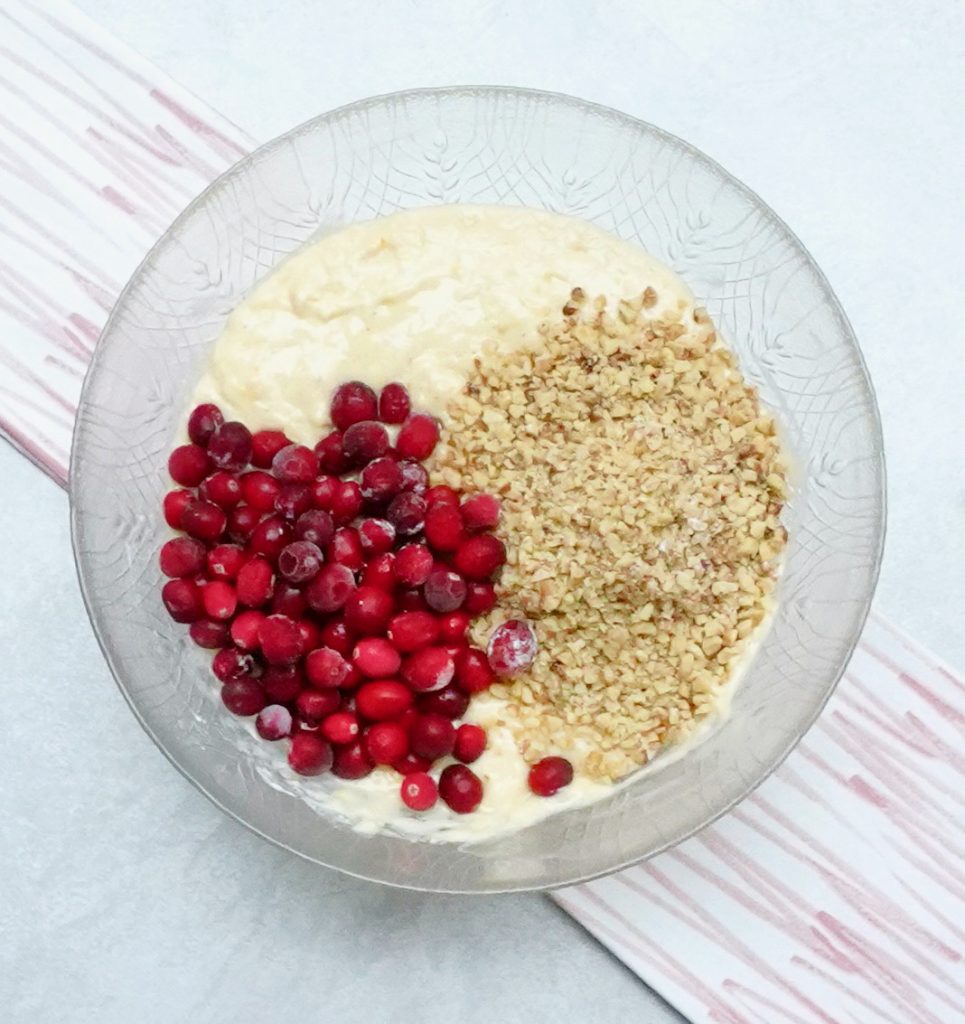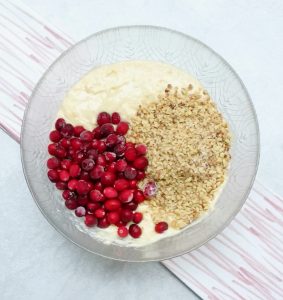 Spoon the batter into a greased and floured loaf pan.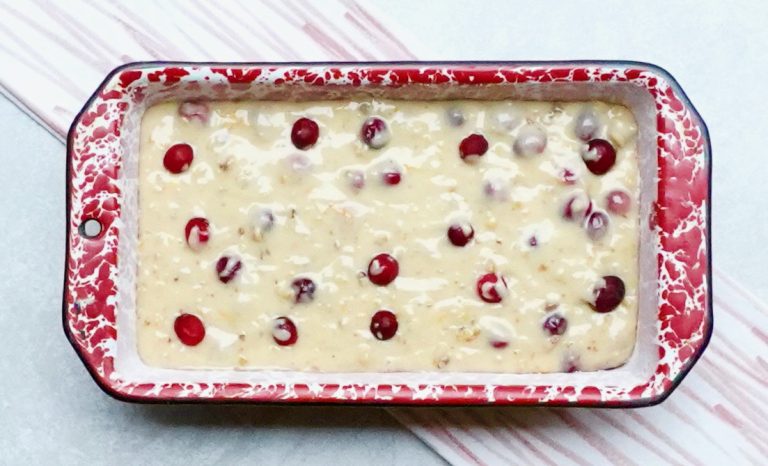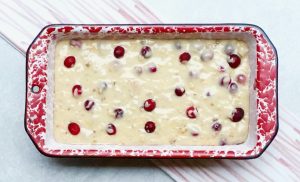 Cranberry Orange Walnut Bread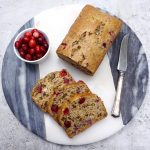 Print This
Ingredients
2 cups all purpose flour, sifted
1 teaspoon baking soda
1 teaspoon salt
¾ cup white sugar (granulated)
1 large egg
⅓ cup freshly squeezed orange juice
1 teaspoon orange zest
3 tablespoons white vinegar (plus enough cold water to make 2/3 cup)
¼ cup vegetable oil
1 cup fresh cranberries
1 cup chopped walnuts
vegetable shortening and extra flour to grease and flour the pan
Instructions
Preheat the oven to 350 degrees
Grease and flour a 9″ x 5″ loaf pan with vegetable shortening and a little bit of flour. With a paper towel, spread shortening inside the entire pan without missing any area. Spoon a heaping tablespoon of flour into the pan and shake all around the pan. Make sure the flour covers the entire inside. You will see if you have missed any areas with shortening by doing this. If you see any part, even tiny, where the flour does not stick, go back and add shortening to that place and repeat the flour process.
Add the flour, baking soda, salt and sugar into a large bowl. Mix the dry ingredients together well.
In a separate bowl, beat the egg with a fork. Stir in the orange juice, orange zest, vinegar/water mixture, and vegetable oil.
Add the wet ingredients  all at once to the flour mixture. Mix well by hand with a spatula.
Stir in the cranberries and walnuts.
Pour batter into the greased  loaf pan.
Place the pan into the preheated oven and bake for 55 minutes until the top of the bread is full set and golden brown. Oven temperature can vary so begin checking for doneness at 50 minutes.
Insert a toothpick or cake tester into the center top of the bread. If it comes out clean or with dry crumbs, the bread is done.
Remove the bread from the loaf pan and place it onto a wire rack to cool.
Serve the loaf of sweet bread with a cup of coffee and a pat of butter.
Notes
To check for doneness, look at the top of the loaf. It should appear dry. You can also insert a toothpick into the top. If the loaf is finished, it will come out dry.