Berry French Toast Bake is a simple breakfast casserole that you put together the night before and bake in the morning. It is a great breakfast to serve to overnight guests or have for a special Sunday breakfast.
Fresh berries are the stars here and they give the bake lots of flavor. It is slightly sweetened with brown sugar and can be served just as is or you can serve it with maple syrup if you want some additional sweetness.
This recipe is meant to sit overnight in order to completely absorb the wet ingredients into the bread.
If you like the idea of make ahead, overnight breakfast recipes, check out Cranberry Orange French Toast Bake, Blueberry Baked Oatmeal, Sausage Strata,  Overnight Apple Cinnamon French Toast, Strawberry Banana Baked Oatmeal, and Blueberry French Toast Bake.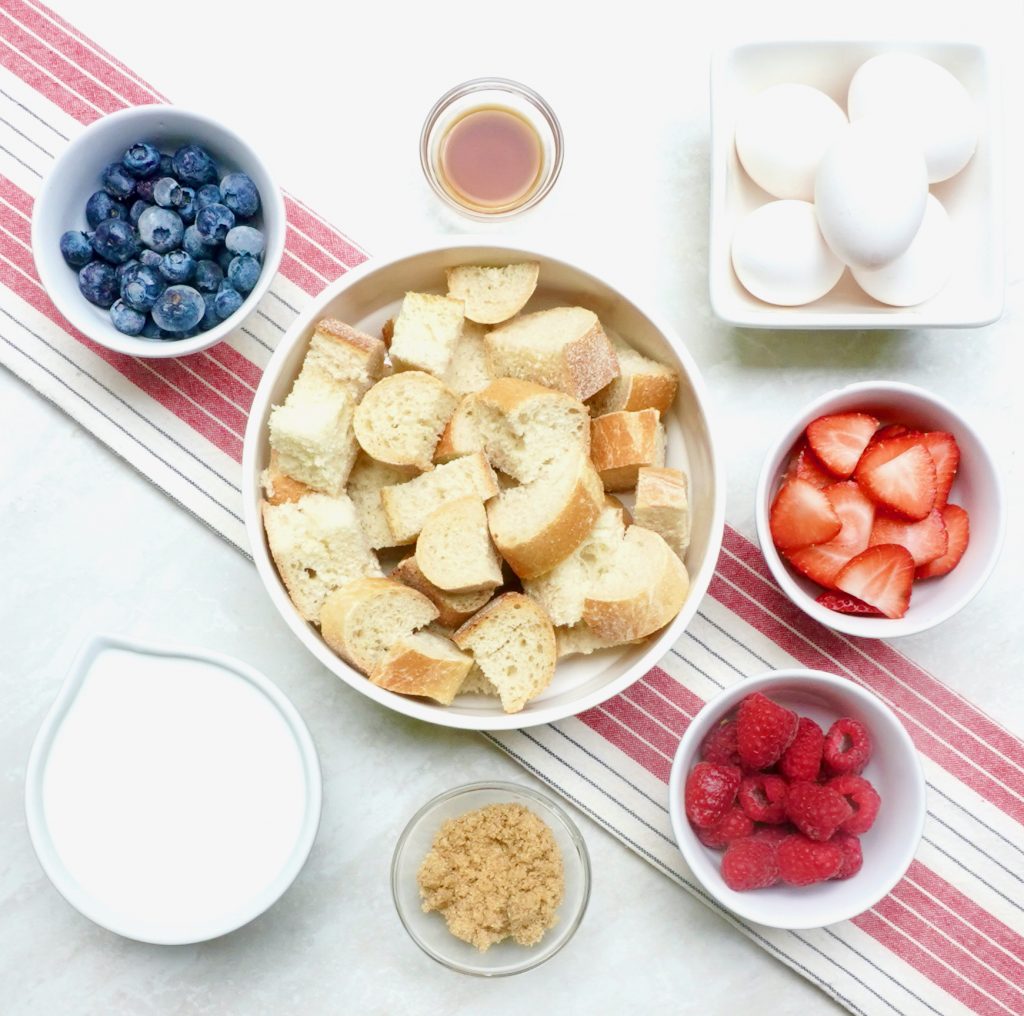 Berry French Toast Bake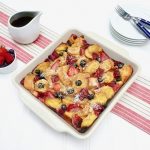 Print This
Ingredients
5 large eggs
1½ cups whole milk
1 teaspoon vanilla extract
3 tablespoons brown sugar, divided
4 cups bread cubes cut into two inch cubes (challah, baguette or brioche)
½ cup fresh raspberries
½ cup fresh blueberries
½ cup fresh strawberries, sliced
cooking spray
Instructions
Beat the eggs in a large bowl with a whisk. Add the whole milk, vanilla extract, and  2 tablespoons of the brown sugar. Whisk everything together thoroughly.
Spray a 9 inch square baking pan with cooking spray.
Add the bread cubes to the pan evenly.
Place the raspberries. blueberries, and strawberries evenly over the bread, tucking them down in between the cubes.
Pour the milk mixture over the bread cubes in the pan. Make sure that all the cubes are covered in the mixture. Cover with a foil or plastic wrap and place into the refrigerator overnight.
THE NEXT MORNING:
Preheat the oven to 350 degrees.
Remove the cover from the pan.
Sprinkle the remaining tablespoon of brown sugar evenly over the top of the casserole.
Bake for 50-55 minutes, until the top is completely formed and golden brown.
Serve with maple syrup if you want additional sweetness.