Raspberry Creme Brûlée sounds fancy but it is a simple dessert to make. It is a creamy classic dessert, filled with fresh raspberries. It has a hard sugar topping like glass which is a perfect contrast.
With just 6 ingredients you can create this flavorful dessert that is sure to impress!
You need to plan ahead a bit for this. The custard needs to be chilled before you add the sugar and either broil the topping in the oven or use a kitchen torch to caramelize it. This step must  be done at serving time. If it is done ahead of time and refrigerated, the hard topping will soften. It only takes 2-3 minutes to create the hard, glass like topping.
Simple, creamy desserts make the perfect ending to a meal. Check out Pumpkin Creme Brûlée, Chocolate Pots de Creme, Orange Flan, and Lemon Panna Cotta for some other simple dessert recipes.
SOME THINGS TO KNOW:FAQ'S
INGREDIENT TIPS:
SPECIAL EQUIPMENT NEEDED:
Ramekins: These are small, oven-safe dishes that are typically used for crème brûlée and other baked custards. You will need 6 four ounce ramekins for this recipe.
Kitchen Torch: This is used for caramelizing the sugar on top of the crème brûlée to create the iconic crispy crust. While there are oven-broiler methods to achieve this, a kitchen blow torch will provide the best results.
SUBSTITUTIONS:
If you do not have heavy cream, you can use half-and-half which is a mix of milk and cream. It is not as rich but can be used in the same quantity. For a dairy-free alternative, you could use the same amount of full-fat coconut cream.
You can substitute the whole milk for 2% milk. For a dairy-free option, use the same amount of almond milk or soy milk.
The granulated sugar cane be substituted with cane sugar or light brown sugar.
Use an equivalent amount of vanilla paste if you do not have vanilla extract.  One vanilla bean, with the seeds scraped from the vanilla pod can also replace the extract for an authentic flavor.
Frozen raspberries can be used if fresh raspberries aren't available. Blueberries, blackberries, or strawberries can also be used for a different flavor.
HOW TO STORE Raspberry Creme Brûlée:
If you've prepared the crème brûlée but haven't yet added and torched the sugar topping, you can store it in the refrigerator. Cover each ramekin tightly with plastic wrap or aluminum foil and refrigerate for up to 2-3 days.
It's best to consume brûléed crème brûlée immediately for that classic crispy top. However, if you must store it, you'll lose the crispiness of the sugar layer.
HOW TO REHEAT Raspberry Creme Brûlée:
If you've stored your crème brûlée in the fridge without the sugar topping, you can simply add sugar and torch it before serving. If it's already brûléed, you can try torching the top again to regain some crispiness, but it won't be the same as freshly brûléed.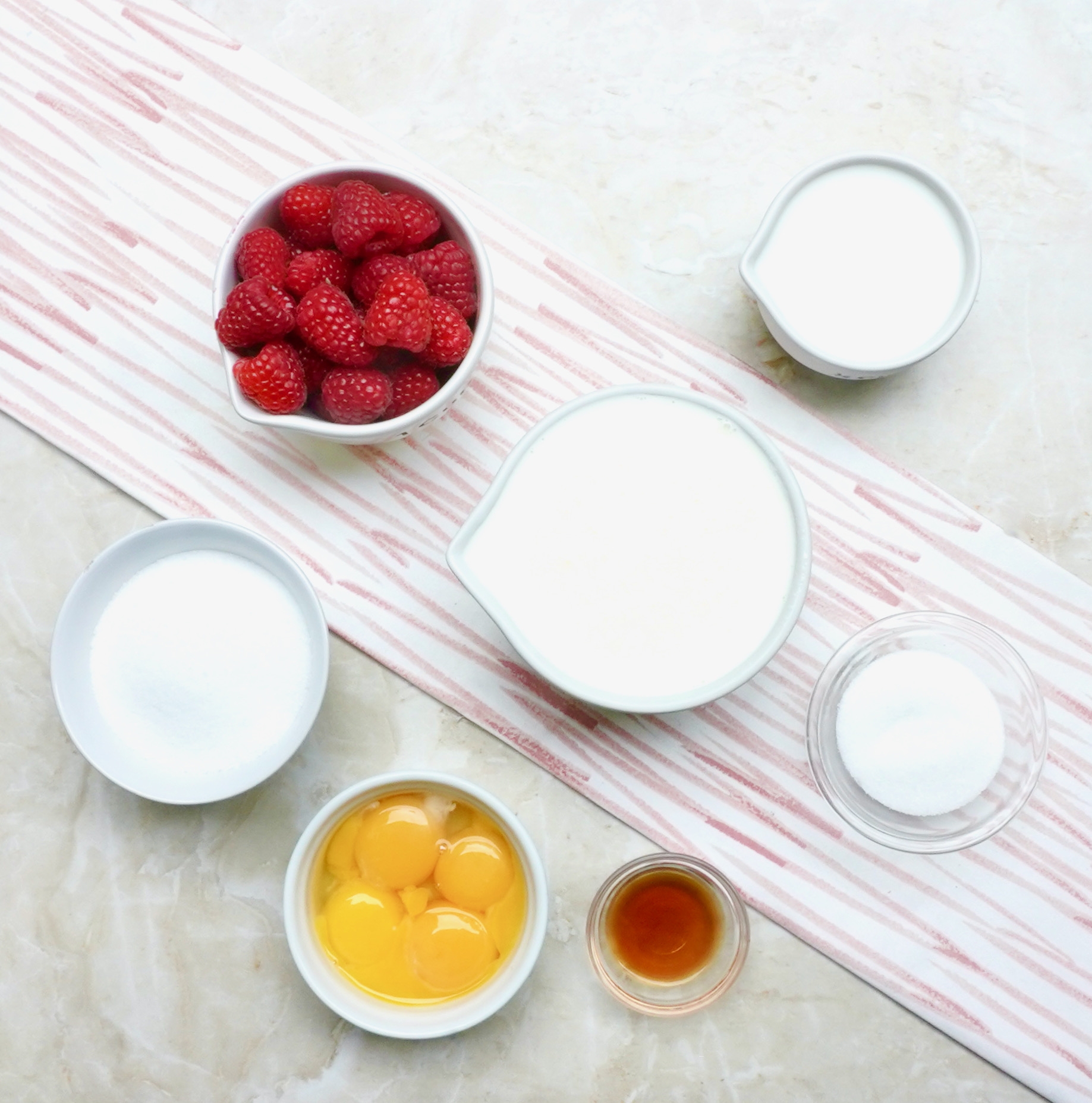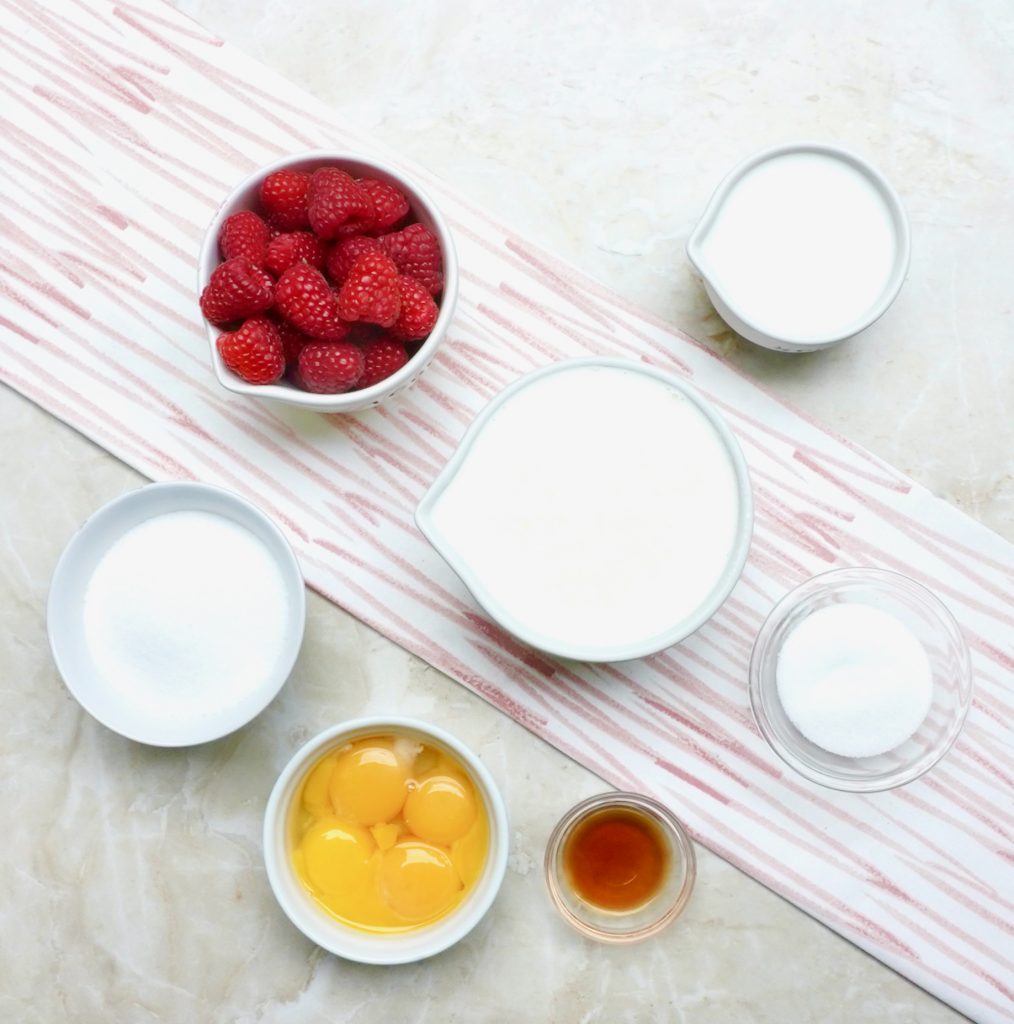 Raspberry Creme Brûlée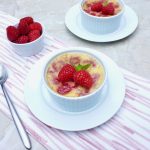 Print This
Ingredients
1 ½ cups heavy cream

½ whole milk

½ cup sugar (granulated)

5 large egg yolks

1 teaspoon vanilla extract

1 cup raspberries, sliced

6 teaspoons granulated sugar for the brûlée topping
Instructions
Preheat your oven to 325 degrees.
Set the 6 teaspoons of sugar to the side for later use. They will be sprinkled over the tops of the custard to create the caramelized topping.
In a medium saucepan, combine the heavy cream, milk,  and ¼ cup of the sugar. Turn the heat to medium heat and bring it just to the boiling point so the sugar dissolves. Do not let it actually boil. Let the hot cream mixture sit for 10 minutes to cool slightly.
In a large bowl, whisk together the egg yolks with the other ¼ cup of the sugar and the vanilla extract.  Combine well.
Add the cooled cream mixture to the egg mixture in the bowl and combine well.
Carefully stir in the raspberries.
Divide the mixture evenly between six 4 ounce ramekins.
Place the ramekins into a 9″ x 13″ baking pan.
Create a water bath for baking. Pour enough very hot water into the baking dish so the water come halfway up the sides of the ramekins.
Bake for 40 minutes on the center oven rack until the custard is completely set but has a slight wobble.
Remove the ramekins from the baking dish and let them cool for 15 minutes to room temperature. Cover each ramekin with plastic and place it into the refrigerator.
They must sit at least 2 hours before you caramelize the tops. You can keep them up to 24 hours.
Measure 1 teaspoon of sugar for each of the ramekins. Sprinkle sugar evenly over the top of each custard. Make sure the top is completely covered.
You can place them on a baking sheet under the broiler for 1-2 minutes until the sugar melts and they are browned.
Another method is to use a kitchen torch and to melt the sugar and then continue until it has deepened in color and has become caramelized.
Serve at once.