Lentil Spinach Salad is a hearty salad that is full of flavor. It has a light lemon olive oil dressing and crumbled feta cheese adds a nice saltiness to the lentils and veggies. This is a salad that will keep you full and satisfied.
If you have never cooked with lentils before, they are a legume which is part of the bean family. They are high in protein and make a good meat replacement.
This is a simple recipe to make. You can chop the vegetables and make the dressing while the lentils are cooking and have everything together in about 30 minutes.
Lentils are such a good substitute for meat in Lentil Bolognese and Lentil Chili. They are also delicious in Lentil Soup.
If you are a fan of spinach, check out Asiago Creamed Spinach.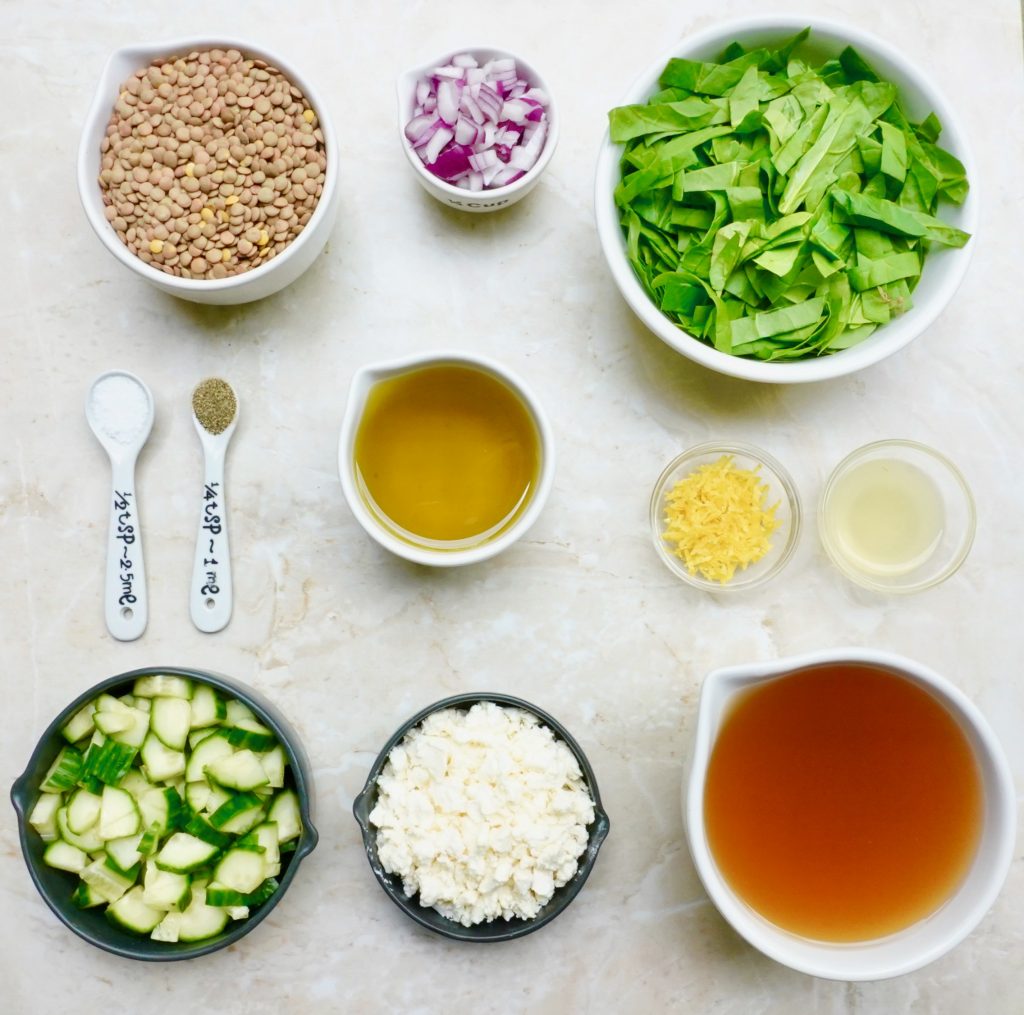 Lentil Spinach Salad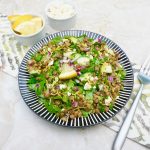 Print This
Ingredients
SALAD:

1 cup brown lentils

3 cups vegetable broth

2 cups fresh spinach leaves, stems removed and sliced into ½ strips

½ cup red onion, diced

1 cup english cucumber, diced

½ cup feta cheese, crumbled

2 tablespoons fresh parsley, chopped

DRESSING:

½ cup olive oil

2 tablespoons fresh squeezed lemon juice

½ teaspoon kosher salt

¼ teaspoon black pepper
Instructions
Place the lentils and the vegetable broth into a medium size saucepan.
Bring them to a boil over high heat. Lower the the heat setting to medium low, cover the pan and let them simmer for about 20 minutes until they are tender, checking them occasionally. It there is any liquid remaining, drain them. Let the lentils cool to room temperature.
Place the lentils into a large bowl.
Add the spinach, red onion, cucumber, feta cheese and parsley. Stir to combine.
In a small bowl, whisk together the olive oil, lemon juice, kosher salt and black pepper. Combine well.
Pour the dressing over the salad and stir until it is completely combined.