Asiago Creamed Spinach is a take on one of the favorite dishes of all. This easy creamed spinach recipe gets a lot of flavor from fresh shallots and asiago cheese. It would make a good side dish for the holidays or a dinner party. It's one of those creamy and comforting side dishes that goes with just about anything that you are making.
One of the best things about this delicious recipe is its simplicity. There are only a few ingredients and the cooking time is under 10 minutes. This might turn out to be one of your favorite recipes.
If you are a fan of spinach dip, you might want to check out, Spinach Artichoke Dip. If you want to see our favorite recipes for side dishes with spinach, check out Lentil Spinach Salad and Mushroom Spinach Orzo. You might also like, Savory Spinach Avocado Oatmeal.
SOME THINGS TO KNOW:
You can make this recipe with fresh spinach or fresh baby spinach if you want to. It takes 1-1 ½  pounds of fresh spinach to yield the same amount of spinach in a 10 ounce box of frozen spinach so you would need 4-6 pounds of fresh spinach. You may want to remove the stems from the fresh spinach and chop it in the food processor.
Frozen spinach contains a lot of water. Place the defrosted spinach between some paper towels and gently squeeze as much water as you can from the spinach. You can also check out How to Squeeze Spinach Dry for some other good ideas.
Asiago cheese is an Italian aged cow's milk cheese with a nice sharp flavor. If you cannot locate it, you can substitute Parmesan cheese or Pecorino Romano cheese.
If you do not want you use butter in this recipe, you can substitute 3 tablespoons of olive oil or use some olive oil with a little butter for flavor.
Make sure to use whole milk in this recipe. Fat free milk will not give it the same creamy consistency.
Asiago Creamed Spinach can be made in advance. It would best be reheated on the stove. You might need to add a bit of cream or milk to it during the heating process.
You can keep any leftovers in the refrigerator in an airtight container for 2-3 days.
The cream in this recipe may change texture and split during the freezing process. It is not recommended that this be frozen.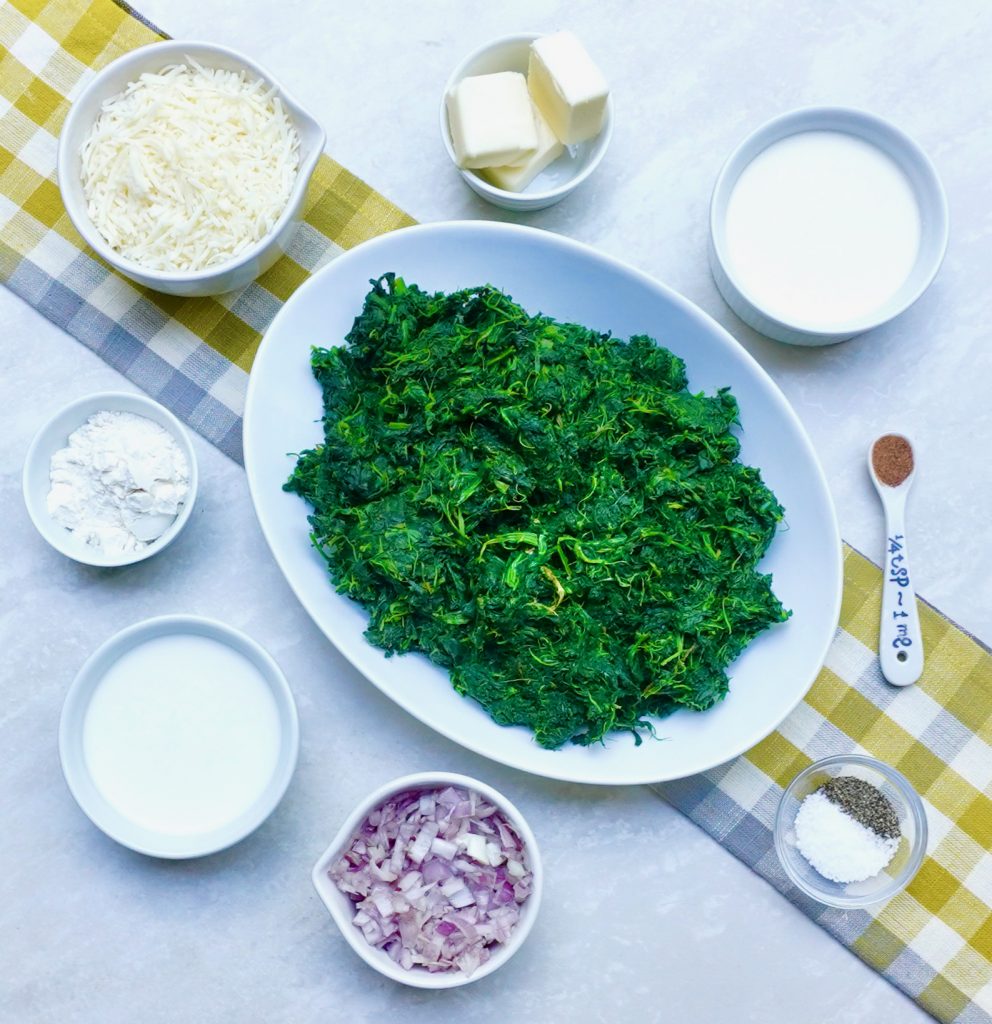 Asiago Creamed Spinach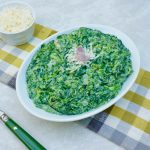 Print This
Ingredients
3 tablespoons butter

½ cup shallots, finely chopped

3 tablespoons all purpose flour

1 cup heavy cream or heavy whipping cream

1 cup whole milk

4- 10 ounce boxes frozen chopped spinach, defrosted and water squeezed out

¼ teaspoon ground nutmeg

1 cup grated asiago cheese
Instructions
In a large pot or large skillet, melt the butter over medium low heat.
Add the shallots and let them cook, stirring occasionally for 2-3 minutes,  until they begin to soften. Do not let them brown.
Add the flour to the pan and using a whisk, thoroughly combine it with the butter. Keep whisking until it is smooth and bubbly.
Slowly pour the heavy cream into the pan, whisking constantly.
Add the milk into the pan, whisking constantly. Raise the burner to medium heat and keep whisking the mixture until it starts to bubble and thicken. Once it bubbles, turn the burner heat to the low setting.
Add the spinach to the pan and stir it into the sauce using a rubber spatula. Use the spatula to break up any clumps of spinach and combine well.
Add the nutmeg and asiago cheese to the pot. Stir to combine.
Let the spinach cook for 2-3 minutes until it is heated through.
Add salt and black pepper to taste.