Southwest Chicken Egg Rolls are a fun way to switch things up! The filling is a combination of chicken, tomatoes, beans, corn,  onions, and seasonings that you would typically find in tacos. Rolled and fried crispy, it is a delicious combination.
Rolling egg rolls is not overly hard but it takes a bit of time. They are easily sealed with a bit of beaten egg and only take a few minutes to fry. If you have never made them before check out How to Roll Egg Rolls.
If you like the filling but do not want go through the process of making egg rolls, you could use the filling in a taco, burrito, or quesadilla.
If you like Southwest recipes check out Southwest Pasta Salad. If you like easy ground chicken fillings check out Chipotle Chicken Tacos.
SOME THINGS TO KNOW:
These egg rolls can be frozen either before they are fried or after they are fried up to 3 months in an air tight freezer container.
These egg rolls can be fried or reheated in an air fryer in minutes. Instructions are given below.
They would be great dipped in Tomato Salsa or Avocado Crema.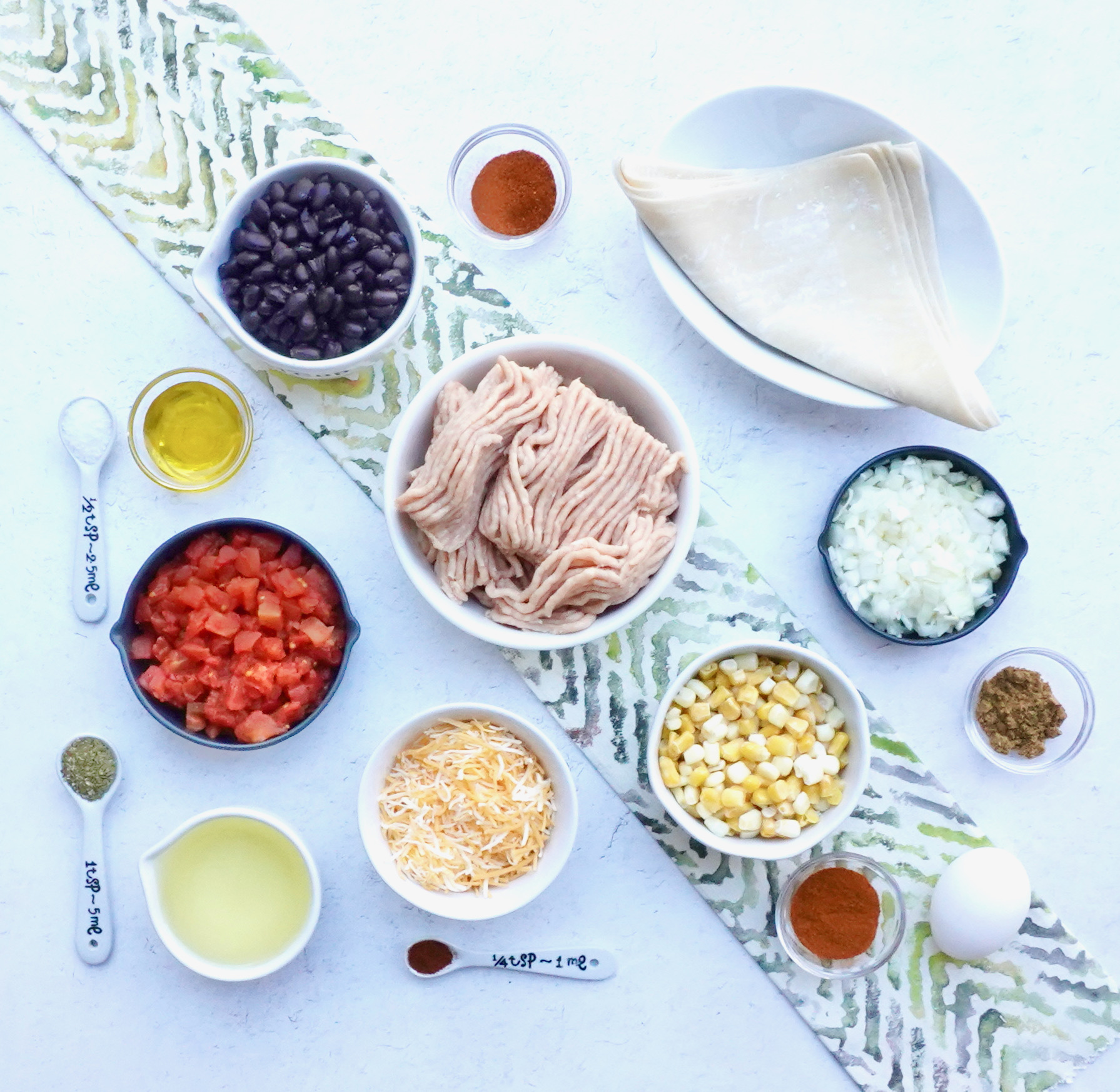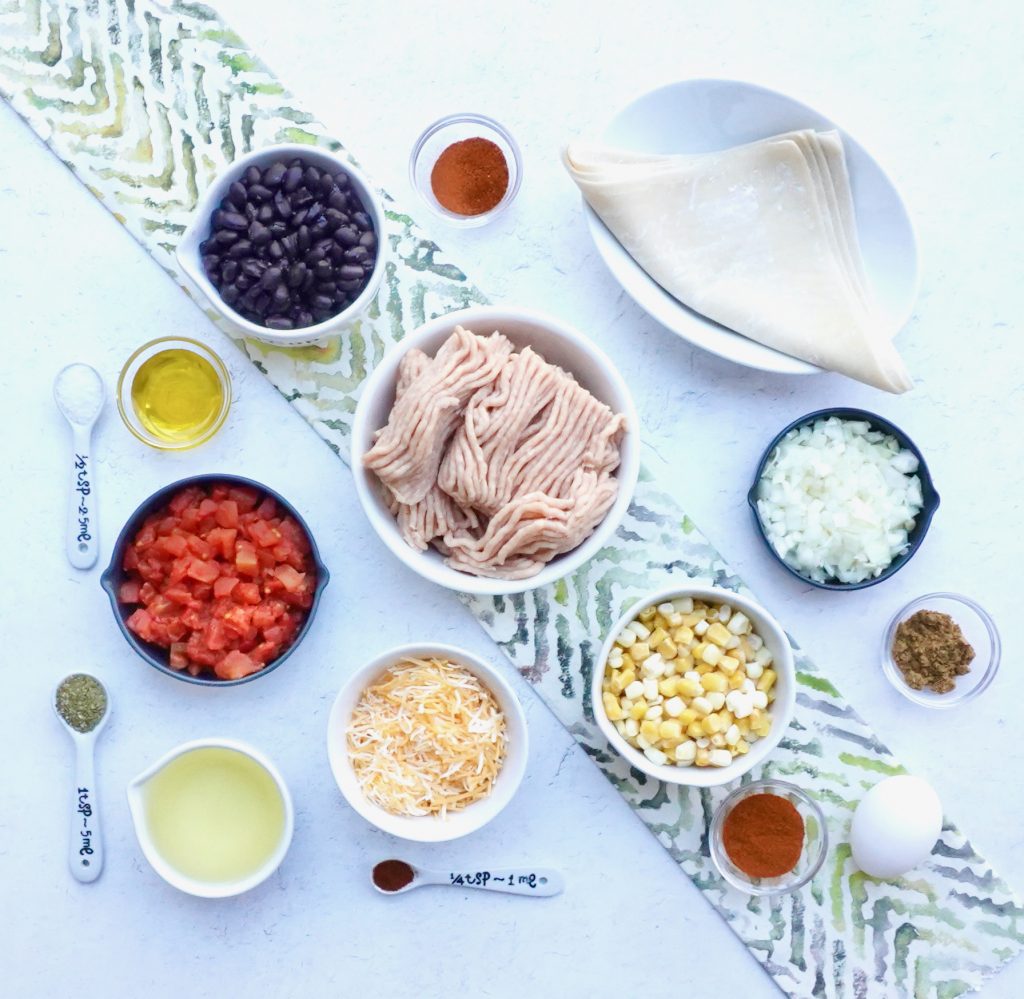 Southwest Chicken Egg Rolls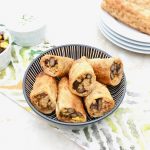 Print This
Ingredients
1 tablespoon canola oil

1 pound ground chicken

¼ cup yellow onion, diced

1 cup diced tomatoes

2 teaspoons chili powder

1 teaspoon oregano

1 teaspoon cumin

½ teaspoon kosher salt

¼ teaspoon cayenne pepper

1 cup black beans, rinsed and drained

1 cup fresh or frozen corn kernels

1 cup shredded Mexican cheese blend

EGG ROLLS:

1 large egg

18 ounce package egg roll wrappers (20 count)

½ canola oil
Instructions
FILLING:
Heat the canola oil in a large skillet over medium low heat.
Add the chicken to the skillet and cook it 3-4 minutes until it is no longer pink. Use a knife and fork to break up the lumps. You want it to be crumbly.
Add the onions and cook for 2 minutes, stirring occasionally.
Add the tomatoes, chili powder, oregano, paprika, cumin, salt and cayenne pepper.
Add ½ cup water and combine well.
Let the mixture simmer, uncovered over medium low heat for 10 minutes.
Stir in the beans and corn and cook for an additional 3 minutes.
Remove from the heat and stir in the cheese.
EGG ROLLS:
Beat the egg in a small cup.
Lay an egg roll wrapper on a cutting board.  Turn it so it is in a diamond position.
Measure out 2 rounded tablespoons of the filling and mold it into a strip 2 inches above bottom  corner of the egg roll wrapper.
Take the bottom corner of the egg roll wrapper and bring it up over the filling. Roll it over one time.
Bring the right and left corners into the center of the roll.
Roll from the bottom up until two inches of the top corner is showing. Brush this corner all over with the beaten egg.
Continue to roll the egg roll over the corner. The egg acts like glue and seals the egg roll together.
Continue this process until you have rolled them all. Keep the finished ones lightly covered in wax paper or plastic as they will dry out.
At this point you could freeze the egg rolls and fry them later. Simply place them onto a baking sheet and put them into the freezer. Once frozen, place them into an airtight freezer container. They can be frozen for up to 2 months.
When you are ready to cook the egg rolls, pour the oil into a large skillet and heat over medium low heat. You just need a light coating of oil on the bottom of the pan.
Add the egg rolls and cook for about 5 minutes, turning them occasionally so they become lightly browned all over.
Remove the egg rolls from the pan and place them on paper towels to absorb the oil.
Serve at once.
You can also freeze the egg rolls cooked. Place them onto a baking sheet and place them in the freezer. Once frozen, place them into an airtight freezer container. They can be frozen for up to 2 months.
To reheat the egg rolls, defrost them first.
Preheat the oven to 350 degrees.
Place the egg rolls on a baking sheet.
Bake for 10-15 minutes until they are crispy and heated through.
If you have an air fryer you can fry either the uncooked or cooked version in minutes. Defrost them first. Place an already cooked egg roll into the air fryer set at air fry 400 degrees for 2-3 minutes until heated through.
Place an uncooked egg roll into the air fryer set at air fry 400 degrees. Do not overcrowd them! Cook for 2 minutes, open the air fryer and turn the egg rolls so they brown evenly. Fry for another 1-2 minutes until browned and heated through.