Oatmeal is such a versatile ingredient. There are so many ways to prepare it sweetened for breakfast and it lends itself well to savory ingredients too. Savory Spinach Avocado Oatmeal is flavorful, cheesy and hearty. It would make a great brunch dish and would also be good for lunch and even dinner!
This simple recipe cooks in just minutes. Savory Spinach Avocado Oatmeal is healthy, vegetarian and gluten free.
If you are looking to add more oatmeal into your diet check out Pumpkin Oatmeal Pancakes, Banana Cocoa Oatmeal, Blueberry Baked Oatmeal, Cranberry Orange Oatmeal, Strawberry Banana Baked Oatmeal, Banana Cinnamon Oatmeal, Oatmeal Cranberry Orange White Chocolate Chip Cookies, and Morning Glory Overnight Oats.
Are you loving the potholders in the photos? They are handmade in CT by my friend Karen who founded the business A Handmade House Studio. All the products are 100% cotton, homemade goods for the home. Check it out. There are so many great colors and designs. They make the cutest gifts or additions to your kitchen.
SOME THINGS TO KNOW:
Oatmeal provides many health benefits. It can help to lower blood sugar levels, provides antioxidants, helps you feel full longer, maintain digestive health and enhance the immune system.
This recipe can easily be made vegan by using a dairy free Parmesan Cheese.
This will keep in the refrigerator for up to 5 days.
You can freeze this in an airtight container for up to 3 months. Once defrosted you can easily reheat the oatmeal in a microwave. Just add a small amount of liquid to the oatmeal in a microwave proof bowl. Cover and heat for 30 seconds at a time, stirring in between heating until it is heated through. This will take under 2 minutes. You can also reheat it on the stove top by placing the oatmeal into a saucepan with a small amount of liquid over medium low heat. Stir the oatmeal occasionally until it is heated through. This will take around 5 minutes. If you are planning on freezing it, do not add the avocados. When it has been reheated and is ready to be served you can add them.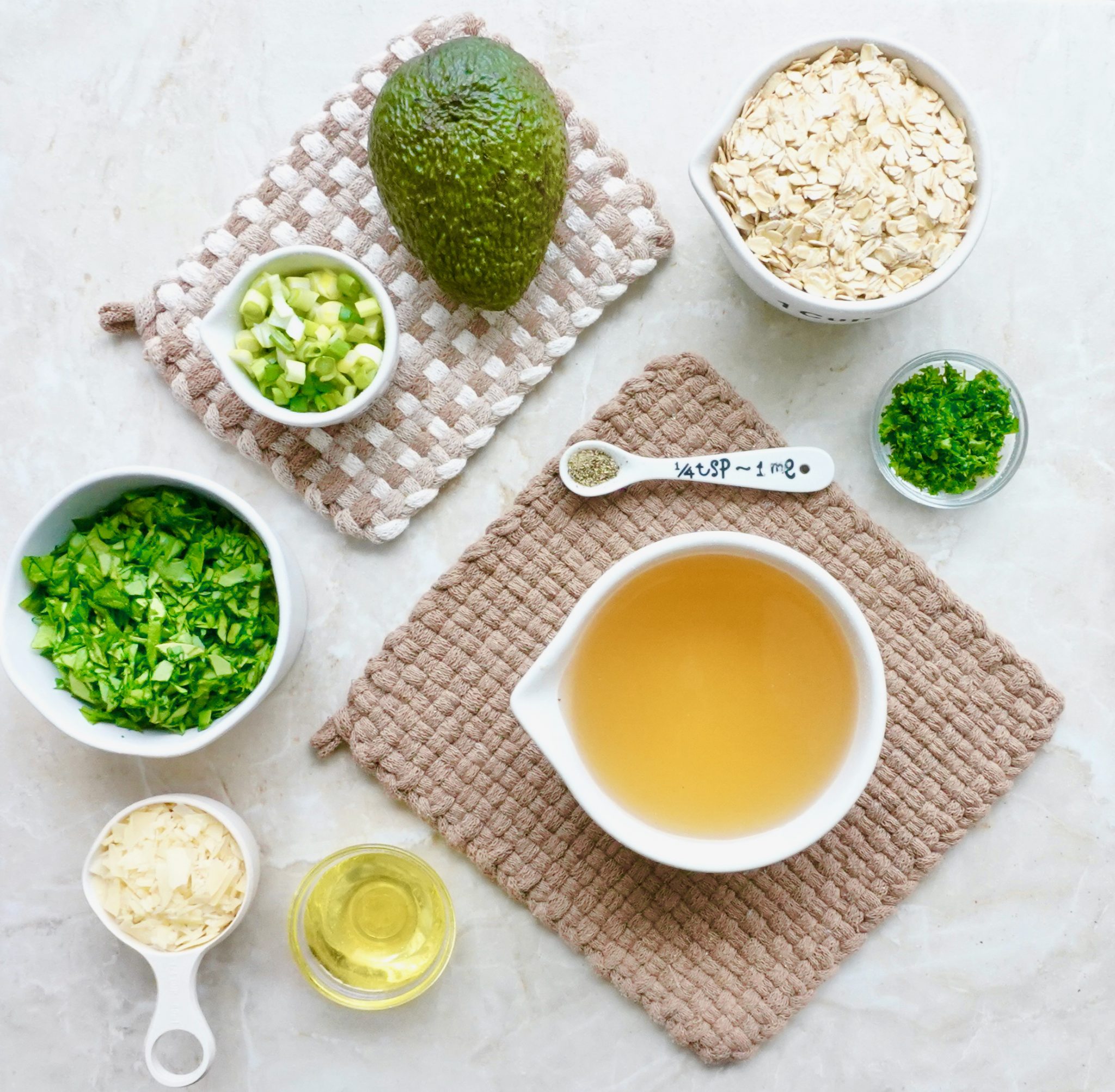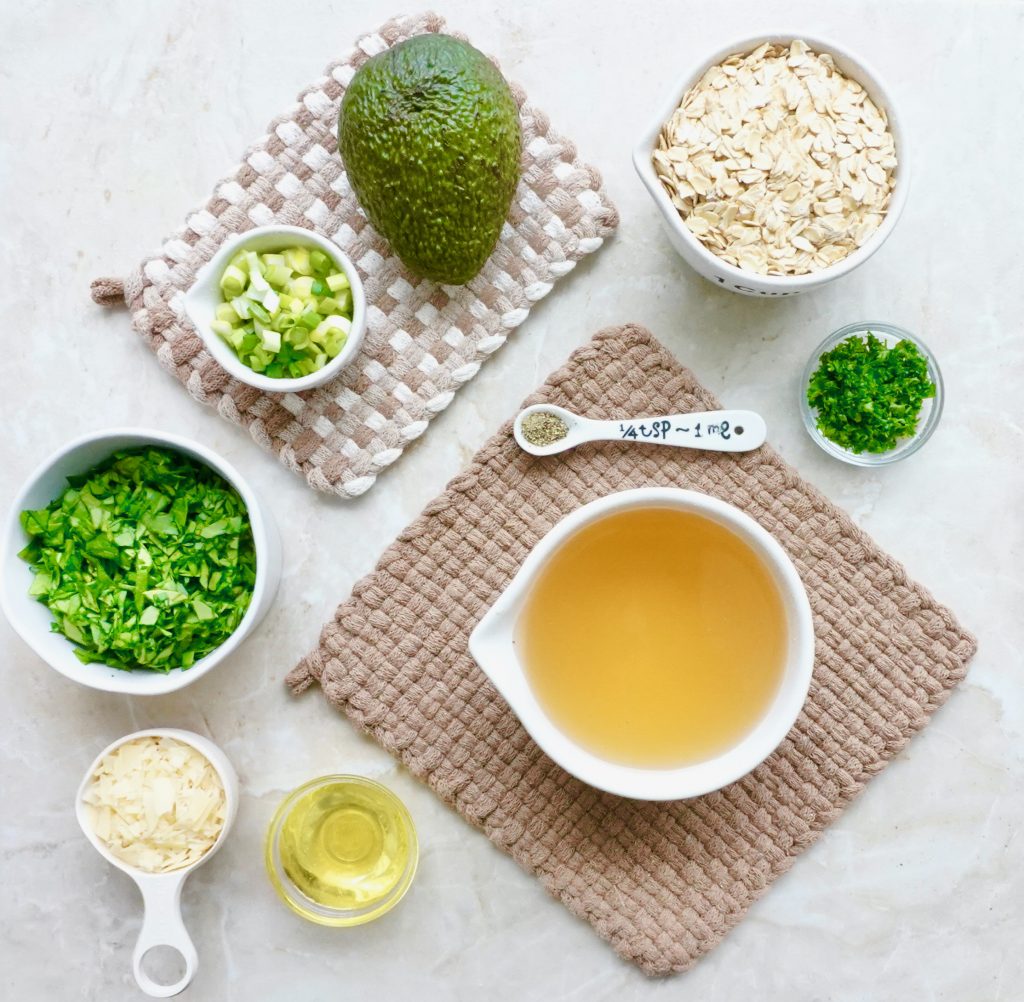 Savory Spinach Avocado Oatmeal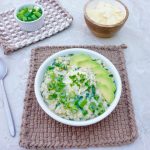 Print This
Ingredients
2 teaspoons olive oil

¼ cup green onions, sliced

1 cup old fashioned rolled oats

2 cups vegetable broth

¼ teaspoon black pepper

1 cup baby spinach, stems removed and chopped

¼ cup grated parmesan cheese

1 tablespoon fresh parsley, chopped

1 avocado, halved and sliced
Instructions
Heat the olive oil in a medium sized saucepan over medium low heat.
Add the green onions and cook for 1 minute, stirring occasionally.
Add the oats, vegetable broth and pepper. Combine well.
Raise the heat to the high setting to bring the mixture to a boil. Once it reaches the boiling point, turn the heat down to the low setting so the oatmeal is at a gentle simmer.
Cook until the liquid has been totally absorbed, stirring occasionally.
Add the spinach and stir until it wilts.
Add in the parmesan cheese and parsley. Stir to combine.
Divide the mixture between two serving bowls. Place half of the sliced avocado on the top of each bowl.
Notes
The avocados should be sliced when you are ready to serve the oatmeal as the will start to brown once they are exposed to the air. You can squeeze some fresh lemon juice over them to slow the process.