Butternut Apple Bisque is a velvety smooth, filling, vegetarian creamy soup. It combines two fall favorites, butternut squash and apples in this heathy soup recipe with a silky texture.
Roasting butternut squash really intensifies the flavor. It is the base for this soup. There are very few additional ingredients. Apples add the perfect amount of sweetness and it is finished with a small amount of cream. If you want to keep this vegan, you could substitute coconut milk or almond milk. You could also leave it out all together. The soup is thick and rich on it's own.
If you like butternut squash bisque and want to try another butternut squash recipe, check out Gnocchi with Butternut Squash Bechamel Sauce, Roasted Butternut Squash, Butternut Squash Quinoa Salad, and Baked Butternut Pasta.
SOME THINGS TO KNOW:FAQ'S
INGREDIENT TIPS:
Look for sweet apples like Honeycrisp apple or Gala apple. You might also like the sweet tart Granny Smith apples.
Read How to Pick the Best Apples Every Single Time so you know what to look for when you are choosing your apples.
SPECIAL EQUIPMENT NEEDED:
Sheet Pan/Baking sheet
Large pot or dutch oven.
Food processor or upright blender
SUBSTITUTIONS:
You can substitute chicken broth or vegetable stock for the vegetable broth.
You can use sugar pumpkin, acorn squash, Hubbard squash or buttercup squash in place of the butternut squash.
You can substitute the heavy cream with half and half, coconut cream, coconut milk, oat milk or almond milk.
If you do not have fresh thyme, substitute ½ teaspoon dried thyme.
The yellow onion can be substituted with white onion or sweet onions.
HOW TO STORE LEFTOVER BUTTERNUT APPLE BISQUE:
You can store the bisque in the refrigerator in an airtight container for 3-5 days. Let the hot soup cool to room temperature before placing it into the container.
HOW TO REHEAT BUTTERNUT APPLE BISQUE:
The best way to reheat the leftover soup on the stove top in a medium saucepan over medium low heat. Stir occasionally until it is heated through.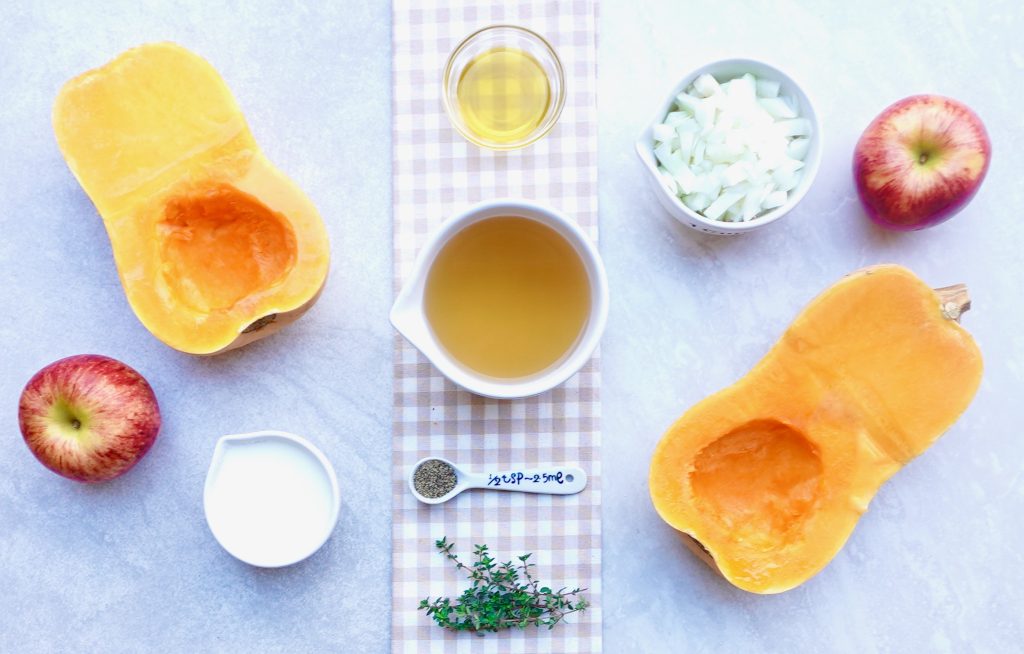 Butternut Apple Bisque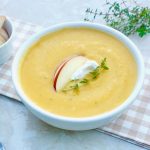 Print This
Ingredients
2 tablespoons olive oil, divided

2 pound butternut squash, split in half, seeds removed

1 cup yellow onion, diced

4 cups vegetable broth

2 apples, peeled, cored and cut into 1 inch cubes

½ teaspoon black pepper

4 sprigs fresh thyme

½ heavy cream

salt to taste
Instructions
Preheat the oven to 350 degrees.
Brush the butternut squash with a bit of olive oil (one tablespoon). Place it on a foil lined baking sheet with the cut side down. Roast for one hour or until soft and a knife inserted has no resistance. Remove from the oven and cool slightly. Scoop the squash from the shell.
Add the remaining tablespoon olive oil to a large stock pot over medium heat. Add the onion to the hot oil and cook for 2 minutes, stirring occasionally until it begins to soften. Do not let the onion brown.
Add the squash, vegetable broth, apples, pepper and thyme. Raise the heat to the medium-high heat setting to bring the mixture to a boil. Lower back  to medium low and simmer, uncovered for 15 minutes.
Let the soup cool slightly.
Pour the soup into a food processor or blender. Process until it is smooth.
Return the soup to the pot. Stir in the cream.
Heat over medium low heat until hot. Taste and add salt if needed.
Ladle the bisque int serving bowls and garnish with a dollop of sour cream and slices of crisp apples to add a little crunch.