Baked Butternut Pasta is a wonderful way to celebrate fall. This easy pasta dish is hearty enough to be a vegetarian meal and would also be great served as a fall side dish.
Butternut squash is simmered in a vegetable broth with onion and garlic, then pureed with the addition of Parmesan cheese and fresh thyme. It is combined with penne pasta and baked to a golden brown.
Baked Butternut Pasta is very easy to make. The only tough part about the entire recipe is preparing the the squash. You can save yourself some time peeling the squash if you buy the butternut squash already peeled and cubed.
If you like vegetable based pasta dishes check out Roasted Eggplant Ziti and Mushroom Bolognese.
Baked Butternut Pasta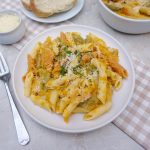 Print This
Ingredients
1 tablespoon olive oil

1 cup onion, chopped (one large onion)

3 garlic cloves, minced

4 cups vegetable broth

6 cups of butternut squash cut into 1½ cubes

½ teaspoon black pepper

1½ cups parmesan cheese divided

1 tablespoon fresh thyme leaves

1 pound penne pasta
Instructions
Preheat the oven to 350 degrees.
Put a large pot of water on the stove over high heat for the pasta.
In a large pot, heat the olive oil over medium low heat. Add the onion and garlic and cook for 2-3 minutes until they begin to soften.
Add the vegetable broth and butternut squash to the pan and bring to a boil. Reduce the heat to medium low and simmer until the squash is tender. This will take about 12-15 minutes.  Cool it for 5 minutes.
When the pasta water boils, add the penne to the pot and cook for 2 minutes less than the instructions on the package say to do for Al dente pasta. You want the penne to be slightly undercooked because it  will soften further during the baking process. Drain the pasta and rinse it under cold water. Return it to the cooking pot.
Pour the broth and squash mixture into a blender or food processor. Add 1 cup of the parmesan cheese, thyme and black pepper. Puree until smooth.
Add the squash mixture to the penne in the pot and combine well. It will seem a bit soupy and that is how it should be. The pasta will absorb the moisture during the baking process.
Spoon the penne into a 9 x13 baking pan which has been lightly sprayed with non stick cooking spray. Sprinkle the top with the remaining parmesan cheese.
Bake uncovered for 30 minutes.