Creamy Garlic Spinach Penne is easy to make and uses simple sauce ingredients. If you are looking for a quick and delicious weeknight dinner idea this would be a good choice. You can make the creamy spinach pasta sauce while you are cooking the penne and have this on the table in 20 minutes from start to finish.
Creamy Garlic Spinach Penne is also a delicious combination. It combines tender pasta, a rich and velvety garlic Parmesan sauce, and nutritious spinach. This creamy pasta recipe is not only easy to make but also a meal that the whole family would enjoy.
If you like a simple pasta dish that has a creamy sauce check out Creamy Chicken Piccata Pasta, Creamy Pea Shell Pasta, Creamy Mushroom Spinach Bowties, Creamy Mushroom Pappardelle and Creamy Vegetable Farfalle. If you want to try another spinach sauce check out Mushroom Spinach Orzo and Tuscan Gnocchi. They both have a creamy parmesan sauce.
SOME THINGS TO KNOW:FAQ'S
INGREDIENT TIPS:
SPECIAL EQUIPMENT NEEDED:
Large pot to cook the pasta.
Large skillet or large pan to cook the sauce.
SUBSTITUTIONS:
If you do not have penne pasta, the best kind of pasta to substitute would be ziti or rigatoni pasta. You can also use gluten-free pasta for a gluten-free version of this dish or whole wheat pasta for added fiber.
 Substitute the butter with 2 tablespoons of olive oil or a dairy-free butter alternative for a lactose-free option.
For a lighter version, use half-and-half instead of the heavy cream. You can also use a dairy-free cream substitute like coconut cream.
The best substitutes for Parmesan cheese are Pecorino Romano or Asiago cheese. Vegans can try nutritional yeast for a cheesy flavor.
Swap fresh spinach with kale or Swiss chard for a variation in leafy greens.
HOW TO STORE CREAMY GARLIC SPINACH PENNE:
Store the pasta in the refrigerator for up to 3-4 days. Beyond this time, the quality may start to deteriorate. Let it cool to room temperature then transfer it to an airtight container or a resealable plastic bag.
Cream based sauces do not do well in the freezer. The sauce can separate and the consistency will change. Freezing is not recommended.
HOW TO REHEAT CREAMY GARLIC SPINACH PENNE:
For the best results, reheat the pasta on the stovetop. Place the pasta in a skillet or saucepan. Add a splash of cream, milk  or reserved pasta water to rejuvenate the sauce, and warm it over medium-low heat. Stir occasionally until the pasta is heated through.
If you're short on time, you can microwave the pasta. Use a microwave-safe dish, cover it with a microwave-safe lid and heat it in 30-second intervals, stirring between each interval until the pasta is heated evenly.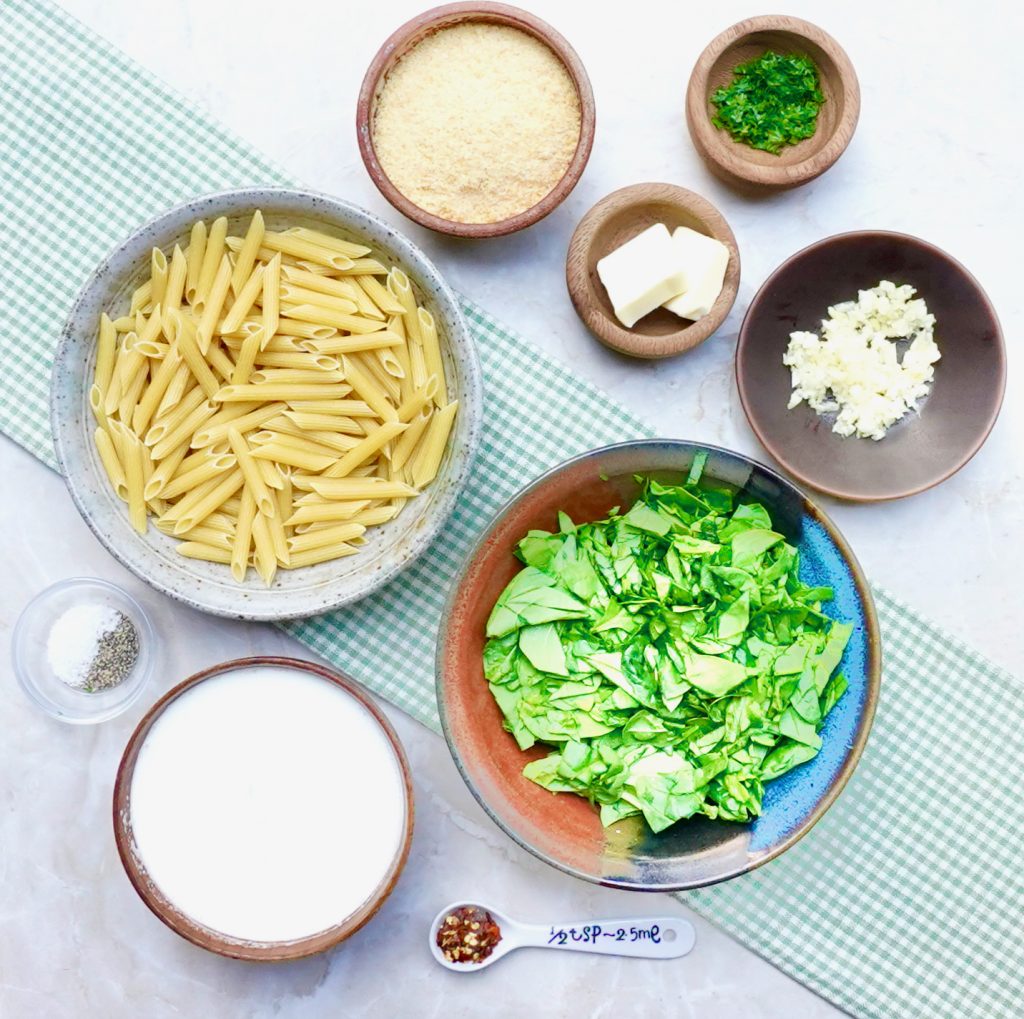 Cook and drain the penne pasta.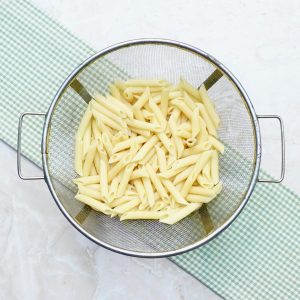 Heat and melt the butter and cook the garlic for 1-2 minutes.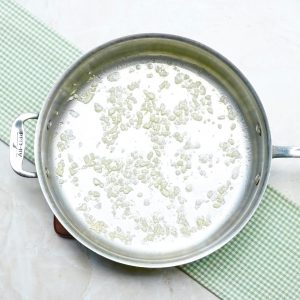 Add the cream and simmer 2-3 minutes. Stir in the parmesan cheese, spinach, salt and pepper. Simmer for an additional 2-3 minutes until the spinach wilts.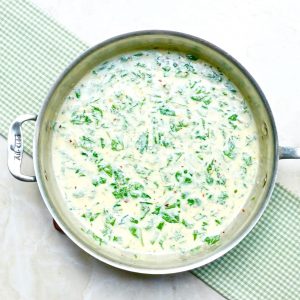 Stir the penne pasta into the sauce, stirring occasionally until it is heated through.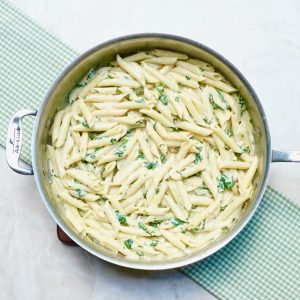 Creamy Garlic Spinach Pasta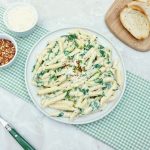 Print This
Ingredients
8 oz (about 2 cups) of penne pasta
2 tablespoons butter
4 cloves fresh garlic, minced
1 cup heavy cream
½ cup grated Parmesan cheese
2 cups fresh spinach leaves, stems removed and coarsely chopped
Salt and black pepper to taste
Fresh parsley for garnish (optional)
Instructions
Bring a large pot of water to a boil over medium-high heat and cook pasta according to the package directions until al dente. If you plan on reheating the pasta again later ,reserve a ½ cup of the pasta cooking water.
Drain the pasta and set aside.
In a large skillet, melt butter over medium low heat. Add the minced garlic and sauté for about 1-2 minutes until fragrant. Be careful not to let it brown.
Pour in the heavy cream and stir. Allow it to simmer gently for 2-3 minutes over medium heat, letting it thicken slightly.
Gradually add the grated Parmesan cheese to the skillet, stirring continuously until the cheese melts and the  sauce is smooth and creamy.
Toss in the fresh spinach leaves and stir until they wilt and incorporate into the sauce. This should take about 2-3 minutes.
Season the sauce with salt and pepper to taste. Remember that Parmesan cheese is already salty, so be cautious with the salt.
Add the cooked pasta to the skillet and toss it with the creamy garlic Parmesan sauce until the pasta is well-coated.
Garnish with fresh parsley if desired and serve hot. You can also sprinkle extra grated Parmesan cheese on top for added flavor or some red pepper flakes for some extra flavor  and a bit of heat.