Blueberry French Toast Bake is an overnight recipe that is a great way to create a delicious breakfast and use up all your stale bread.  This french toast casserole recipe combines baked french toast with juicy blueberries and a cinnamon oat crumble topping. This would make a wonderful brunch recipe for a special occasion such as Mother's Day or a holiday brunch on Christmas morning.
This blueberry french toast casserole is a great recipe to feed a group. You could also make a pan on the weekend and eat it for breakfast throughout the week. Blueberry French Toast Bake is a comforting breakfast.
If you are a fan of easy overnight breakfast bakes, check out Overnight Apple Cinnamon French Toast and Sausage Strata.
You might also like these other easy overnight breakfast recipes,  Blueberry Baked Oatmeal and Strawberry Banana Baked Oatmeal.
Check out 20 Easy Recipes to Make with Fresh Summer Blueberries for other easy blueberry recipes.
SOME THINGS TO KNOW:FAQ'S
INGREDIENT TIPS:
Leftover bread is perfect for this recipe. If you have some old bread that has become stale bread, go ahead and use it. It will soften while sitting overnight in the egg mixture and work out fine!
Read Blueberry Basics to learn how to chose and store blueberries correctly.
It is important when making the crumble topping that the butter cubes are very cold.
SPECIAL EQUIPMENT NEEDED:
9″ X 13″ Baking dish
Large bowl
Cooking spray
SUBSTITUTIONS:
If fresh blueberries are not available at your grocery store, frozen blueberries can be used. There is no need to defrost them before they are added to the recipe. You could also swap out the blueberries for you favorite fruit or different berries.
There are several different types of breads that you could use in this recipe. If you do not have french bread, challah bread, brioche bread, Italian bread, sourdough bread, regular white bread, whole wheat bread or gluten-free bread will all work.
If you do not have whole milk, you can substitute half and half, light or heavy cream, or a non dairy milk such as almond milk or oat milk.
HOW TO STORE LEFTOVER BLUEBERRY FRENCH TOAST BAKE:
You can store this in the baking pan covered in plastic wrap or in an airtight container in the refrigerator for 3-5 days. Make sure that the casserole has cooled to room temperature before covering it with plastic wrap.
You can freeze the leftover french toast bake for up to 3 months in an airtight freezer bag or container.
HOW TO REHEAT BLUEBERRY FRENCH TOAST BAKE:
You can reheat an individual portion of the french toast covered in the microwave for about 2 minutes until warm.
To reheat a large portion of the casserole, place it into a pre-heated 350 degree oven covered with foil. It should take between 20-30 minutes to be heated through.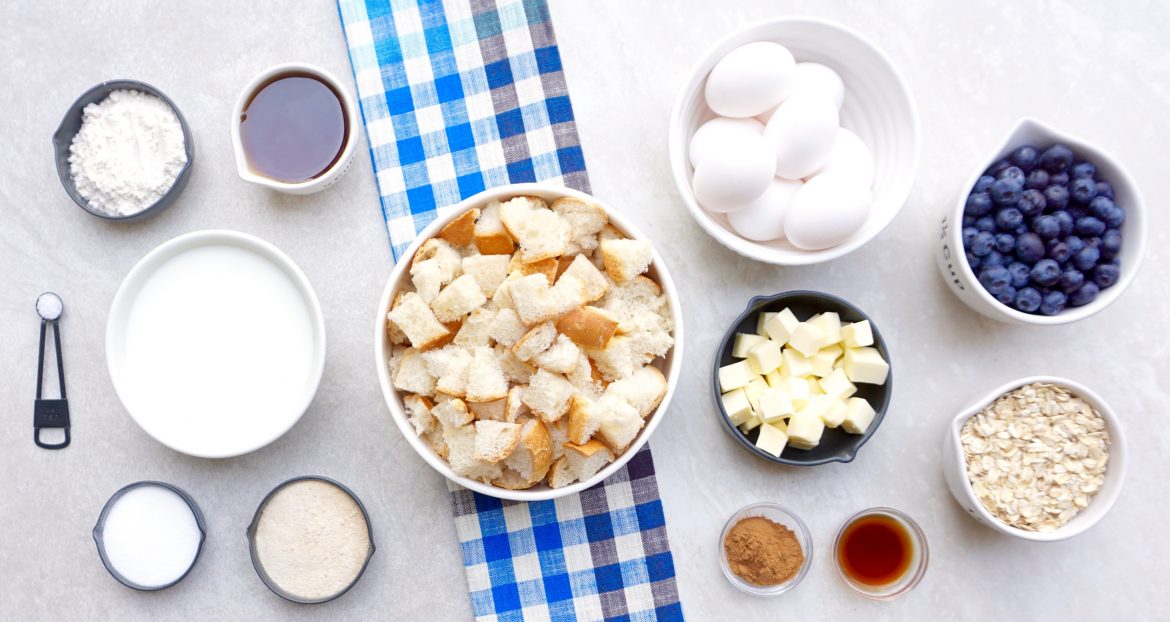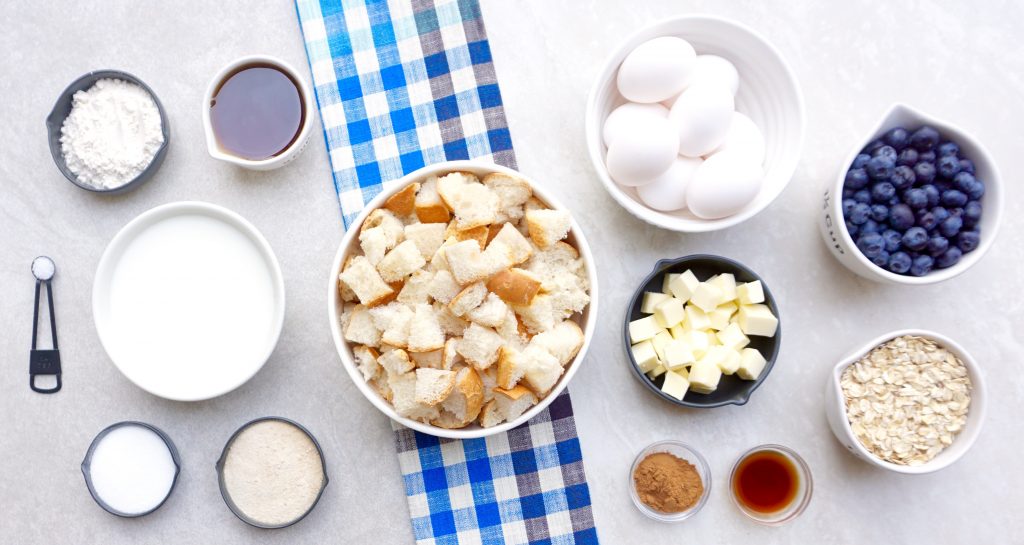 Blueberry French Toast Bake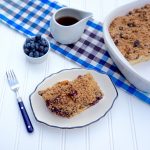 Print This
Ingredients
FRENCH TOAST BASE:

6 cups french bread cubes, cut into 1-inch cubes

8 large eggs

2 cups whole milk

2 teaspoons vanilla extract

½ cup maple syrup

1 teaspoon cinnamon

1 cup fresh blueberries

.

TOPPING:

½ cup flour

1/3 cup brown sugar

¼ cup granulated sugar

1 cup old fashioned oats

1 teaspoon cinnamon

¼ teaspoon salt

1 stick cold butter, cut into cubes
Instructions
FRENCH TOAST:
In a large mixing bowl, whisk the eggs, milk, vanilla extract, maple syrup and cinnamon.
Spray a 9″ x 13″ baking pan with cooking spray.
Place the bread cubes into the prepared pan as an even layer.
Sprinkle the blueberries over the bread cubes.
Pour the egg and milk mixture over the bread cubes. Press down on the tops of the bread cubes with a spatula, making sure they are all becoming soaked with the egg mixture.
Cover with baking dish with plastic wrap and refrigerate overnight. This is an important step to make sure that you get the best results.
You will add the crumble topping the next morning when you are ready to bake the Blueberry French Toast Bake.
.Here are two different ways you can make the crumble topping.
CRUMBLE TOPPING:
Topping option #1
Place the flour, brown sugar, granulated sugar, oats, cinnamon, and salt into the bowl of a food processor. Pulse a few times to combine. Add the butter cubes and pulse until the butter is totally mixed in and the mixture is crumbly.
Topping option #2
Place the flour, brown sugar, granulated sugar, oats, cinnamon, and salt into a large bowl. Add the butter and cut it into the mixture with either a pastry cutter, two knives, or your hands.  Continue until the butter is totally mixed in and the mixture is crumbly.
Spread the crumb topping evenly over the bread mixture in the baking dish.
Preheat your oven to 350 degrees.
Bake for 45 minutes until the top of the casserole is completely set and golden brown.
Serve with some pure maple syrup or blueberry syrup. Enjoy!