Wacky Cake has a long history that goes back to the great depression. It was also called a wartime cake during World War II. It is a cake that was created out of necessity when eggs, milk and butter were scarce. It doesn't use any of them, yet this cake is a good chocolate cake.
Wacky Cake uses ingredients straight out of the pantry and water. The original recipes tell you to mix it right in the baking pan but I tried that once and the cake stuck to the pan. It's better to mix it in a bowl and add it to your greased pan. There is no mixer needed here, just use a whisk or spatula to combine the ingredients.
I have added a simple chocolate glaze to the cake. This too is made from pantry ingredients and water. It adds an extra layer of chocolate flavor to the cake but is really optional. You could simple sprinkle it with powdered sugar of leave it plain.
If you want to check out another moist, chocolate, one bowl cake check out Chocolate Olive Oil Cake.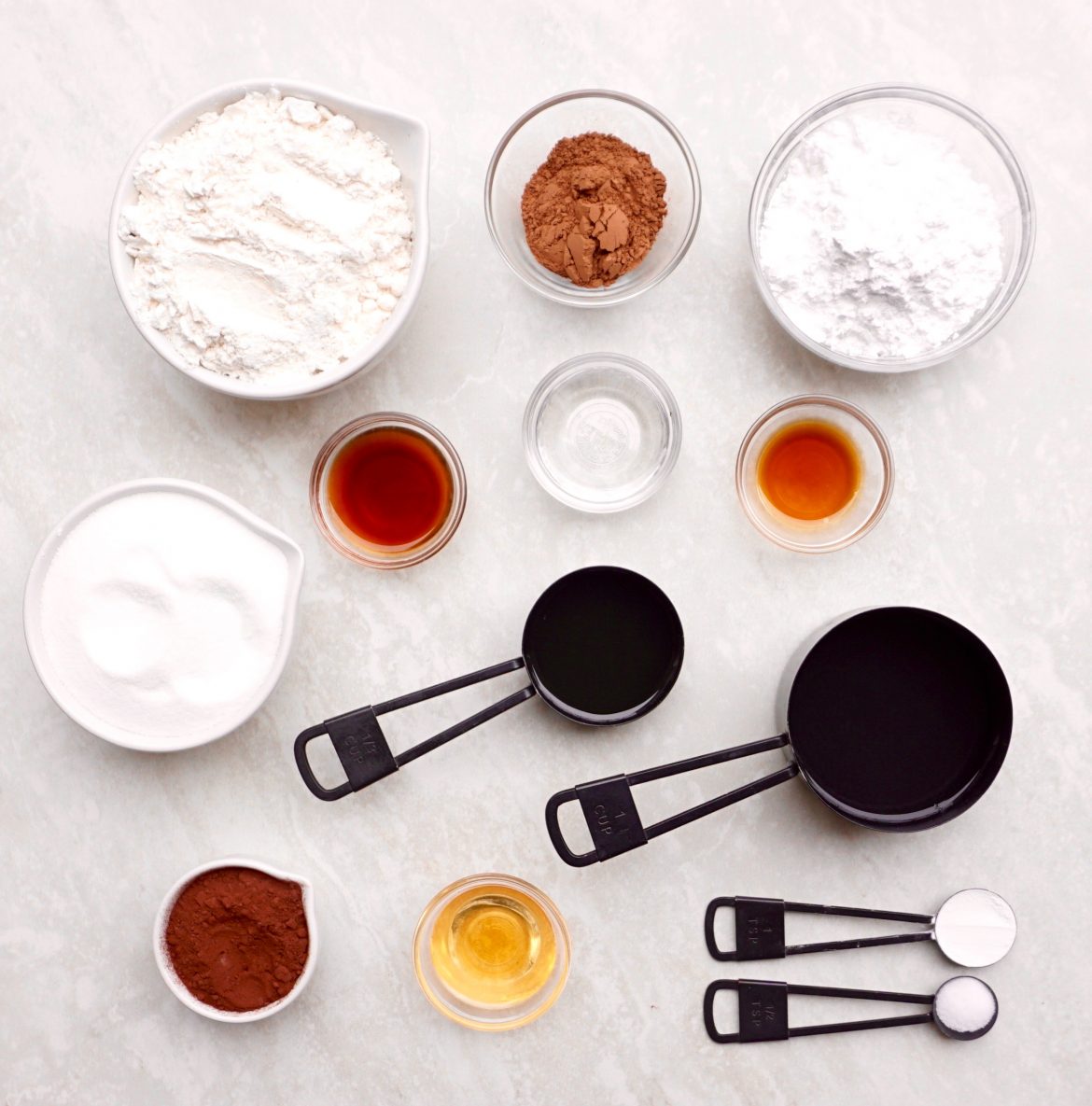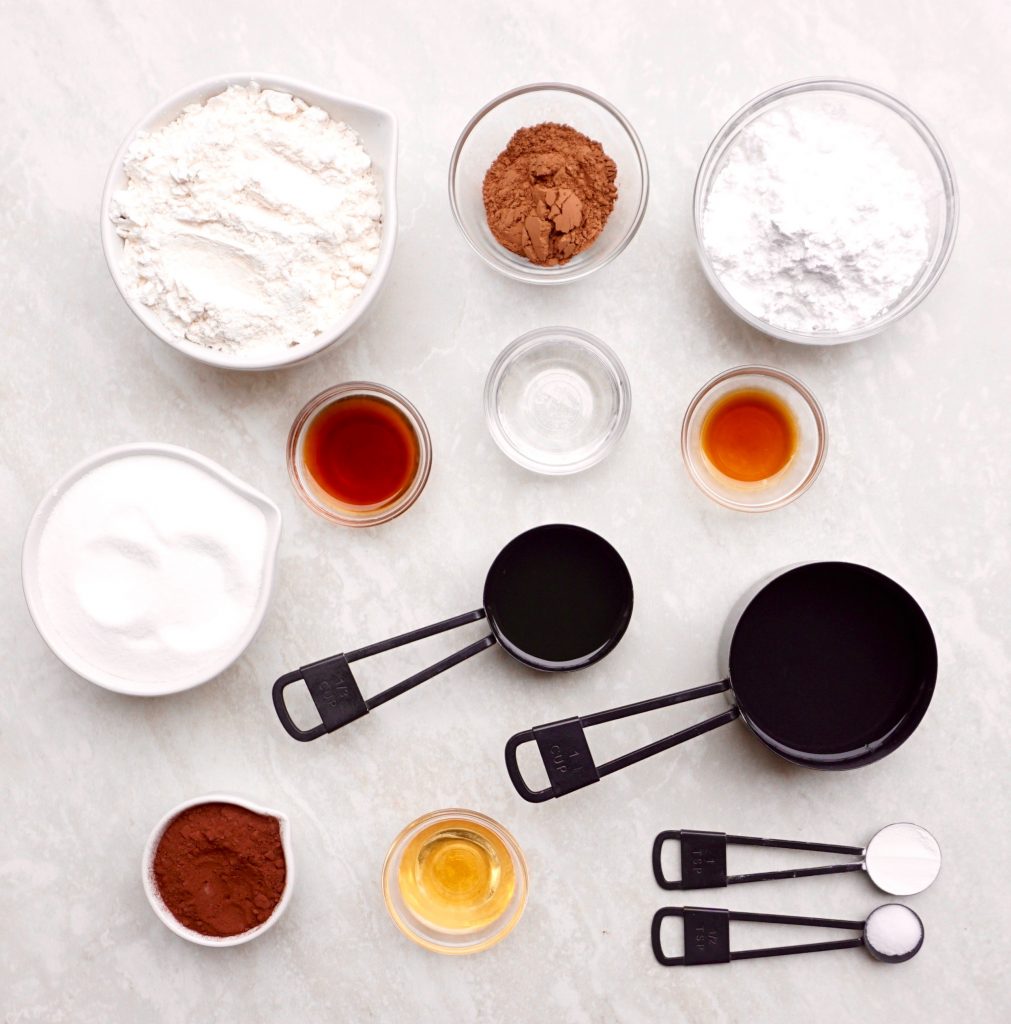 Wacky Cake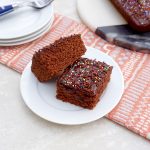 Print This
Ingredients
CAKE:

1½ cups all purpose flour

1 cup granulated sugar

¼ cup cocoa powder

1 teaspoon baking powder

½ teaspoon salt

1 cup water

1 tablespoon cider or white vinegar

2 teaspoons vanilla extract

1/3 cup vegetable oil, any kind

.

GLAZE:

½ cup powdered sugar

2 tablespoons cocoa powder

1 tablespoon water

2 teaspoons corn syrup, can be replaced with water

1 teaspoon vanilla extract
Instructions
CAKE:
Preheat the oven to 350 degrees
Grease an 8 x 8″ baking pan. I recommend using vegetable shortening and rubbing it generously over every inch of the pan with a paper towel.
Add the flour, sugar, cocoa powder, baking powder and salt to a large bowl. Combine well.
Stir in the water, cider vinegar, vanilla extract and vegetable oil.
Whisk everything together until it is throughly combined and smooth.
Pour into the greased pan and bake for 30 minutes. Check to make sure the top is completely firm before removing from the oven.
Cool in the pan for 10 minutes then remove to a wire rack.
.
GLAZE:
Place the powdered sugar in a small bowl, add the cocoa powder. Stir in the water, corn syrup and vanilla extract.
The corn syrup will add a sheen to the glaze but if you do not have any, water will work fine.
Combine well. You want this to be a consistency that you can easily spread over the top of the cake with a knife. If it is too firm, add more water, one teaspoon at a time until it is at that consistency.
Add sprinkles if you have them while the glaze on the cake is still wet.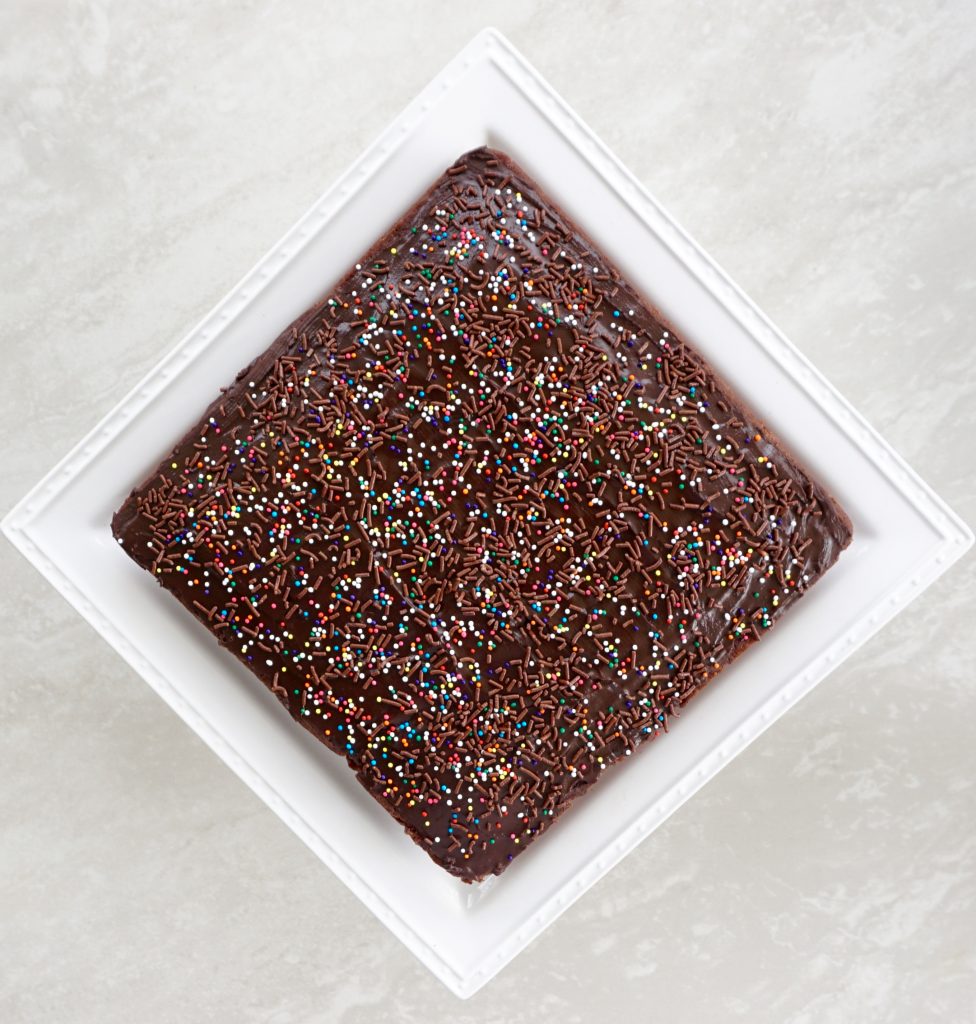 You could simply sprinkle powdered sugar over the top of the cake. The glaze does add another layer of chocolate flavor and adds a nice sheen. If you have sprinkles in your pantry add those too!