Homemade Strawberry Flan is a vibrant, delicious twist on a beloved Spanish flan recipe. Creamy and rich with a delightful strawberry flavor, this dessert is perfect for any occasion. Enjoy it as a sweet finish to a meal, or as a special treat to savor.
This simple dessert marries ripe strawberries and creamy custard with a caramelized topping for a fresh twist on a classic favorite. While it does require a bit of time for baking and cooling, it is really an easy recipe to make. While it would be good at anytime of the year, it will really shine when it is made with fresh, local summer strawberries. Fresh Strawberry Flan is just so good! I think that you will like this variation of the traditional Spanish dessert.
If you like this Strawberry Flan recipe and you would like to try a couple other strawberry custard type dessert recipes, check out Strawberry Bread Pudding, Strawberry Panna Cotta and Strawberry Trifles.  You might also like Strawberry Rhubarb Cake and Strawberry Ricotta Cake.
You might also like, 20 Simple Summer Strawberry Recipes.
SOME THINGS TO KNOW: (FAQ'S)
WHAT SPECIAL EQUIPMENT IS NEEDED? 
9″ X 5″ loaf pan
9 " x 13″ baking pan (for water bath)
7″ x 12″ flat cake plate with a rimmed edge to catch any overflowing caramel sauce
WHAT ARE TO STEPS TO MAKE STRAWBERRY FLAN?
Step 1: Prepare the Strawberry Puree
Step 2: Make the Caramel
 Step 3: Coat the Pan
Step 4: Blend the Custard Ingredients
Step 5: Pour and Bake
Step 6: Cool and Serve
WHAT IS A WATER BATH?
A water bath is a large baking dish of hot water that is placed into the oven to help the flan cook at a slower, more even heat. It is an important step as the flan needs moist heat so it will not be rubbery. Check out, How to Prepare a Water Bath for Baking.
SUBSTITUTIONS:
If you do not have fresh strawberries, you can use 1 cup of frozen strawberries that have been defrosted.
Check out the Best Sweetened Condensed Milk Substitutes to Use in a Pinch.
Granulated sugar is not the only sugar that you can caramelize. Icing sugar (powdered) contains cornstarch which will burn. Light brown sugar can be substituted in this recipe.
If you do not have heavy cream you can substitute light cream, whipping cream, half and half or evaporated milk.
STORING STRAWBERRY FLAN:
Strawberry Flan should be stored lightly covered in the refrigerator until serving time.
You can keep any leftovers in an airtight container or wrapped in the refrigerator for 3-5 days.
This is not a good candidate for freezing as it has heavy cream. The texture of the flan can change when frozen.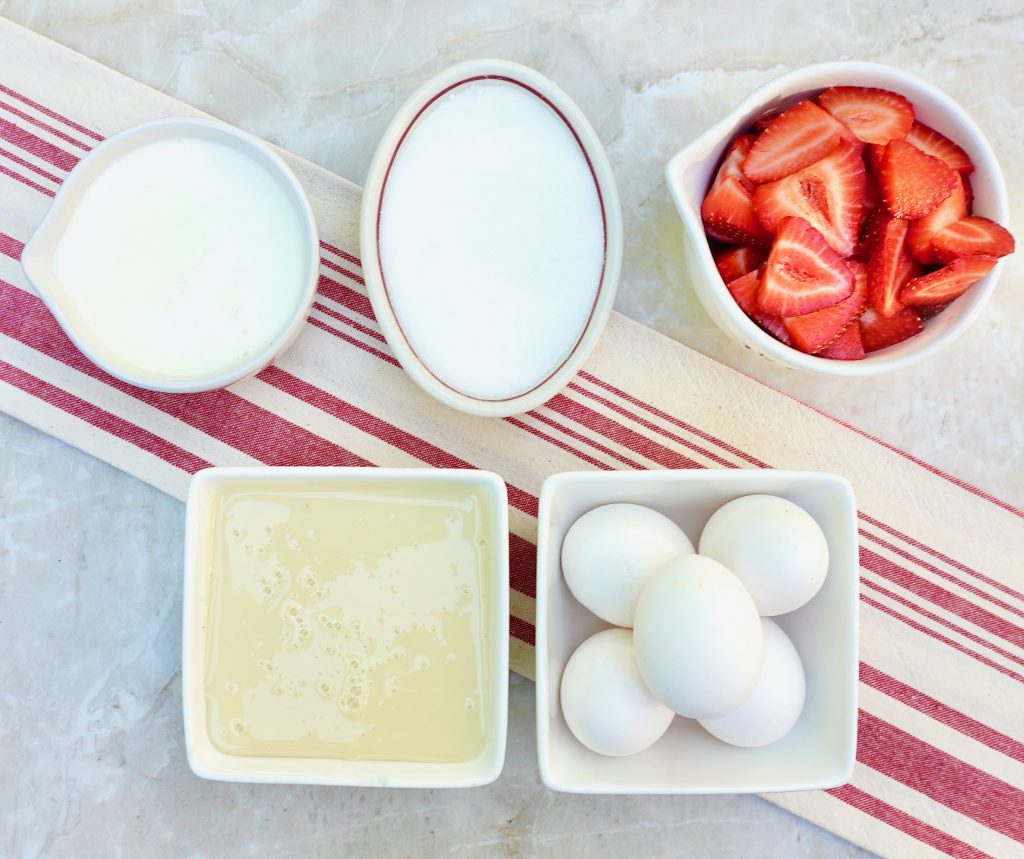 Add some sliced strawberries to the top of the flan when you serve it.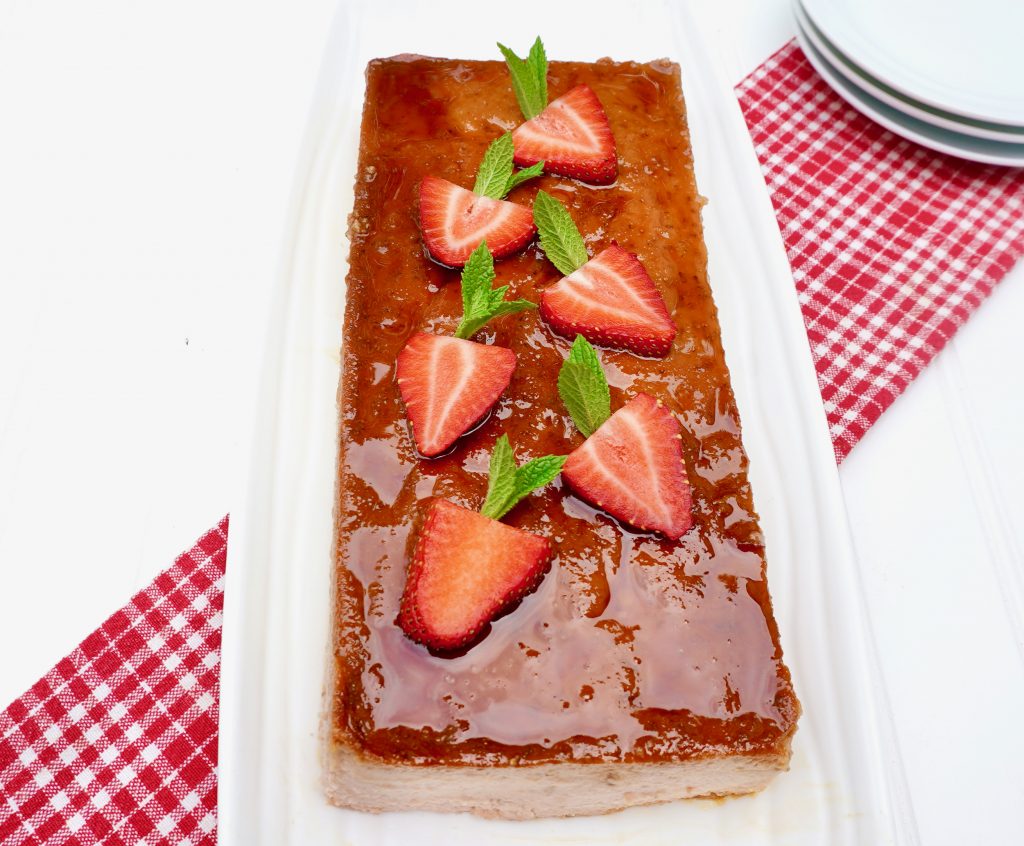 Strawberry Flan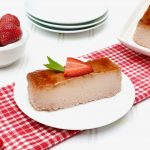 Print This
Ingredients
1 cup fresh strawberries, pureed

1 cup granulated sugar, divided

14-ounce can sweetened condensed milk

5 large eggs

1 cup heavy cream

OPTIONAL:

1 teaspoon vanilla extract
Instructions
Preheat the oven to 325 degrees.
Prepare a 9″ x 5″ loaf pan by lightly coating the entire inside of the pan with vegetable oil or vegetable shortening. The best way to do this is to use a piece of paper towel or a pastry brush to spread it over the surface of the pan. You could also lightly spray the pan with cooking spray.
Puree the fresh strawberries until smooth in a food processor or a blender. Set the puree aside in a small bowl to use later in the recipe.
In a medium saucepan, combine ½ cup of the granulated sugar with ¼ cup of water. Stir over medium heat until the sugar is dissolved. Increase to medium-high heat and let the mixture boil without stirring until it becomes a golden caramel color. When it is golden brown, remove it at once from the burner. (Watch this constantly as it can happen very fast.)
Immediately pour the caramel into the prepared loaf pan, swirling to coat the bottom evenly. Be careful, as the caramel will be extremely hot. You will need to work fast as the caramel will cool and harden fairly quickly. You can use the back of a wooden spoon to spread it if needed.
In a blender, combine the sweetened condensed milk, eggs, heavy cream, remaining ½ cup of sugar, and the strawberry puree to create the flan mixture. Blend until smooth.
ADDITIONAL METHOD TO COMBINE IN A BOWL (NO BLENDER REQUIRED)
Whisk the eggs together in a large bowl, making sure that the egg yolks and egg whites are thoroughly combined and that you have a smooth egg mixture. Add the sweetened condensed milk, heavy cream, the additional ½ cup sugar and the strawberry puree. Whisk everything well until it is thoroughly combined.
Pour the strawberry mixture over the cooled caramel in the pan. Place the loaf  pan into a larger 9″ x 13″ roasting pan and fill the roasting pan with enough hot water to reach halfway up the sides of the flan pan to create a water bath.
Place the roasting pan onto the middle shelf of the oven.
Bake at 325 degrees Fahrenheit for 80-90 minutes of cooking time, or until the center of the flan is completely set.
Remove the flan from the water bath and let it cool to room temperature.You could place your pan onto a wire rack to help the cooling process.
Refrigerate the Strawberry Flan it for at least 4 hours, or until thoroughly chilled. To serve the flan, run a paring knife around the edge of the pan to loosen the flan, then invert it onto a serving plate. Once you have turned your loaf pan upside down onto the plate, lift it slowly and carefully to release the flan from the pan and onto the plate. You will have a beautiful flan base and caramel top.
Add some slices of strawberry to the top of the flan when serving. You could also add a little bit of whipped cream to top this delicious dessert.