Strawberry Ricotta Cake is a simple cake that is great cake to have in your line up for strawberry season. This easy cake recipe does not even require a mixer.  It is delicious enough on its own that it doesn't even need  frosting. Fresh seasonal strawberries are the key component of the cake. Simply sprinkle some powdered sugar over the top and you are ready to serve it. You could also garnish it with some slices of juicy strawberries or a bit of lemon zest. It would  also be great with some ice cream on top of the cake!
This Strawberry Ricotta Cake recipe is a moist, vanilla flavored cake that is baked using fresh strawberries. Ricotta cheese is the ingredient that adds the perfect moisture to this delicate cake. The good news is that rich ricotta cheese is a very easy thing to make yourself at home! You most likely have the ingredients in your pantry or fridge. Check out this Ricotta Cheese recipe if you want to try this yourself.
If you are a strawberry fan check out Roasted Strawberries, Strawberry Banana Baked Oatmeal, Strawberry Mimosa,  Strawberry Ice Box Cake, and Strawberry Olive Oil Cake.
You might also like Homemade Strawberry Drop Biscuits and 20 Simple Summer Strawberry Recipes to find additional dessert recipes.
SOME THINGS TO KNOW: FAQ'S
SPECIAL EQUIPMENT NEEDED:
9″ round cake pan or 9″ springform pan
Large mixing bowl
Whisk
SUBSTITUTIONS:
Powdered sugar is also called confectioner's sugar. They are both the same. Read How to Make Powdered Sugar if you would like to make it yourself from granulated sugar and cornstarch.
You can substitute whole wheat flour for the all purpose flour in the same ratio.
If you do not have fresh strawberries you can use frozen ones. Just defrost them and place them onto a paper towel to remove any excess moisture.
If you do not have vanilla extract, almond extract would be a good substitution.
HOW TO STORE STRAWBERRY RICOTTA CAKE:
This cake will stay fresh for 2-3 days at room temperature tightly wrapped in plastic wrap or in an airtight container.
Strawberry Ricotta Cake can be frozen for 2-3 months. You can freeze the entire cake or individual slices that have been wrapped in freezer wrap or placed into an airtight freezer container.
To defrost the cake, place it unwrapped onto a wire rack until it is at room temperature.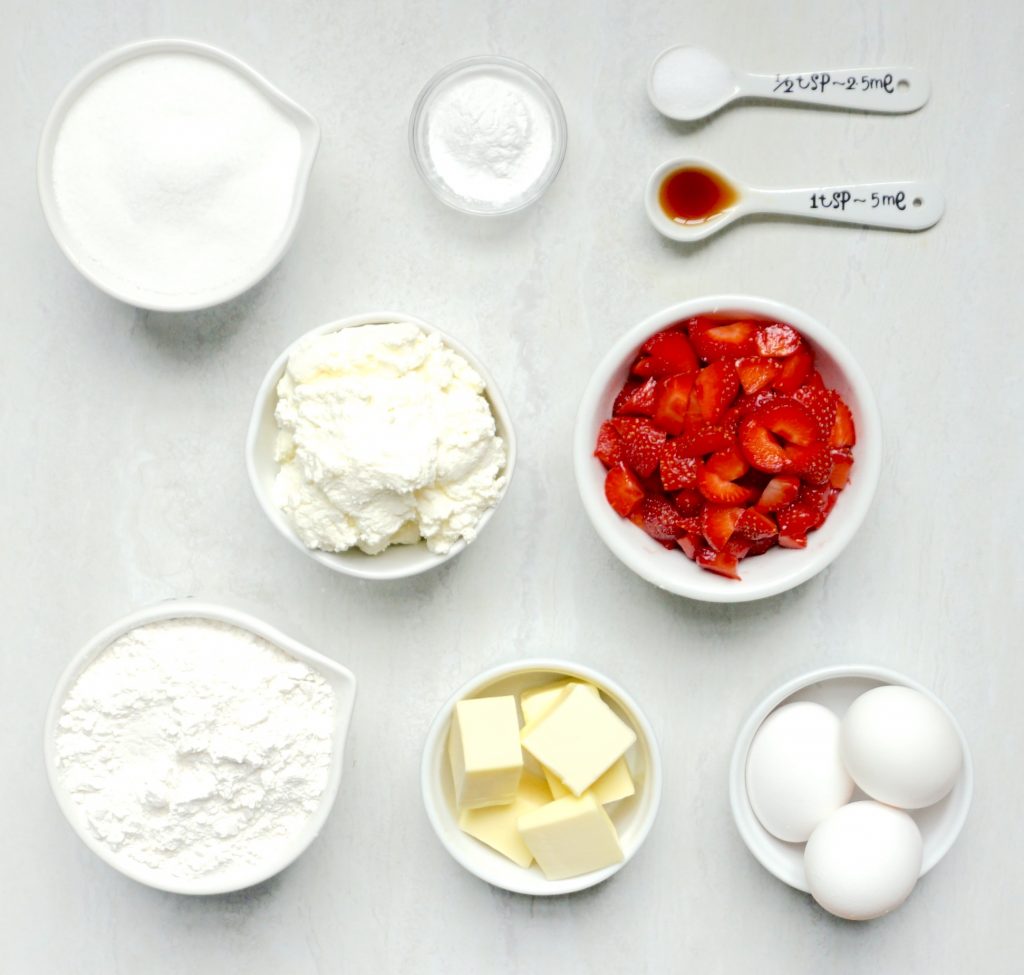 Strawberry Ricotta Cake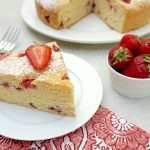 Print This
Ingredients
½ cup unsalted butter
1 cup sugar (granulated)
1½ cups all purpose flour
2 teaspoons baking powder
½ teaspoon salt
3 large eggs
1½ cup ricotta cheese
1 teaspoon vanilla extract
1½ cups fresh strawberries, diced
Optional garnish:
Powdered sugar for dusting
strawberries
Instructions
Preheat your oven to 350 degrees. Grease and flour a 9 inch round cake pan. Another option would we to grease the pan and line it with parchment paper. Make sure that you grease both the bottom and sides of the pan.
Melt the butter in a small saucepan and set aside so it can cool slightly.
In a large bowl, combine the sugar, flour, baking powder and salt.
In a medium bowl, whisk together the eggs, ricotta and vanilla extract. Gently stir the wet ingredients into the flour mixture, dry ingredients. You could also do this with a hand held electric mixer or in your stand mixer with a paddle attachment on low speed.
Stir in the melted butter and combine well. Gently stir in  1 cup of the strawberries.
Pour the cake batter into your prepared pan and sprinkle the remaining strawberries over the top.
Bake for 45-50 minutes until a toothpick inserted into the top of the cake comes out clean.
Let the cake cool in the pan for 10 minutes. Remove to a wire rack and let the cake cool completely to room temperature.
You can serve the cake as it is or lightly sift powdered sugar over the top and add a few fresh strawberries.