Strawberry Banana Baked Oatmeal is a warm breakfast casserole that you put together the night before. It is lightly sweetened with maple syrup and filled with fresh sweet strawberries and ripe bananas. This would be a great recipe to make during strawberry season.
This is a healthy breakfast made with oats and almond milk. Cinnamon and vanilla extract give it wonderful flavor. This easy breakfast recipe is a perfect make ahead breakfast to serve overnight guests or your family on busy mornings!
Strawberry Banana Baked Oatmeal is a recipe where you can easily change the ingredients and use what you have on hand. It is good for a healthy weekly meal prep as it makes several servings and oatmeal is so good for you! Check out 9 Health Benefits of Eating Oatmeal to read about why you should be adding it to your diet.
If you are a fan of eating oatmeal in the morning, check out Cranberry Orange Oatmeal and Banana Cinnamon Oatmeal. You might also like Banana Cocoa Oatmeal and Savory Spinach Avocado Oatmeal.
If you would like to try another baked oatmeal recipe, check out Blueberry Baked Oatmeal.
If you would like to try some other easy strawberry banana breakfast recipes, check out Strawberry Banana Muffins and Strawberry Banana Pancakes.
For more easy recipes using fresh strawberries, check out 20 Simple Summer Strawberry Recipes.
SOME THINGS TO KNOW: FAQ'S
SPECIAL EQUIPMENT NEEDED:
9″ x 9″ square baking dish
Large bowl
Cooking spray
SUBSTITUTIONS:
Any kind of milk will work fine in this recipe. You can use whole milk, skim milk, oat milk or coconut milk. They would be good substitutions.
If you don't have maple syrup you could use honey or sugar. Granulated or brown sugar will work.
You can use vegetable oil or canola oil instead of the coconut oil.
Swap out the fruits as well. You can different types of berries and fresh fruit or use dried cranberries and raisins.
While you can use quick oats in place of old-fashioned oats, the dish will have less texture. You could also use gluten-free oats.
HOW TO STORE STRAWBERRY BANANA BAKED OATMEAL:
Place the baked oatmeal in an airtight container for up to 5 days.
This baked oatmeal will also freeze well. Place it into the freezer in an airtight freezer container or freezer bag for 2-3 months.
REHEATING THE BAKED OATMEAL:
You can easily reheat individual portions covered in the microwave for 1-2 minutes until heated through.
You could also reheat it in a preheated 350 degree oven on a baking sheet, covered with foil for about 15  minutes until heated through.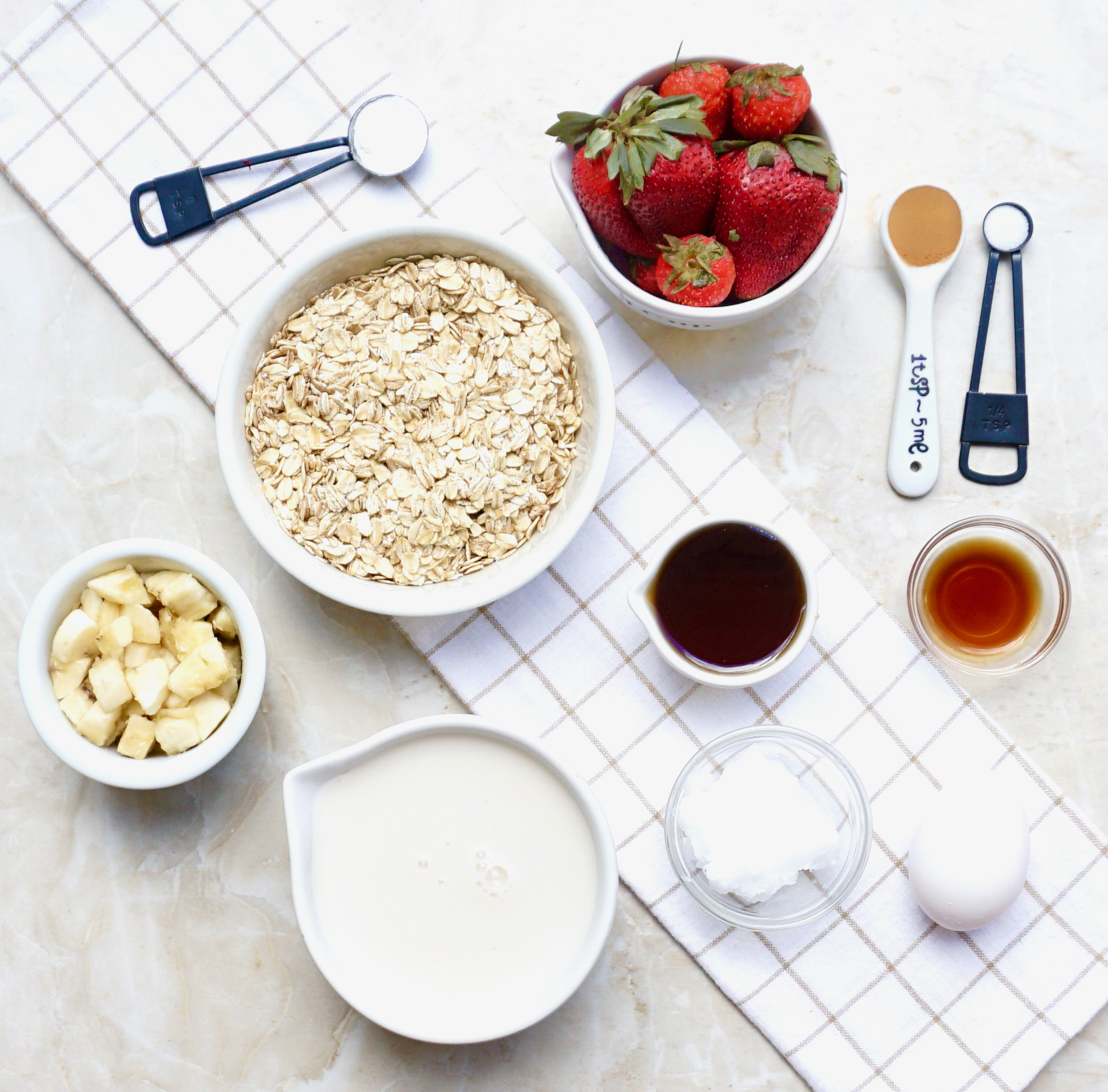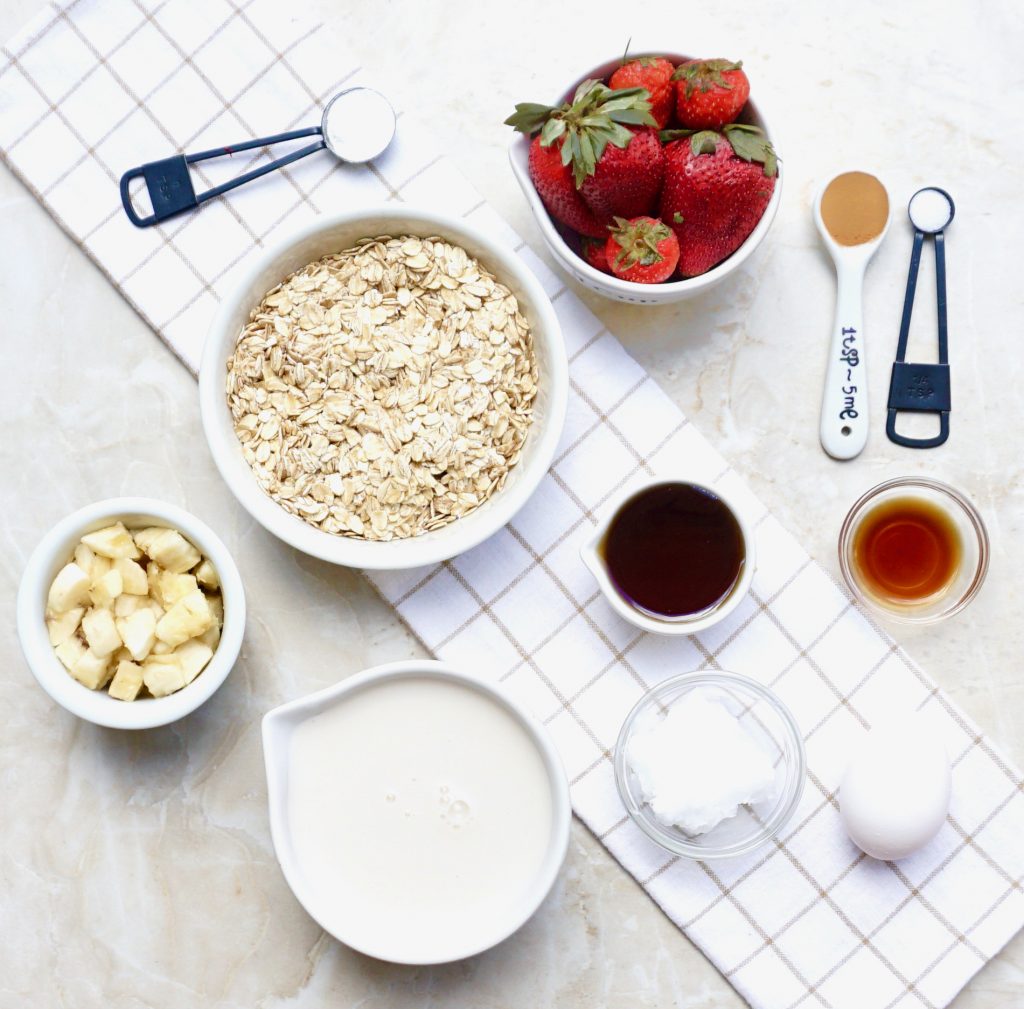 Strawberry Banana Baked Oatmeal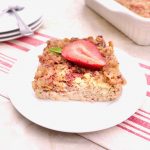 Print This
Ingredients
2 cups old fashioned oats

3 cups almond milk

1 large egg, beaten

¼ cup pure maple syrup

2 tablespoons coconut oil

1 teaspoon baking powder

¼ teaspoon salt

1 teaspoon cinnamon

2 teaspoons vanilla extract

1 banana, cut into small cubes or banana slices

1 cup strawberries, sliced
Instructions
THE NIGHT BEFORE:
Place the oats into a large mixing bowl. Add the almond milk, egg, maple syrup, coconut oil, baking powder, salt, cinnamon and vanilla extract. Stir to combine the wet ingredients and dry ingredients together completely.
Stir in the banana and strawberries.
Spray a 9″ x 9″ inch baking dish with cooking spray. Pour the oatmeal mixture into the prepared baking dish. You could sprinkle some extra chopped strawberries over the top of the oats to add some pretty color. Cover the dish with plastic wrap or foil and place it into the refrigerator overnight.
THE NEXT MORNING:
Preheat the oven to 350 degrees.
Remove the oatmeal from the refrigerator and remove the cover.
Bake for 45-50 minutes until it is completely set and golden brown.
Serve warm.