Strawberry Banana Baked Oatmeal is a warm breakfast casserole that you put together the night before. It is lightly sweetened with maple syrup and filled with fresh strawberries and bananas.
This is a healthy breakfast made with oats and almond milk. Cinnamon and vanilla give it wonderful flavor. This is a recipe where you can easily change the ingredients and use what you have on hand. Any kind of milk will work fine.If you want to switch out half of the milk for water, it will still be ok.  If you don't have maple syrup you could use honey or sugar. Granulated or brown sugar will work. You can also use vegetable oil instead of the coconut oil. Swap out the fruits as well, use dried cranberries or raisins or you could leave them out all together.
If you are a fan of eating oatmeal in the morning, check out Cranberry Orange Oatmeal and Banana Cinnamon Oatmeal.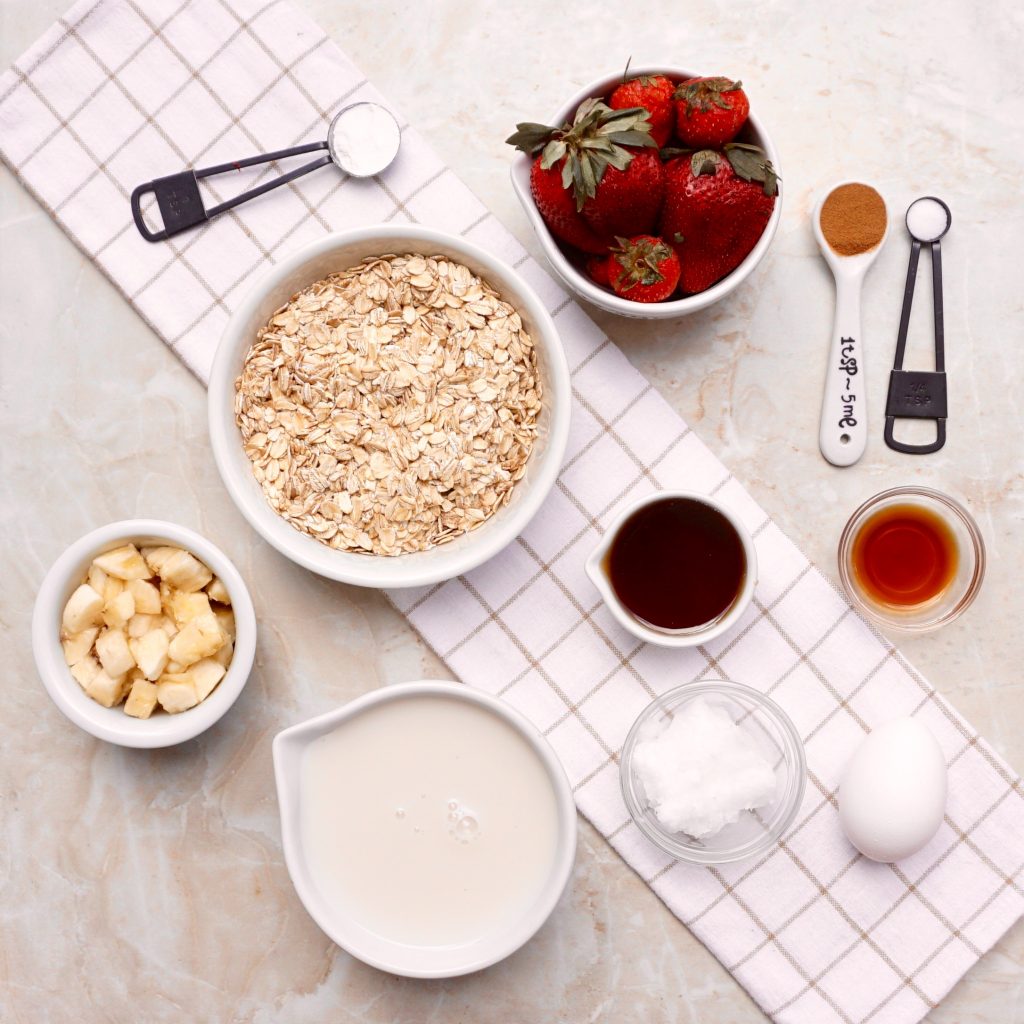 Strawberry Banana Baked Oatmeal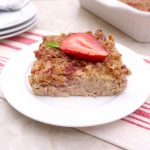 Print This
Ingredients
2 cups old fashioned oats

3 cups almond milk

1 large egg, beaten

¼ cup maple syrup

2 tablespoons coconut oil

1 teaspoon baking powder

¼ teaspoon salt

1 teaspoon cinnamon

2 teaspoons vanilla extract

1 banana, cut into small cubes

1 cup strawberries, sliced
Instructions
THE NIGHT BEFORE:
Place the oats into a large bowl. Add the almond milk, egg, maple syrup, coconut oil, baking powder, salt, cinnamon and vanilla extract. Stir to combine well.
Stir in the banana and strawberries.
Spray a 9×9 inch baking pan with cooking spray. Pour the oatmeal into the pan. Cover the pan and place it into the refrigerator overnight.
THE NEXT MORNING:
Preheat the oven to 350 degrees.
Remove the oatmeal from the refrigerator and remove the cover.
Bake for 50 minutes until it is completely set and golden brown.
Serve warm.