Asparagus Fried Brown Rice is a healthy recipe that can be eaten as a side dish but it hearty enough to be a vegetarian meal. It is made with brown rice which is high in fiber and nutrients. It is less processed and known to be healthier than white rice.
The key to fried rice is having rice that has been cooked beforehand and chilled, preferably overnight. This allows for the rice to fry up crispier. If you have the rice ready, the rest of the process will go very quickly. This recipe will be ready in minutes.
Fried rice is one of those recipes that you can easily swap out vegetables for what you have on hand. The fresh ginger and sesame oil are key to the flavor of the dish so make sure you add them.
If you like fried rice check out Fried Rice Cakes. This recipe would make a perfect pairing for Asian Salmon and Korean Beef.
If you like vegetarian brown rice recipes, check out Brown Rice Veggie Cakes.
Are you a fan of asparagus? Check out Raspberry Asparagus.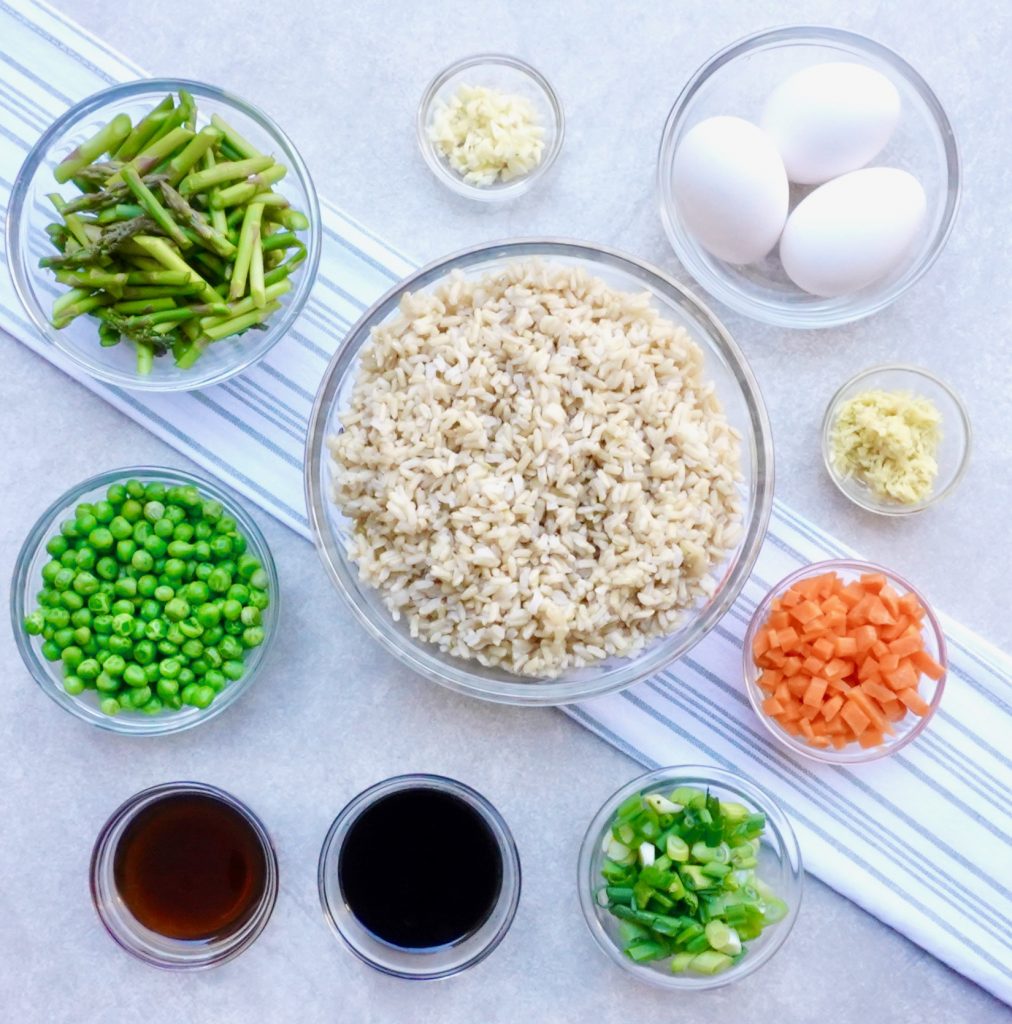 Asparagus Fried Brown Rice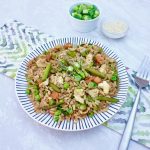 Print This
Ingredients
3 large eggs, beaten

pinch of salt and pepper

3 tablespoons sesame oil, divided

1 cup asparagus, cut into 1 inch pieces

1 large carrot, diced small

1 tablespoon fresh ginger, peeled and grated

2 cloves garlic, minced

4 green onions, chopped

4 cups cooked brown rice, chilled

1 cup frozen peas

3 tablespoons soy sauce
Instructions
Beat the eggs with the salt and pepper.
Heat 1 tablespoon of the sesame oil over medium high heat. Add the eggs and stir until scrambled and fluffy. This will take under a minute. Remove the eggs to a plate.
Add the additional 2 tablespoons of sesame oil to the pan. Add the asparagus and diced carrots. Cook for 2 minutes, stirring often until they begin to soften.
Add the ginger, garlic and green onions. Cook for 1 minute, stirring often.
Add the brown rice and peas. Stir well to combine.
Add the soy sauce. Stir until it has been completely incorporated and the rice is evenly brown. This should take about 1 minute.
Add the scrambled eggs back to the skillet. Cook stirring occasionally until they are heated through. This will take about 2 minutes.
Notes
This recipe is cooked at a high temperature. Constant attention is required to prevent sticking or burning. It is a very short process and you should stir it almost constantly.