Creamed Tomatoes is a southern tomato recipe made with fresh tomatoes, aromatic garlic, and rich heavy cream. It is a comforting dish and excellent way to enjoy the late summer tomatoes. This is one of those old recipes for a creamy sauce that was also called tomato gravy. It was commonly made with a white sauce base of all purpose flour and bacon grease.The hot tomato mixture was served over homemade biscuits and eaten for breakfast. This easy recipe is a lighter version of this hot tomato breakfast staple that still delivers a creamy and comforting sauce.
 Fresh ripe tomatoes, with their vibrant hue and natural sweetness are delicious with the velvety heavy cream. A hint of garlic adds depth, while freshly chopped basil introduces a nice freshness. This dish, in its simplicity, is a gentle reminder of how uncomplicated ingredients can come together to create something truly delicious. Pair the creamed tomatoes with a crusty loaf of thick cut bread or over pasta for a complete meal. You could also serve it as shown with naan bread, or over fresh biscuits,
If you like a creamy tomato sauce, check out Creamy Sun Dried Tomato Chicken, Penne with Vodka Sauce, Sun Dried Tomato Tortellini Soup, and Chicken Tomato Cream Sauce.
SOME THINGS TO KNOW: FAQ'S
INGREDIENT TIPS:
​SPECIAL EQUIPMENT NEEDED:
​Large skillet or frying pan.
SUBSTITUTIONS:
If fresh tomatoes aren't available, you can use canned tomatoes. Just be sure to drain the tomato juice first if you are using whole tomatoes or diced tomatoes.
If you don't have heavy cream, you can use half-and-half or a mixture of whole milk and butter. The ratio of whole milk to butter would be 2 tablespoons of butter and 6 tablespoons of whole milk.
If you don't have fresh basil, you can use a smaller amount of dried basil. You could also substitute mint leaves or other fresh herbs that you have on hand.
If you do not have olive oil, substitute canola oil, vegetable oil or melted butter.
HOW TO STORE THE LEFTOVER CREAMED TOMATOES:
Store leftover tomatoes in an airtight container in the refrigerator for 3-5 days.
You can freeze the tomatoes in an airtight freezer container up to 3 months. The consistency of the cream in the sauce may slightly change during this process.
HOW TO REHEAT CREAMED TOMATOES:
​Reheat the tomatoes in a saucepan on the stove over medium low heat, stirring occasionally. Add a little water if needed to thin them out.
You can also reheat them covered in the microwave is a microwave safe dish. Cook at 1-2 minute intervals until the tomatoes are heated through.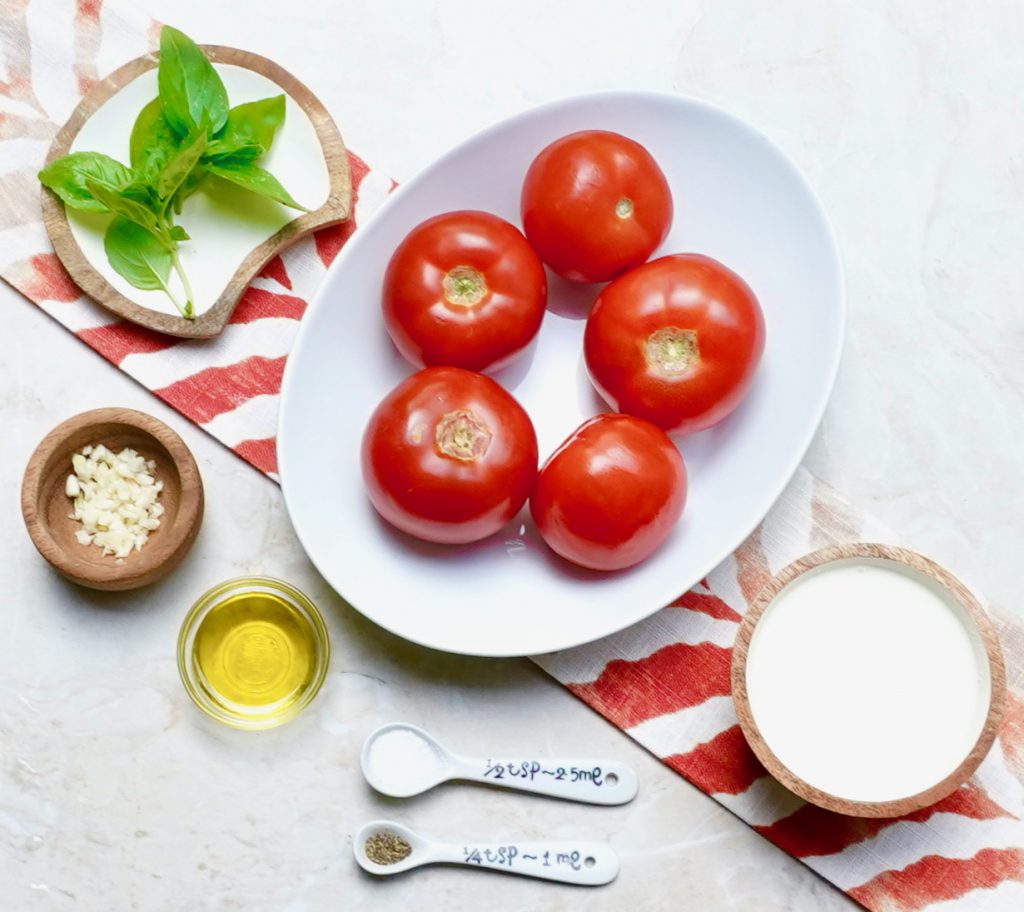 Heat the olive oil in a large skillet. Add the tomatoes and garlic.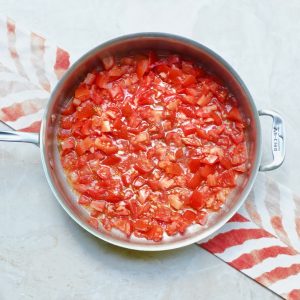 Cook for 15 minutes until the tomatoes are softened and thickened.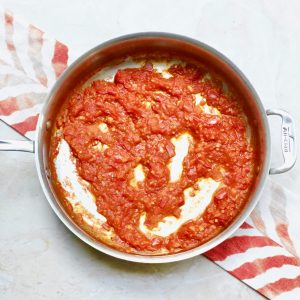 Stir in the heavy cream and heat through. Add the basil just before serving.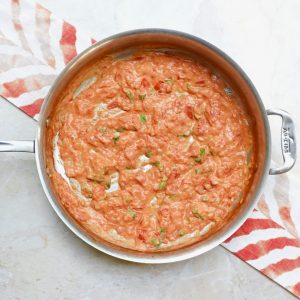 Creamed Tomatoes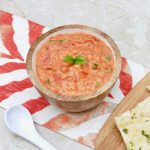 Print This
Ingredients
2 tablespoons olive oil

2 garlic cloves, minced

24 ounces fresh tomatoes, coarsely chopped

½ teaspoon salt

¼ teaspoon black pepper

½ cup heavy cream

2 tablespoons fresh basil leaves, chopped
Instructions
In a large skillet, heat the olive oil over medium low heat. Add the minced garlic and sauté until fragrant.
 Add the chopped tomatoes to the skillet and cook until they begin to soften. This will take about 15 minutes,
Stir in the heavy cream and black pepper. Reduce the heat to low heat and simmer until the tomatoes are very soft and the sauce has thickened.
Stir in the chopped basil leaves just before serving.
Serve the hot tomatoes as a side dish, bread topping or over pasta. Enjoy!