Chickpea Vegetable Soup is hearty, comforting and healthy. It looks thick and creamy but does not contain any cream. This is a vegan soup that is packed full of vegetables.
If you are looking to cut back on meat, chickpeas are a good option. They are full of nutrients including protein and are a good source of fiber. They will keep you feeling full longer and they are delicious.
This soup gets it's creamy texture from pureeing half of the mixture in a blender or food processor. This can also be done in a large bowl with an emulsion mixer or electric mixer.
If you are looking for some other healthier vegan soup options check out Vegetable Quinoa Soup, Turnip Crispy Kale Soup, Tuscan Bean Soup, Tomato Rice Soup, Mediterranean Vegetable Soup , Lentil Soup and Pasta e Fagioli. You can see them all at once at 10 Simple Vegan Soups.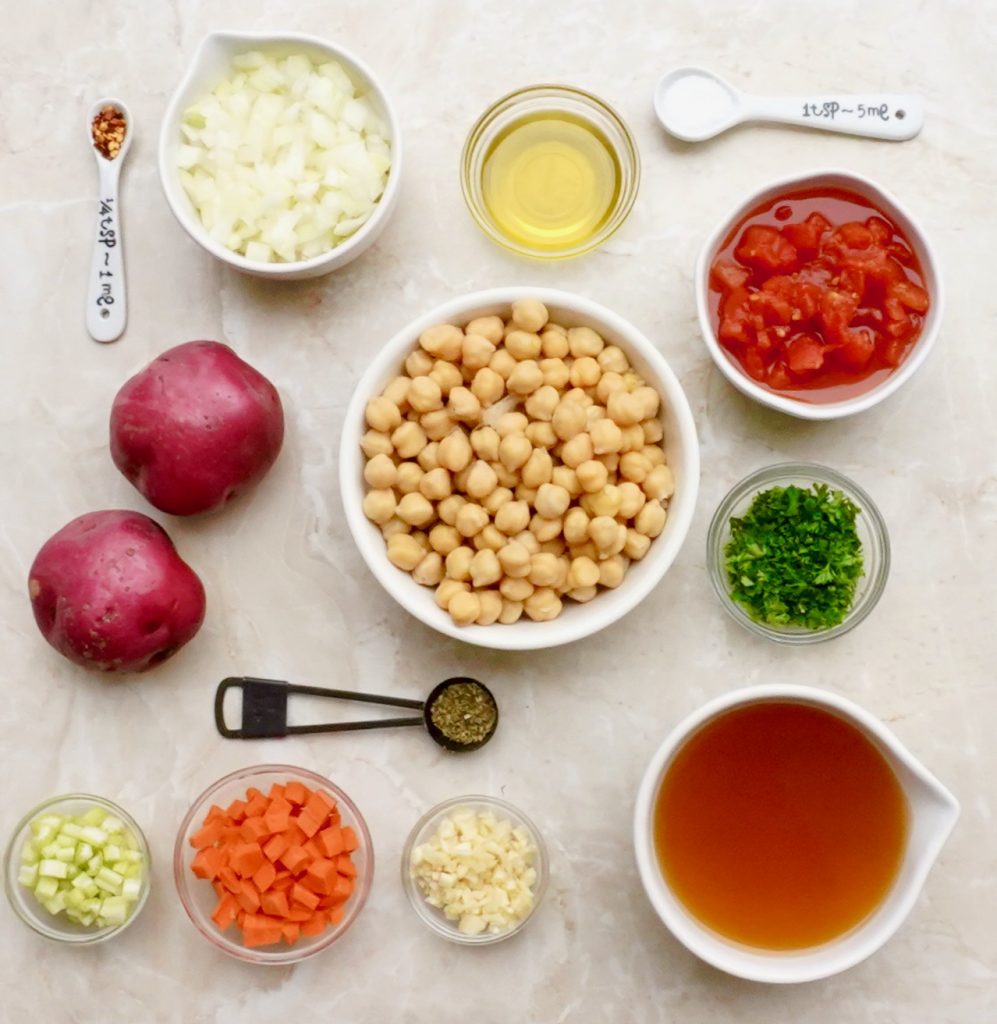 Chickpea Vegetable Soup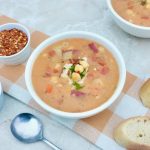 Print This
Ingredients
2 tablespoons olive oil

1 cup yellow onions, diced (medium onion)

2 garlic cloves, minced

1 celery stalk, diced

1 carrot, peeled and diced

4 cups vegetable broth

(14.5) ounce can diced tomatoes

2 medium size red potatoes, scrubbed and cut into ½ inch cubes

2 (15.5) ounce cans chickpeas, drained and rinsed

1 teaspoon dried oregano

1 teaspoon kosher salt

¼ teaspoon crushed red pepper

2 tablespoons fresh parsley, chopped
Instructions
Add the olive oil to a large stock pot and heat over medium low heat.
Add the onions, garlic, celery and carrots. Cook, stirring occasionally for 3 minutes until they just begin to soften.
Add the vegetable broth, diced tomatoes, diced potatoes, chickpeas,  oregano, salt, and crushed red pepper.
Turn the heat to the high setting and bring the mixture to a boil.
Once it boils, cover the pot and turn the heat down to the low setting.
Simmer covered for 20 minutes.
Remove from the heat and let it cool slightly.
Remove 4 cups of the mixture and place it into a blender, food processor or a large bowl if you will be using an emulsion mixer or electric mixer.
Process until the mixture is smooth.
Return it to the pot and combine well.
Stir in the parsley. Test for warmth and reheat over low heat if needed.
If you want to freeze some of the soup, let it cool to room temperature. Place it into a freezer container. It can remain frozen for up to 2 months.