Vegetable Quinoa Soup is a perfect soup for this time of year.  It is a healthy soup that is simple to make and delicious. It's a great way to start off the year with a gluten free, vegan soup that is good for you. I think you will enjoy this hearty soup.
Vegetable Quinoa Soup is very flavorful. The quinoa and the beans will keep you full and satisfied, and it is full of hearty vegetables. The base of this soup is a tomato broth. It will  freeze well if you want to make a batch as meal prep and have some to put away for another time. You can make this quinoa soup recipe ahead of time. It is one of those recipes that will be better on the next day.
Quinoa is an ancient grain that is a plant-based protein, high in fiber. It is also full of nutrients and healthy for you. Check out some other quinoa recipes like  Butternut Squash Quinoa Salad,Apple Cinnamon Quinoa, Zucchini Corn Quinoa Salad, Lemon Asparagus Quinoa, and Lemon Chive Quinoa Patties.
For more healthy vegan soups, check out 10 Simple Vegan Soups.
SOME THINGS TO KNOW:
SUBSTITUTIONS:
You can use many different types of beans in this recipe. Black beans, kidney beans, and pinto beans would be good options.
This recipe calls for Rainbow Quinoa. Red quinoa or white quinoa would be a good alternative.
You could use chicken broth instead of vegetable broth in this quinoa vegetable soup if you do not need to keep it a vegetarian recipe.
Italian seasoning can be substituted for the oregano and basil.
HOW TO STORE:
You can keep any leftover soup in the refrigerator in an airtight container for 3-5 days.
This soup will freeze well and can be kept in the freezer for 2-3 months. Make sure it is placed into an airtight freezer container. Defrost the soup overnight in the refrigerator.
REHEATING:
Place the leftover soup into a large soup pot to reheat over medium low heat.
MORE HEALTHY,EASY SOUP RECIPES:
Lentil Brown Rice Soup, Lentil Soup, Tuscan Bean Soup, Chickpea Vegetable Soup, and Mediterranean Vegetable Soup are other vegan soup recipes that you may enjoy. See the entire collection of vegan soups at 10 Simple Vegan Soups.
OPTIONAL COOKING:
Check out How to Convert a Recipe to a Slow Cooker if you want to cook it this way. If you want to make this in an Instant Pot, check out How to Convert a Stovetop Recipe to an Instant Pot.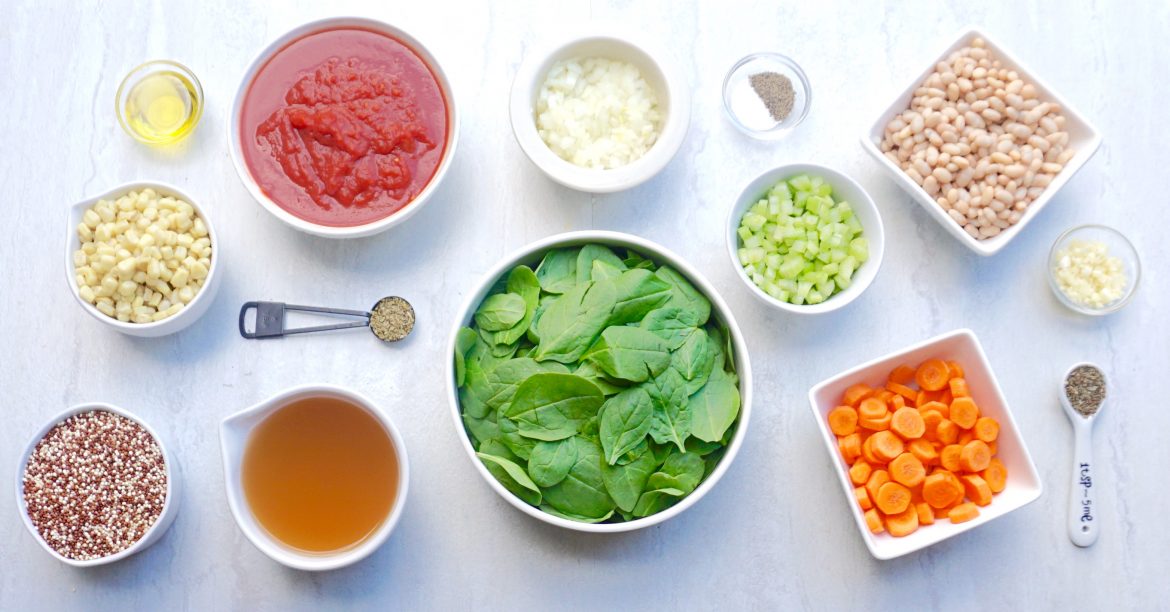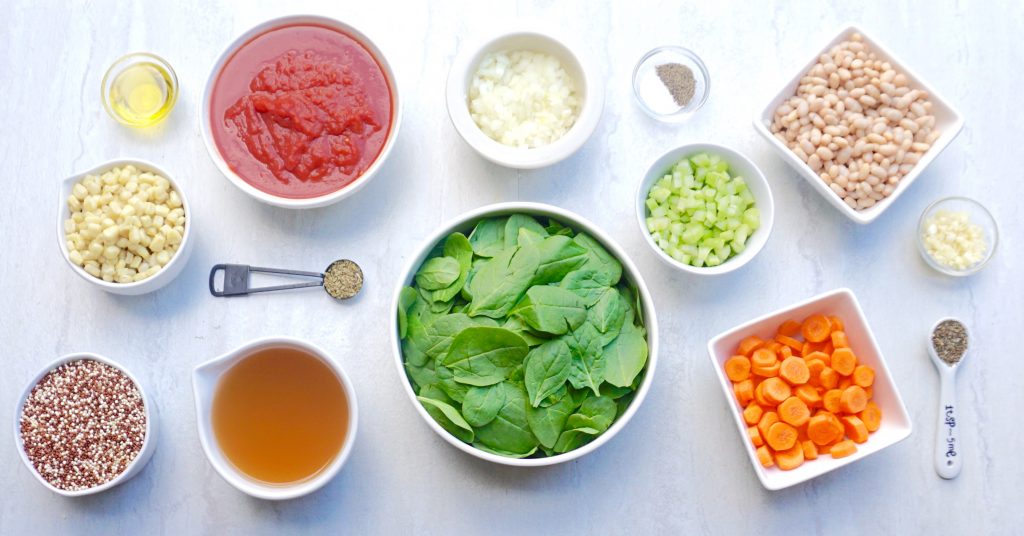 Vegetable Quinoa Soup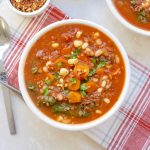 Print This
Ingredients
1 tablespoon olive oil

4 small carrots, sliced

2 celery stalks, diced

1 medium yellow onion, diced

3 fresh garlic cloves, minced

28 ounce can crushed tomatoes

6 cups vegetable broth or vegetable broth

1 cup rainbow quinoa

1 teaspoon dried oregano

1 teaspoon dried basil

1 teaspoon salt

1 teaspoon black pepper

15 ounce can small white beans, drained and rinsed

1 cup frozen corn kernels

2 cups fresh baby spinach, stems removed
Instructions
Heat oil in a large pot  or dutch oven over medium heat. Add the carrots and celery and cook stirring occasionally for 3-4 minutes.Add the onions and garlic and cook for another 2 minutes until the onion starts to become translucent.
Add the crushed tomatoes, vegetable broth, quinoa, oregano, basil, salt and pepper. Turn the heat to the high setting  and bring the soup to a boil.  Once it is boiling, reduce the heat setting to the low setting and let it slowly simmer, uncovered for 30 minutes.
Add the beans and corn to the soup and heat through. Add the baby spinach and stir until it has wilted. Taste and season with an additional  pinch of salt and pepper if desired.
Serve with some grated parmesan cheese and crushed red pepper flakes for extra flavor.