Mediterranean Vegetable Soup is a simple, vegan meal that is perfect for either lunch or a healthy dinner. This easy vegetable soup is a bit of a twist on a classic vegetable soup because we are adding beans.
Mediterranean soup recipes tend to be healthy vegetable soups that often have a tomato base. 
The addition of cannellini beans adds protein and makes this a hearty soup which is very filling. It is made with carrots ,celery, zucchini, spinach, and onions. It's a good way to eat your veggies and it has great flavor.
Mediterranean Vegetable Soup is easy to make and well worth the effort. It's a great meal prep for work day lunches.
If you are interested in other hearty, plant based soups check out Lentil Soup , Quinoa Vegetable Soup and Tomato Ramen Soup. You can see more as well at 10 Simple Vegan Soups.
SOME THINGS TO KNOW:
SUBSTITUTIONS:
You substitute yellow squash for the zucchini in this recipe.
If you do not have crushed tomatoes you can substitute a 28 ounce can of tomato puree or tomato sauce.
You can swap out the Cannellini beans for Navy Beans, Great Northern Beans or Garbonzo beans. Check out What are White Beans? if you would like to learn more about them.
This recipe calls for small shell pasta. If you cannot find it you could use Elbows, Orecchiette (ear shaped pasta), Ditalini (very small tubular pasta), or Rotelli (wheel shaped pasta)
Chicken broth can be used instead of vegetable broth in this mediterranean soup recipe if you do not need it to be vegan.
STORAGE:
You can keep any leftover soup in the refrigerator in an airtight container for 3-5 days.
This soup will freeze well and can be kept in the freezer for 2-3 months. Make sure it is placed into an airtight freezer container. Defrost the soup overnight in the refrigerator.
REHEATING:
Place the leftover soup into a large saucepan  to reheat over medium low heat.
ADDITIONAL WHITE BEAN SOUP RECIPES:
Chicken Enchilada Chili, Tuscan Bean Soup, Chickpea Vegetable Soup, and Sausage Minestrone.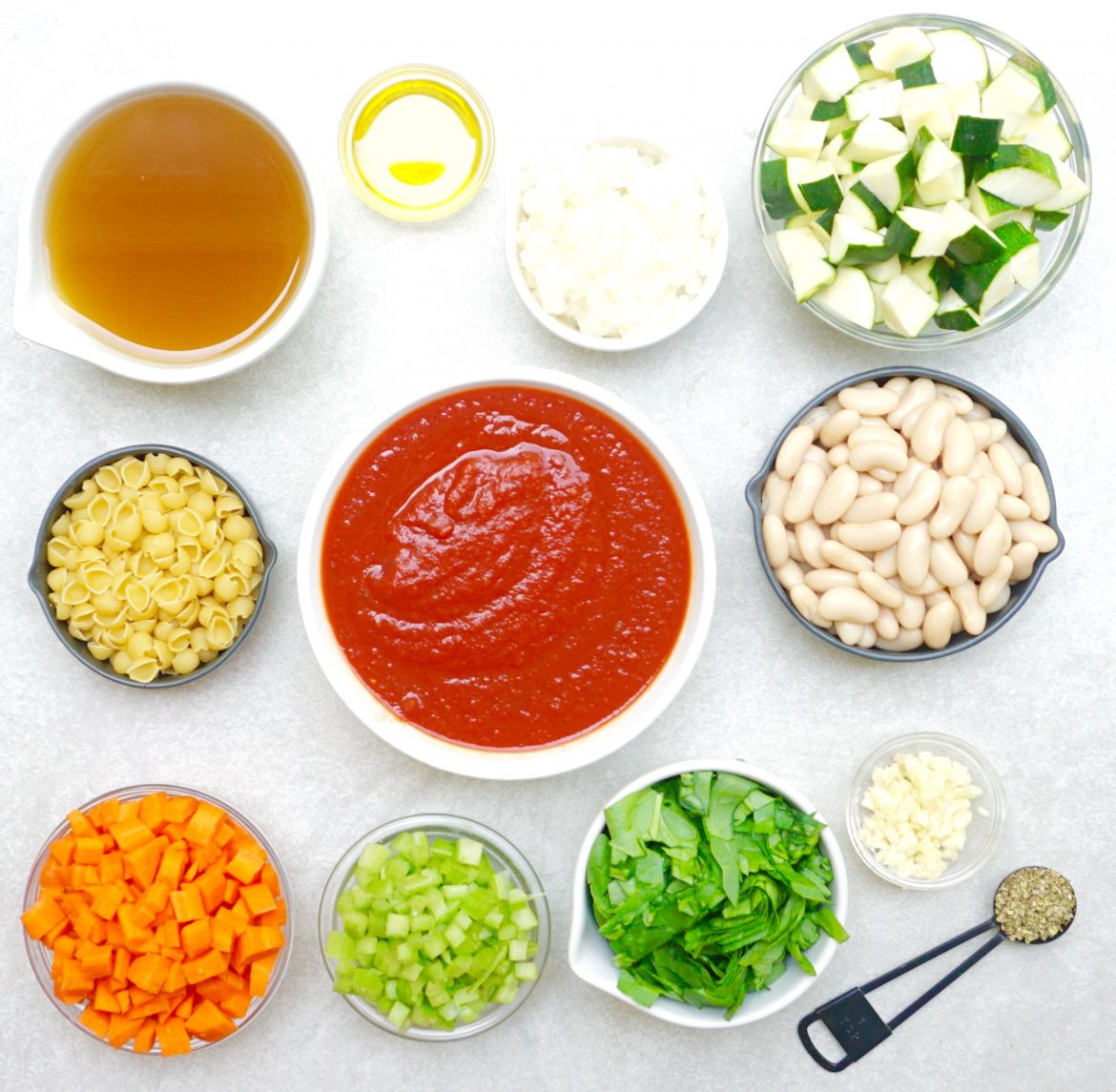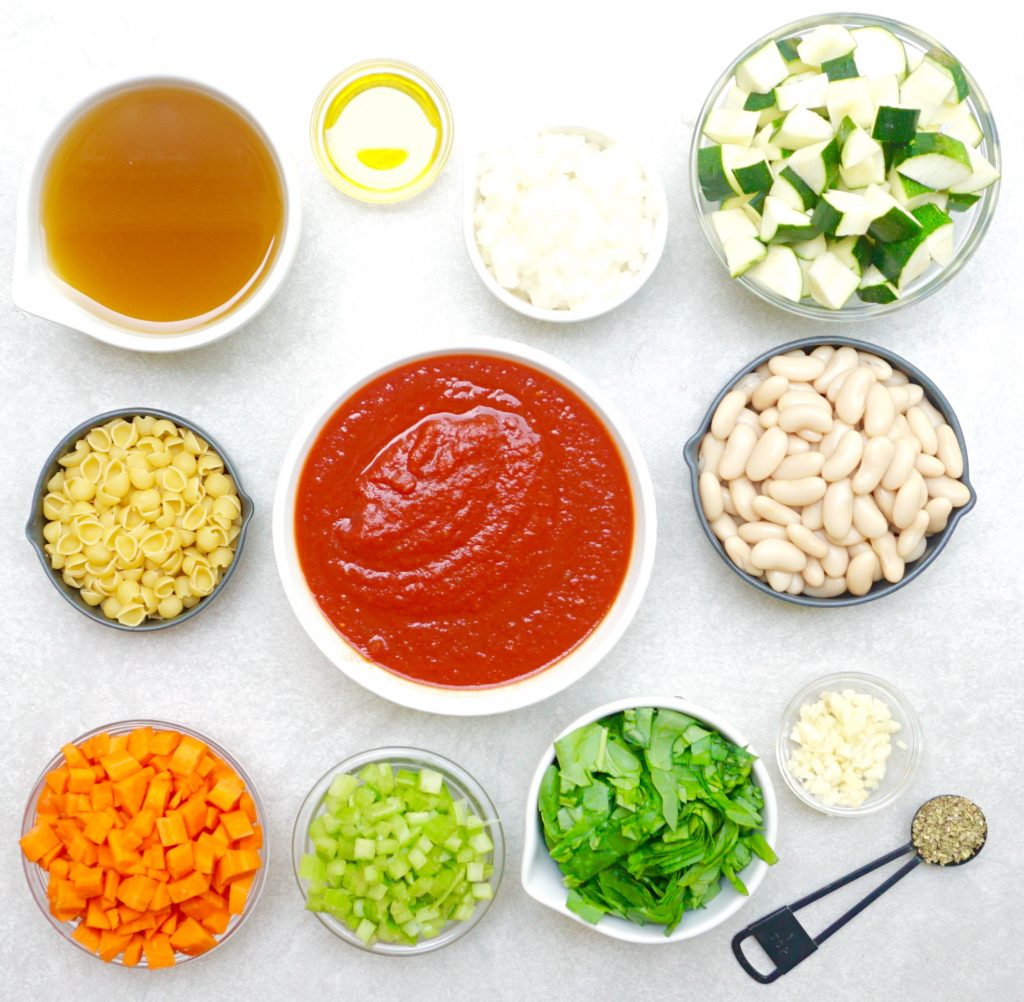 Mediterranean Vegetable Soup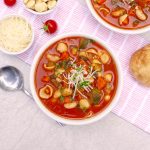 Print This
Ingredients
1 tablespoon extra virgin olive oil

2 carrots, diced

2 celery stalks, diced

½ cup yellow onion, diced

2 small zucchini, diced

2 cloves fresh garlic, minced

28 ounce can crushed tomatoes

32 ounce vegetable stock or broth

15 ounce can cannellini beans, drained and rinsed

1 teaspoon dried oregano

½ cup small shell pasta

1 cup fresh baby spinach, stems removed and chopped

Optional: 1 tablespoon tomato paste for thickening

1 tablespoon fresh basil, chopped fine
Instructions
Heat the olive oil in a large pot over medium low heat. Add the carrots, celery, onion,  zucchini and garlic. Cook until the vegetables begin to become tender, about 5 minutes.
Add the crushed tomatoes and vegetable broth. Raise the heat to the high setting and bring the mixture to a boil. 
Reduce the heat setting back down to medium low and add the beans and oregano. Simmer for 20 minutes, uncovered.
Add the shell pasta and cook for an additional 8 minutes.
Stir in the baby spinach and cook for a minute until it wilts.
Taste the soup and add sea salt and black pepper to taste.
Serve with some shredded parmesan cheese and crushed red pepper flakes.