I love this Tortellini Salad because I can make it ahead of time when I am entertaining and therefore enjoy the people that I have invited over instead of being stuck in the kitchen!
As I have continued to make this over the years it has evolved from a simple pasta salad with onIy a few vegetables into my version of an Italian Antipasto platter meets pasta salad!
I like this dish because it is a meal in itself. It is easy to prepare and  it can be made up to two days ahead of time. With the Super Bowl just around the corner you might be looking for something to feed a large group. This is a great, easy to prepare option, and a true crowd pleaser.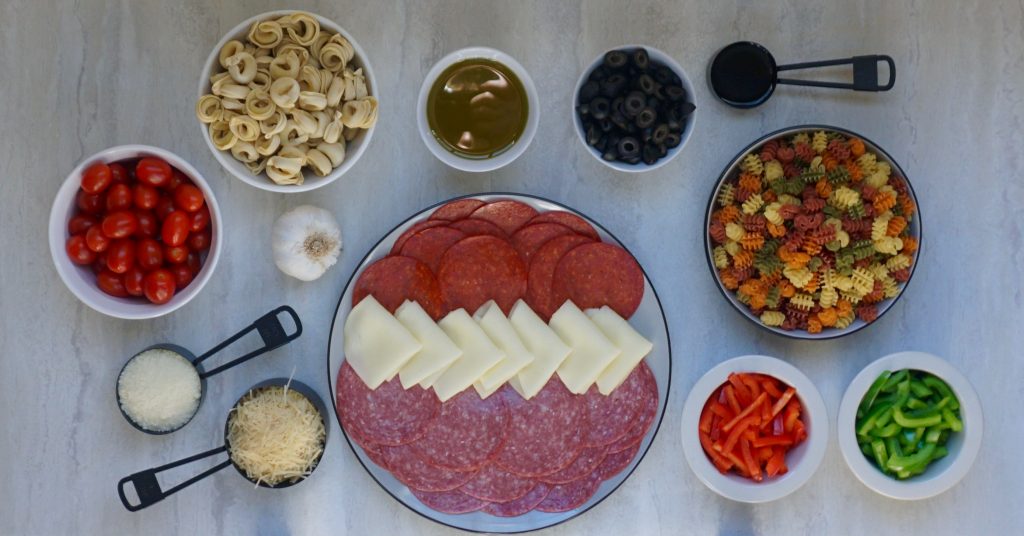 Tortellini Salad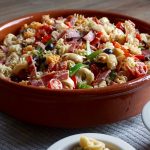 Print This
Ingredients
1 pound tri color Rotini pasta

8- 10 ounce package cheese tortellini

3/4 cup olive oil

1/4 cup red wine vinegar

6 garlic cloves, minced

2 red bell peppers, sliced thin

1 green bell pepper,sliced thin

1 six ounce can sliced black olives

1 pint cherry or grape tomatoes, cut in half

1 cup grated parmesan cheese

1/2 cup grated romano cheese

1/2 pound Genoa salami, cut into strips

1/4 pound Pepperoni, cut into strips

1/4 pound Provolone cheese, cut into strips
Instructions
Cook the pasta and the tortellini according to the package directions. Drain, cool and place both the pasta and the tortellini into a very large bowl.
Pour the olive oil into a small saucepan. Add the garlic and simmer over low heat until the garlic just begins to turn golden. Be careful that the garlic does not actually brown or it will be bitter. Remove from the heat and let the oil cool. Add the red wine vinegar to the oil and combine well.
Add the red peppers, green peppers, olives, tomatoes, salami, pepperoni, provolone, Parmesan, and Romano cheese to the pasta and mix well. Add the oil and vinegar and mix well.
Refrigerate. Remove 30 minutes prior to serving.