Chicken Caesar Pasta Salad is an easy recipe that you can make all summer. It would be great to take along to a picnic or make on a warm summer night when you want something cool for dinner.
It does not require a lot of ingredients or effort on your part to create this easy and delicious salad.The addition of penne pasta to the salad makes it hearty and filling so it really is a complete meal. 
You can simplify this recipe even more if you use a rotisserie chicken instead of cooking the chicken yourself. If you have a Caesar dressing recipe you like you can go ahead and use it but the recipe calls for bottled dressing. I like to use Cardini's.
Chicken Caesar Pasta Salad would also be good for summer cookouts, and parties.
If you like a pasta salad that has protein and is a complete meal, check out  Italian Tuna Pasta Salad and Tortellini Salad.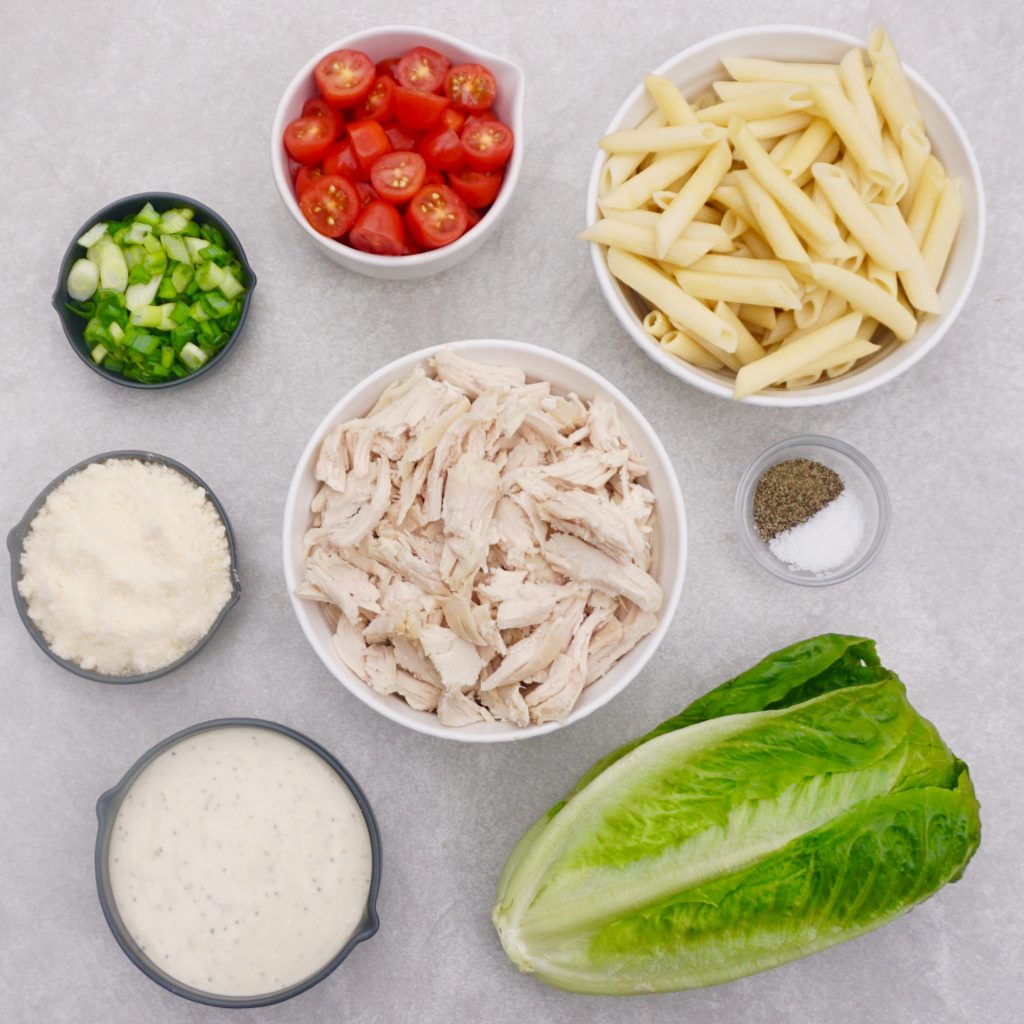 Chicken Caesar Pasta Salad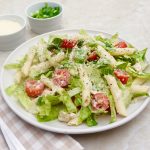 Print This
Ingredients
8 ounces penne pasta

3 cups cooked shredded chicken, one pound boneless chicken breast

4 cups romaine lettuce, chopped

1 cup grape tomatoes, sliced in half

2/3 cup Caesar salad dressing

½ cup grated parmesan cheese

3 large scallions, chopped
Instructions
Cook the penne pasta in a large pot of boiling water according to the directions on the package for the firmness you want. Drain and cool.
In a large bowl, combine the penne, chicken, romaine, tomatoes, parmesan and green onions. Pour the Caesar dressing over the salad and combine well.
Add salt and pepper to taste.
*If you are roasting the boneless chicken breast preheat the oven to 400 degrees. Toss the breasts in olive oil and season with salt and pepper. Roast for 20-25 minutes until they are cooked through and have an internal temperature of 165 degrees. Let them rest for 10 minutes before shredding. Let the chicken cool completely before adding it to the salad.
Notes
If you are using a rotisserie chicken you will need a 3.5 pound bird to yield 3 cups of shredded chicken.