Apple Brie Stuffed Chicken Breasts is a good recipe to try during the fall apple season.This recipe takes boneless chicken breast to a whole new level of flavor with a delicious apple stuffing made from crisp apples, fragrant sage, and creamy Brie cheese. It is drizzled with a savory apple cider sauce.
Apple Brie Stuffed Chicken Breasts are a delightful combination of sweet and savory flavors that the whole family will love. With its unique ingredients and succulent chicken, this easy dinner is good for a special occasion but is quick enough to be a simple dinner option any night of the week.
If you would like to try another cheesy skillet chicken recipe check out French Onion Chicken Thighs.
The Apple Brie Stuffed Chicken Breasts are being shown here with Curried Apple Rice. Some other good sides to try with them are Sweet Potato Latkes, Potato Fritters, Roasted Butternut Apple Salad, Gnocchi with Butternut Squash Bechamel Sauce  and Orzo Risotto.
SOME THINGS TO KNOW:FAQ'S
INGREDIENT TIPS:
SPECIAL EQUIPEMENT NEEDED:
Large oven-proof skillet or non-stick saute pan
Sharp Knife
Toothpicks or poultry pins
Vegetable peeler
Cutting board
SUBSTITUTIONS:
 If you don't have Brie cheese, try using Camembert , goat cheese or a mild blue cheese for a similarly creamy and rich flavor.
If fresh sage isn't available, you can substitute it with fresh thyme, rosemary, a hint of chive, or a combination of your favorite herbs.​
Substitute honey with maple syrup or agave nectar if desired.​
While Honeycrisp and Granny Smith apples are recommended for their crisp texture and balanced sweetness, you can experiment with other apple varieties depending on your taste preferences.
The olive oil can be substituted with vegetable oil, canola oil or sunflower oil.
HOW TO STORE LEFTOVER APPLE BRIE STUFFED CHICKEN BREASTS::
You can store the leftover chicken in the refrigerator for up to 3-4 days. Allow the stuffed chicken breasts to cool to room temperature after cooking. Place the leftover chicken in an airtight container or wrap them tightly in aluminum foil.
You can also store the chicken breast in the freezer for up to 2-3 months.Allow the stuffed chicken breasts to cool completely in the refrigerator.Wrap each chicken breast individually in plastic wrap or aluminum foil to prevent freezer burn. Place the wrapped chicken breasts in a heavy-duty freezer bag, removing as much air as possible before sealing.
Defrost the chicken overnight in the refrigerator.
HOW TO REHEAT SAVORY APPLE BRIE STUFFED CHICKEN:
To reheat the chicken in the oven. Preheat your oven to 350°F (175°C).Place the stuffed breast in an ovenproof baking dish and cover it with aluminum foil to prevent drying.Heat in the oven for about 20-25 minutes or until they are heated through.
To reheat the chicken in the microwave, place the chicken breasts into a microwave-safe dish. Cook using 1-2 minute intervals until they reach the desired temperature, flipping or stirring occasionally.
Cut a pocket in the side of the chicken breast. Add the apple sage mixture and top with brie slices.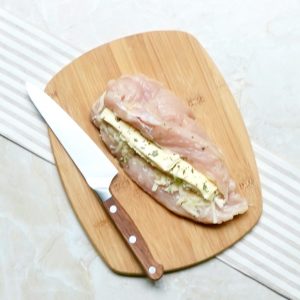 Add the oil and chicken breasts to the skillet and brown each side.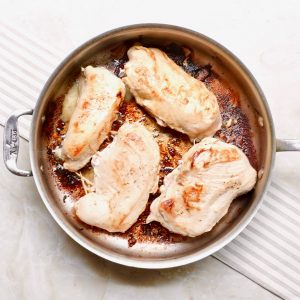 Remove the chicken to a plate and create the sauce with apple cider, chicken broth, honey and dijon mustard. Once the sauce thickens, return the chicken breasts to the pan for baking.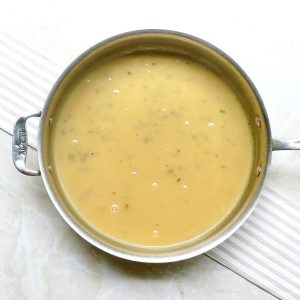 Apple Brie Stuffed Chicken Breasts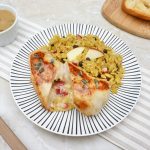 Print This
Ingredients
4 boneless, skinless chicken breasts

1 apple peeled, cored, and finely diced

8 slices of soft Brie cheese, thinly sliced

2 teaspoons chopped fresh sage leaves

2 tablespoons olive oil

Salt and black pepper to taste

1 cup chicken broth

1 cup apple cider

2 tablespoons honey

2 tablespoons Dijon mustard

1 teaspoon cornstarch

1 tablespoon cold water
Instructions
Preheat your oven to 375°F (190°C).
Use a sharp knife to create a pocket in each chicken breast by making a horizontal slit through the thick side. Be careful not to cut all the way through.
Combine the diced apple and chopped sage in a bowl. Season with a pinch of salt and black pepper.
Fill each chicken breast pocket with the apple and sage mixture, then layer 2 Brie cheese slices on top.  Use toothpicks or metal pins to hold the open pockets together.
Heat olive oil in an ovenproof skillet over medium-high heat.
Season the tops of the chicken breasts with a little bit more salt and black pepper.
Sear the chicken breasts for about 2-3 minutes on each side, until they are golden brown.
Remove the chicken breasts from the pan to a plate.
In the same skillet, combine the chicken broth, apple cider, honey, and Dijon mustard.
Stir to combine, scraping up any browned bits from the skillet.
Bring the mixture to a simmer  over medium low heat and cook for 2-3 minutes, or until it starts to thicken slightly.
Dissolve the cornstarch into the cold water. Pour the mixture into the skillet and whisk until the mixture thickens.
Return the seared chicken breasts to the skillet, nestling them into the pan sauce.
Transfer the skillet to the pre-heated oven and bake covered for approximately 15-20 minutes, or until the chicken is cooked through and the cheese is melted and bubbly. The minimum internal temperature of the chicken should be 165 degrees. Use a meat thermometer to check this.
Spoon the flavorful sauce over the stuffed chicken breast before serving.