Potato Fritters make a great side dish or vegetarian meal. With just a few simple ingredients you can make these veggie packed crispy potato fritters that have a 10 minute cooking time. This easy recipe combines shredded potatoes with shredded carrot, red onions and fresh parsley for extra flavor. Serve them with some sour cream and applesauce and watch them disappear. If you want to try to make some homemade applesauce, check out Cinnamon Cider Apple Sauce.
If you like Potato Fritters you might want to check out the easy recipe for Boxty. It is a great potato mixture that uses leftover mashed potatoes and fresh shredded potatoes with green onions to form the best potato pancakes.
If you are a fan of sweet potatoes, check out Sweet Potato Latkes.  You also might like Cheesy Cauliflower Fritters, Zucchini Corn Fritters and Squash Fritters.
SOME THINGS TO KNOW:
If you want to peel the potatoes ahead of time, place them into a large bowl of cold water. Peeled potatoes will oxidize quickly when they are peeled and exposed to the air because of their high starch content. Placing them into the water will stop the process so the will not turn brown or grey.
If you have a food processor with a grater blade, it would be the fastest way to grate the potatoes.If you have never grated potatoes before, check out How to Shred Potatoes.
Russet potatoes get the highest rating for the type of  potato to use in fritters. They are high in starch and produce a crispy fritter. The least recommended potatoes for fritters and latkes are red potatoes and Yukon Gold potatoes.
If you do not have a red onion, you could substitute yellow onion, Spanish onion or sweet onions.
If you want to be successful make sure that you wring all the moisture out of the grated potatoes. See the instructions below do this with a towel. If you have a salad spinner, you could place them in that and spin until all the moisture is gone. If you skip this step, the batter will have too much liquid and the fritters will spread. You are looking for a nice thick batter.
Make sure that you do not skip the flour in the recipe. It contains starch and  it is needed as a binder.
You can make the fritters ahead of time and store in the refrigerator on a baking sheet tightly covered for 2 days.
You can also freeze the fritters for 2-3 months. Check out how to store and reheat them in the instructions section.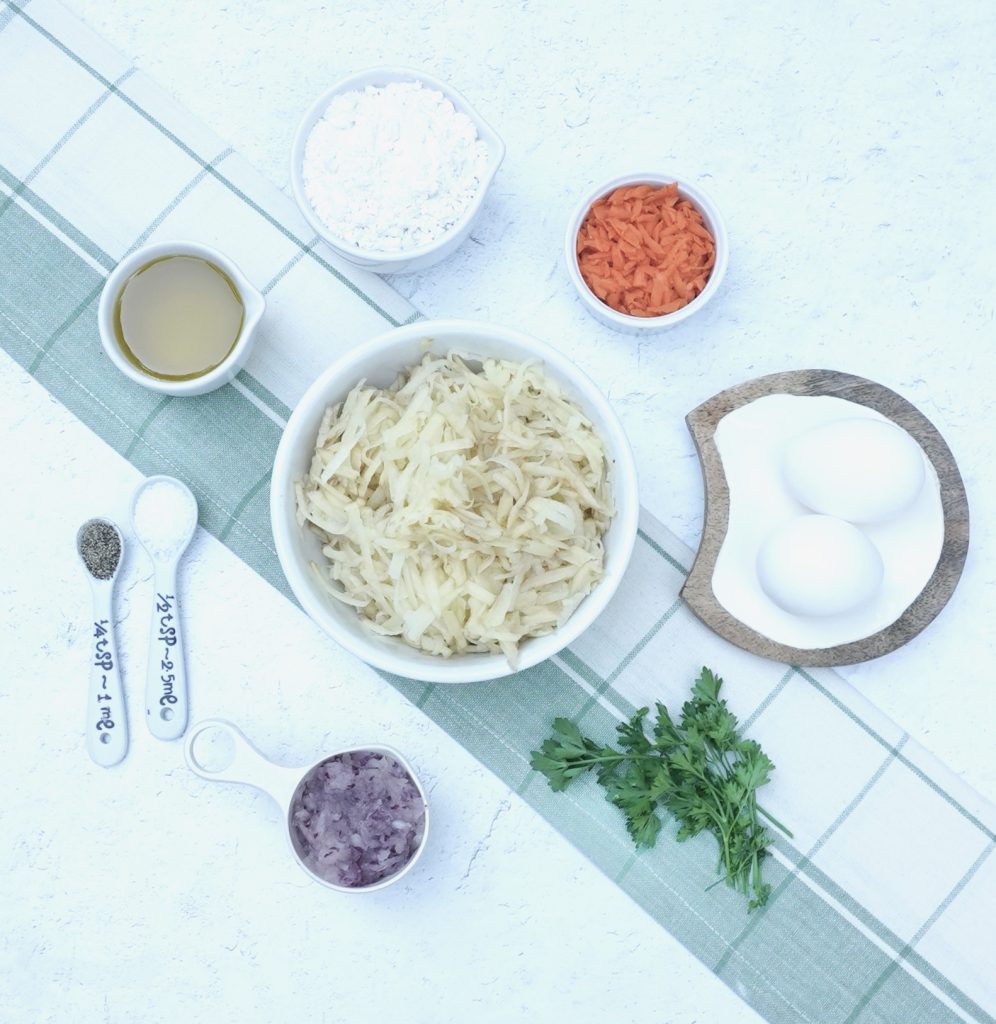 Potato Fritters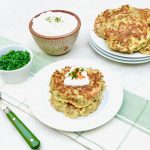 Print This
Ingredients
2 large eggs

⅓ cup of flour (all purpose flour)

2 pounds Russet potatoes, peeled and grated on a box cutter

1 large carrot, peeled and grated

½ cup red onion, chopped fine

1 tablespoon fresh parsley, chopped

½ teaspoon kosher salt

¼ teaspoon black pepper

¼ cup olive oil
Instructions
Beat the eggs in a large bowl.
Stir in the flour.
It is very important to squeeze all the moisture out of the grated potatoes. Place them inside a row of paper towels or a clean kitchen towel and squeeze them hard. You will see a lot of water released. Keep pressing down on them until all the moisture is gone. This is the most important step. The excess moisture must be released or you will end up with soggy fritters.
Add the potatoes to the bowl. Stir to combine them with the egg and flour mixture.
Add the carrots, red onion. parsley, salt and pepper. Combine well.
Heat a griddle or large skillet over medium  heat.
Lightly coat the griddle or large skillet with half of the olive oil. A cast iron skillet is a great option if you have one. If you are cooking the fritters in batches, use the remainder of the oil for the second batch.
Use 1⁄3  cup size measuring cup to scoop the potato mixture from the bowl. It should be level to the top of the cup.
Place the measuring cup over the griddle or frying pan into the hot oil and turn it upside down. to drop the mixture onto the surface of the pan. You will have a nice round. Gently pat it down a bit with a rubber spatula so you have a fritter that is about 3½ inches round.
Cook on the first side for about 5 minutes until they are golden brown with crispy edges.
Turn the fritters over and cook for an additional 5 minutes until they are cooked completely through and there is no resistance when inserting a knife into it.
If you are cooking the fritters in batches, place the cooked fritters onto a baking tray lined with parchment paper into a 200 degree oven to keep them warm until you have completed cooking them.
Serve with sour cream and apple sauce.
If you would like to make these ahead of time, you can keep them in the refrigerator for a day or two. They can also be frozen for 2-3  months.
To freeze the fritters, place them in a single layer on a baking sheet and place them into the freezer. Once they are frozen solid, place them into an airtight freezer container and return them to the freezer.
To reheat the fritters from the refrigerator or the freezer, preheat the oven to 350 degrees.
Place the latkes on a baking rack that has been placed on a baking sheet.
Reheat the latkes from the refrigerator for about 10 minutes until they are crisp again. Add another 5 minutes cooking time to reheat them if they were frozen.
Make sure to check in on them while they are reheating. Oven temperatures vary and you want them to be heated through but not overly browned.
Another way to reheat the fritters to keep them crispy is in an air fryer. This is faster than heating them in the oven and they will be heated in about 5 minutes at 350 degrees.