When the crisp, cool days of fall arrive, there's nothing quite like the comforting aroma of homemade apple sauce wafting through your kitchen. This Cinnamon Cider Apple Sauce recipe is a twist on the classic, combining the sweetness of fresh apples with the warmth of cinnamon and the tangy touch of apple cider.
Cinnamon Cider Apple Sauce is everything we love about apple pie in a simple to make sauce. It makes a great side dish for fall meals or could be enjoyed simply on it's own. It has a small amount of sugar and lots of flavor.
Homemade apple sauce is very easy to make with just a few simple main ingredients and small amount of time. Once you make it your own applesauce you will never buy store-bought applesauce again!
This easy homemade applesauce recipe would be good served with Sweet Potato Latkes and pork chops. If you want to try some other apple cinnamon recipes check out Apple Cinnamon Quinoa, Apple Cinnamon Olive Oil Cake, Apple Cinnamon Overnight French Toast, and Apple Cinnamon Yogurt Cake.
If you like a homemade apple pie, check out Apple Crumble Pie. If you are a fan of caramel sauce check out Caramel Apple Pancakes.
SOME THINGS TO KNOW: FAQ'S
​INGREDIENT TIPS:
Granny Smith apples, Pink Lady apples, Fuji apples,Golden Delicious apples or a mix of apples would be good fresh apple choices for this recipe. Read The 10 Best Apples for Homemade Apple Sauce for some other suggestions so you can make the best choice of the type of apple to use.
SPECIAL EQUIPMENT NEEDED:
Large pot
Hand held electric mixer,  immersion blender, blender or food processor.
Vegetable peeler
SUBSTITUTIONS:
If you don't have apple cider on hand, you can substitute it with water with a teaspoon of apple cider vinegar. However, using cider will impart a richer apple flavor. You could also substitute the cider with apple juice.
Feel free to swap granulated white sugar with honey, maple syrup, or a sugar substitute if you're looking for a healthier alternative.
​Substitute brown sugar with coconut sugar or a sugar substitute if desired.
You can experiment with other warm spices like nutmeg or allspice instead of the cinnamon for a different flavor profile.
​Freshly squeezed orange juice can replace lemon juice for a citrusy twist.
You can cook the applesauce using cinnamon sticks if you do not have ground cinnamon. One stick will equal 1 teaspoon of ground cinnamon.
​HOW TO STORE CINNAMON CIDER APPLE SAUCE:
Homemade apple sauce can be safely stored in the refrigerator for up to a week. Allow the Cinnamon Cider Apple Sauce to cool to room temperature before storing it in the refrigerator. Transfer the apple sauce to an airtight container. Glass mason jars or plastic containers with tight-fitting lids work well. You can also use resealable plastic bags if preferred.
Freezing is an excellent way to store Cinnamon Cider Apple Sauce for an extended period up to 6 months. Allow the apple sauce to cool to room temperature after cooking and before freezing. Place the applesauce into an airtight freezer container or freezer bag Leave some space at the top as well to accommodate expansion during freezing.
Thaw the applesauce in the refrigerator overnight for larger containers or in a microwave-safe dish if you need it quickly.
Once thawed, you can reheat the applesauce on the stovetop or in the microwave for serving.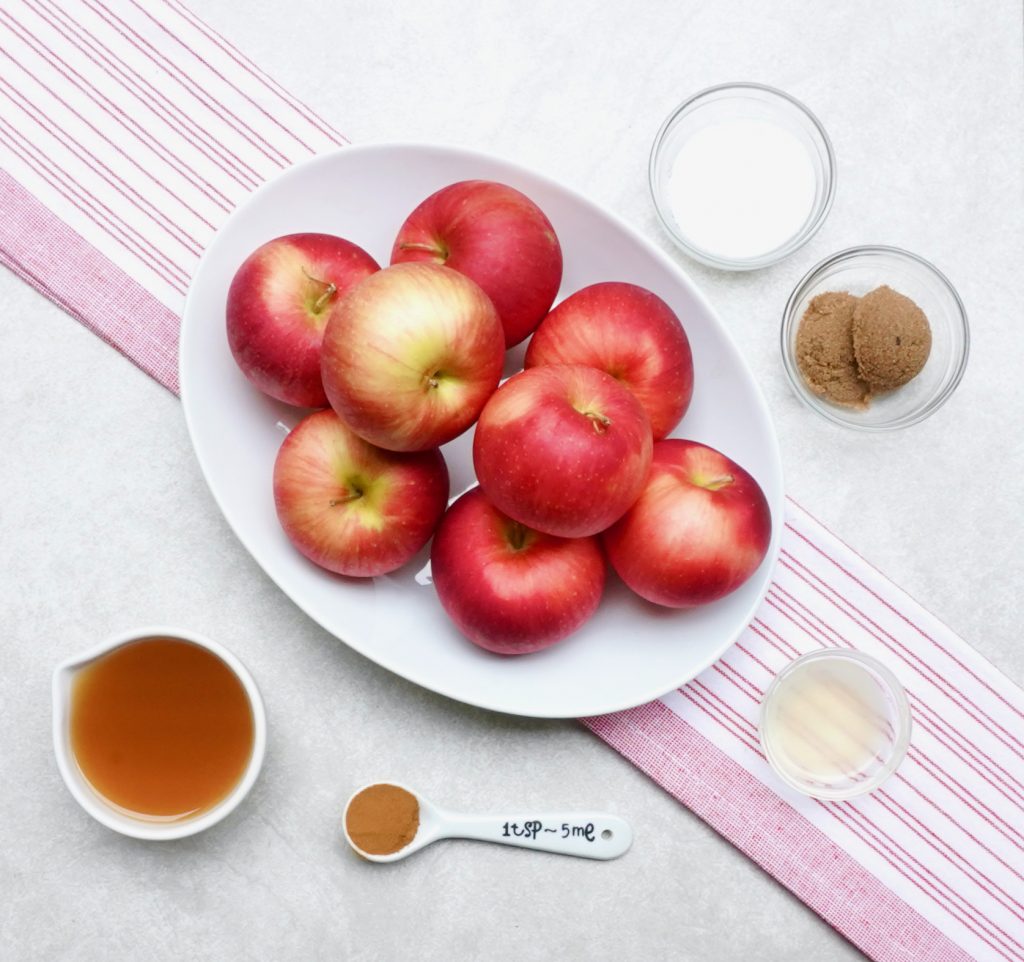 Cinnamon Cider Apple Sauce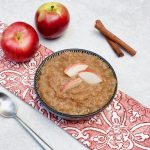 Print This
Ingredients
8 large apples, peeled, cored and cut into 1 inch cubes

½ apple cider (can substitute water)

2 tablespoons granulated sugar

2 tablespoons brown sugar

1 teaspoon cinnamon

1 tablespoon lemon juice
Instructions
Place a large pot on the stove top.
Place apples, cider, granulated sugar, brown sugar, cinnamon and lemon juice into the pan. Stir to combine everything well.
Turn the heat to the medium-high heat setting and bring the mixture to a boil. Once it reaches that point, lower the setting to medium low and let the applesauce simmer, uncovered for 15-20 minutes, stirring occasionally until the apples are soft.
If you have an immersion blender, hand held electric beater or potato masher you can smooth out the apple sauce in the pan while it is still warm.
You can also let the applesauce cool and place it into a blender, food processor or food mill and process until smooth.
This could also be done by hand using a whisk or wooden spoon.
Chunky applesauce is delicious as well if you want to skip this last step and leave it as is.
If you want to freeze some for later, place the cooled applesauce into a freezer container and freeze for up to 6 months.