Overnight Apple Cinnamon French Toast Bake is a slightly adapted version of my friend Donna's recipe. I was staying at her house this summer and she served it for breakfast. As we ate this delicious dish I couldn't help thinking that this would be a perfect breakfast to serve at Thanksgiving.
Over the years I've become pretty good at planning out my Thanksgiving dinner, desserts and appetizers. However, when it come to breakfast I always fall short. If you have a house full of people you need to feed them! Having this in your back pocket is the perfect solution. 
The best part of the Overnight Apple Cinnamon French Toast is that you assemble it the night before! Into the fridge it goes and you simply bake it in the morning. Your guests will have a warm, delicious breakfast and you will be as calm as can be!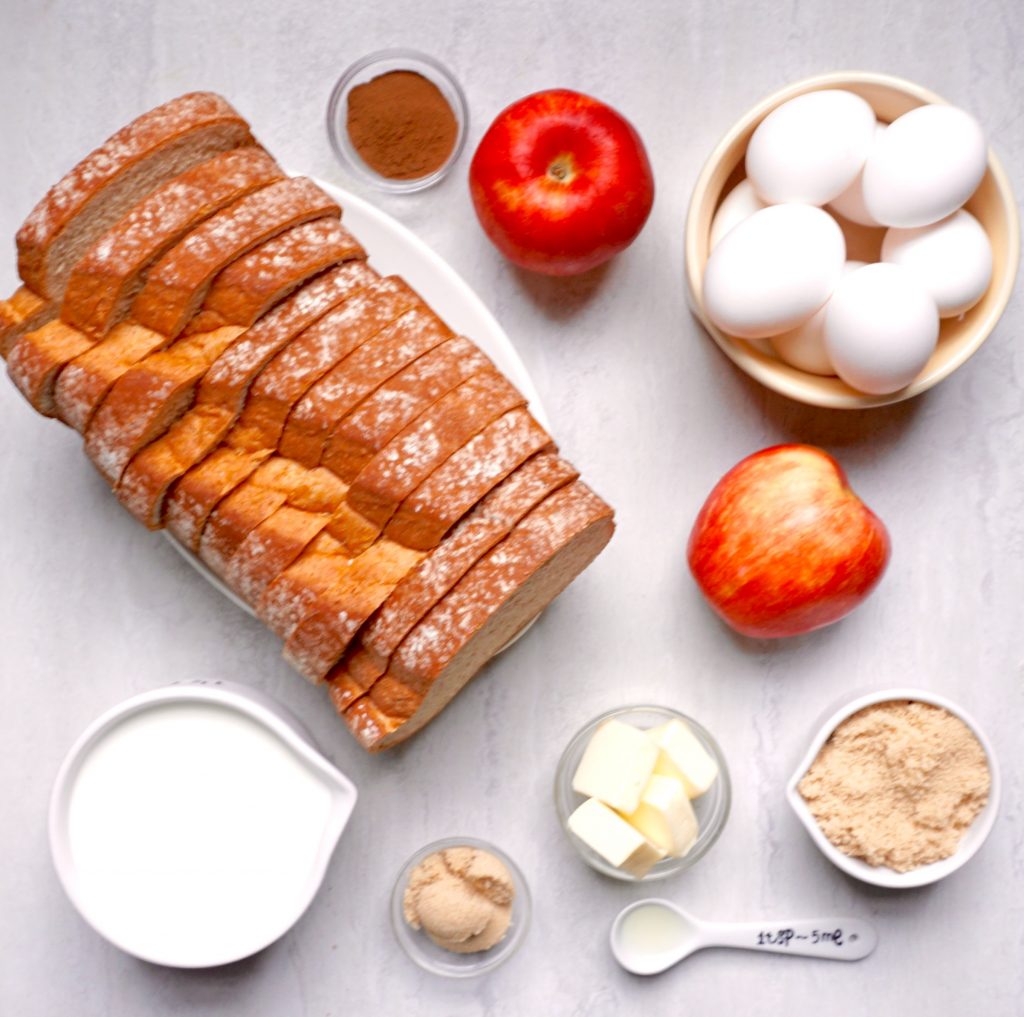 Overnight Apple Cinnamon French Toast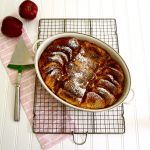 Print This
Ingredients
4 tablespoons butter

½ cup brown sugar

½ teaspoon cinnamon

12 slices of thick cut bread, one inch , cut into thirds.

8 large eggs

1 ½ cups milk

2 cups apples, peeled and diced into 1 inch cubes

1 tablespoon lemon juice

4 tablespoons brown sugar

2 teaspoons cinnamon
Instructions
In a small saucepan, melt the butter, brown sugar and cinnamon. Remove from the heat.
Pour the lemon juice into a small bowl. As you dice the apples into cubes. Add them to the lemon juice and stir to prevent browning.
In a large bowl, beat the eggs. Add the milk, and combine well.
In a small bowl, combine the 4 teaspoons of brown sugar with the 2 teaspoons of cinnamon.
Pour the butter mixture into the bottom of a 9 x 13 baking pan and spread it evenly.
Layer the pan with ½ of the bread slices. Sprinkle the apple cubes and  one half of the brown sugar and cinnamon mixture over the layer of bread. Add the second layer of bread slices to the pan and sprinkle with the remaining sugar and cinnamon mixture.
Pour the egg and milk mixture over the bread, pressing the bread down a bit to make sure that it all becomes saturated with the milk. Cover and refrigerate overnight.
Pre heat your oven to 350 degrees when you are ready to bake. Bake for 35-40 minutes until it is nicely browned.
Serve with maple syrup or honey.