Imagine waking up to the irresistible aroma of cinnamon and apples wafting through your home. Overnight Apple Cinnamon French Toast makes this dream a reality. The best part about this cozy breakfast is that you prepare it the night before, making your morning routine smooth and delicious. This is an easy recipe that's a perfect way to serve breakfast for busy mornings, large family brunches, or even holiday gatherings like Christmas morning.
Fresh apples and bread slices combine with brown sugar and cinnamon to create a flavorful breakfast that you assemble the night before.Into the fridge it goes and you simply bake it the next morning. Overnight Apple Cinnamon French Toast  offers a flavorful and convenient breakfast option that will make your mornings feel like a special occasion.
If you are a fan of an easy overnight french toast bake you might like Blueberry French Toast Bake and Sausage Strata which is a hearty breakfast casserole. Baked oatmeal is also an easy and comforting breakfast that you assemble the night before and bake in the morning. If you would like to try it check out Blueberry Baked Oatmeal and Strawberry Banana Baked Oatmeal.
SOME THINGS TO KNOW:FAQ'S
INGREDIENT TIPS:
You have options as to the kind of bread to use and stale bread is acceptable! This recipe is a great way to use that old bread. Some good choices are challah bread, brioche bread, Italian bread, chewy French bread . They would all work well in the baked french toast recipe. Just be sure to cut the bread into thick slices.
Granny Smith apples and Gala apples would work well in this recipe. Read The 6 Best Apples for Baking to find more sweet apples that you can use.
SPECIAL EQUIPMENT NEEDED:
9″ x 13″ baking pan or casserole dish
Small saucepan
Large bowl or mixing bowl
Small bowl
SUBSTITUTIONS:
 Light brown sugar, granulated sugar or coconut sugar can be used as an alternative to the brown sugar.
For a dairy-free option, you can use coconut oil or vegan butter in place of the butter.
 Almond, oat, or soy milk make good non-dairy alternatives to the milk.
​Try using an egg substitute or ¼ cup unsweetened applesauce for each egg.
Gluten-free bread can be used if you have gluten sensitivities.
HOW TO STORE LEFTOVER OVERNIGHT APPLE CINNAMON FRENCH TOAST :
You can store the leftovers in the refrigerator for 3-4 days.Once the French Toast has cooled down to room temperature, cover the baking dish tightly with plastic wrap or aluminum foil.You can also place it into an airtight container.
You can store the french toast in the freezer for up to 2 months.Allow the French Toast to cool completely.Cover the baking dish tightly with a layer of plastic wrap, followed by a layer of aluminum foil. This double layer helps prevent freezer burn.
Defrost the french toast overnight in the refrigerator.
HOW TO REHEAT OVERNIGHT APPLE CINNAMON FRENCH TOAST :
You can reheat the french toast in the oven. Preheat the oven to 350°F (175°C).Remove the plastic wrap or aluminum foil from the baking dish.Cover with a new sheet of aluminum foil to prevent drying out.Bake for 20-25 minutes, or until heated through.
You can also reheat it in the microwave oven. Cut the quantity you want to reheat into smaller, individual portions for even reheating.Place the portions on a microwave-safe plate or dish, evenly spaced apart.Lightly cover with a microwave-safe lid or paper towel. Reheat on high for 2 to 4 minutes, checking every minute to ensure even heating.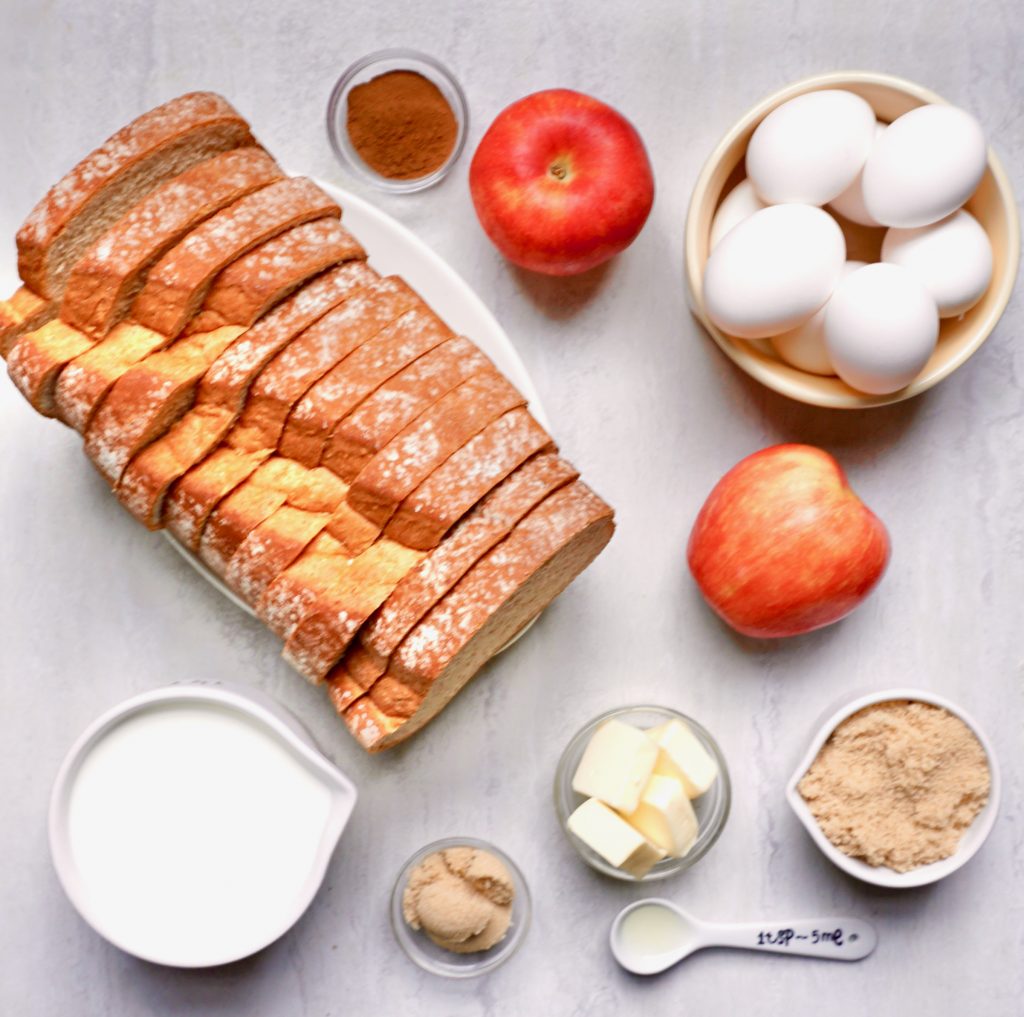 Overnight Apple Cinnamon French Toast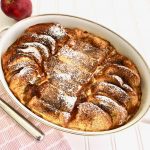 Print This
Ingredients
4 tablespoons butter

½ cup brown sugar

½ teaspoon cinnamon

1 tablespoon lemon juice

2 cups apples, peeled and diced into 1 inch cubes

8 large eggs

1 ½ cups milk

4 tablespoons brown sugar

2 teaspoons cinnamon

12 slices of thick cut bread, one inch thick, each slice cut into thirds.
Instructions
In a small saucepan, melt the butter, brown sugar and cinnamon. Remove from the heat.
Pour the lemon juice into a small bowl. As you dice the apples into cubes. Add them to the lemon juice and stir to prevent browning.
In a large bowl, beat the eggs. Add the milk, and combine well.
In a small bowl, combine the 4 teaspoons of brown sugar with the 2 teaspoons of cinnamon.
Pour the butter mixture into the bottom of a 9 x 13 baking pan and spread it evenly.
Layer the pan with ½ of the bread slices. Sprinkle the apple cubes and  one half of the brown sugar and cinnamon mixture over the layer of bread. Add the second layer of bread slices to the pan and sprinkle with the remaining sugar and cinnamon mixture.
Pour the egg and milk mixture over the bread, pressing the bread down a bit to make sure that it all becomes saturated with the milk. Cover with plastic wrap or foil and refrigerate overnight.
The next morning:
Pre heat your oven to 350 degrees when you are ready to bake the french toast.
Remove the covering from the baking pan.
Bake for 35-40 minutes until it is nicely browned.
Serve with maple syrup or honey.