Blueberry Baked Oatmeal is an easy to make healthy blueberry breakfast that you put together the night before. It takes just a few minutes to assemble. You let it sit in the refrigerator overnight and bake it in the morning.
This warm breakfast casserole is slightly sweetened with honey but the juicy blueberries are the stars here! Fresh blueberries become very juicy while the oatmeal is baking and the result is delicious. If you are an oatmeal lover, you will enjoy this.
This would be healthy breakfast option that the whole family will love. You can meal prep this delicious breakfast recipe on the weekend and serve it throughout the week. It would make a perfect breakfast for a busy mornings!
Blueberry Baked Oatmeal is a great way to serve breakfast to overnight guests. Check out these other overnight breakfast casserole recipes. Overnight Apple Cinnamon French Toast, Sausage Strata,  Blueberry French Toast Bake, and Strawberry Banana Baked Oatmeal are some different options.
Check out 20 Easy Recipes to Make with Fresh Summer Blueberries for some other easy blueberry recipes.
SOME THINGS TO KNOW:FAQ'S
INGREDIENT TIPS:
SPECIAL EQUIPMENT NEEDED:
9″ x 9″ baking pan
Large mixing bowl
Cooking spray
SUBSTITUTIONS:
If you do not have honey, you can substitute maple syrup or brown sugar.
If you do not have old-fashioned oats, you can use quick oats. Just be sure not to use instant oats or steel cut oats.
If you do not have almond milk, you can use oat milk, coconut milk or whole milk.
If fresh blueberries are not available at your grocery store, frozen blueberries can be used. There is no need to defrost them before you add them to the recipe. You can also swap out the blueberries for your favorite fresh fruit or berries.
If you do not have coconut oil, canola oil ,vegetable oil or melted butter can be used.
HOW TO STORE LEFTOVER BLUEBERRY BAKED OATMEAL:
You can store the oat mixture in the baking pan covered with plastic wrap or in an airtight container for up to 5 days in the refrigerator. Make sure that you cool the oatmeal to room temperature before covering it with plastic wrap.
You can freeze the oatmeal for up to 3 months in an airtight freezer bag or container.
HOW TO REHEAT BLUEBERRY BAKED OATMEAL:
You can reheat individual portions of the leftover oatmeal covered in the microwave on a microwave-safe plate for 1-2 minutes until it is heated through.
You can reheat multiple portions right in the baking pan. Place the pan covered with foil into a preheated 350 degree oven for 25-30 minutes until it is heated through.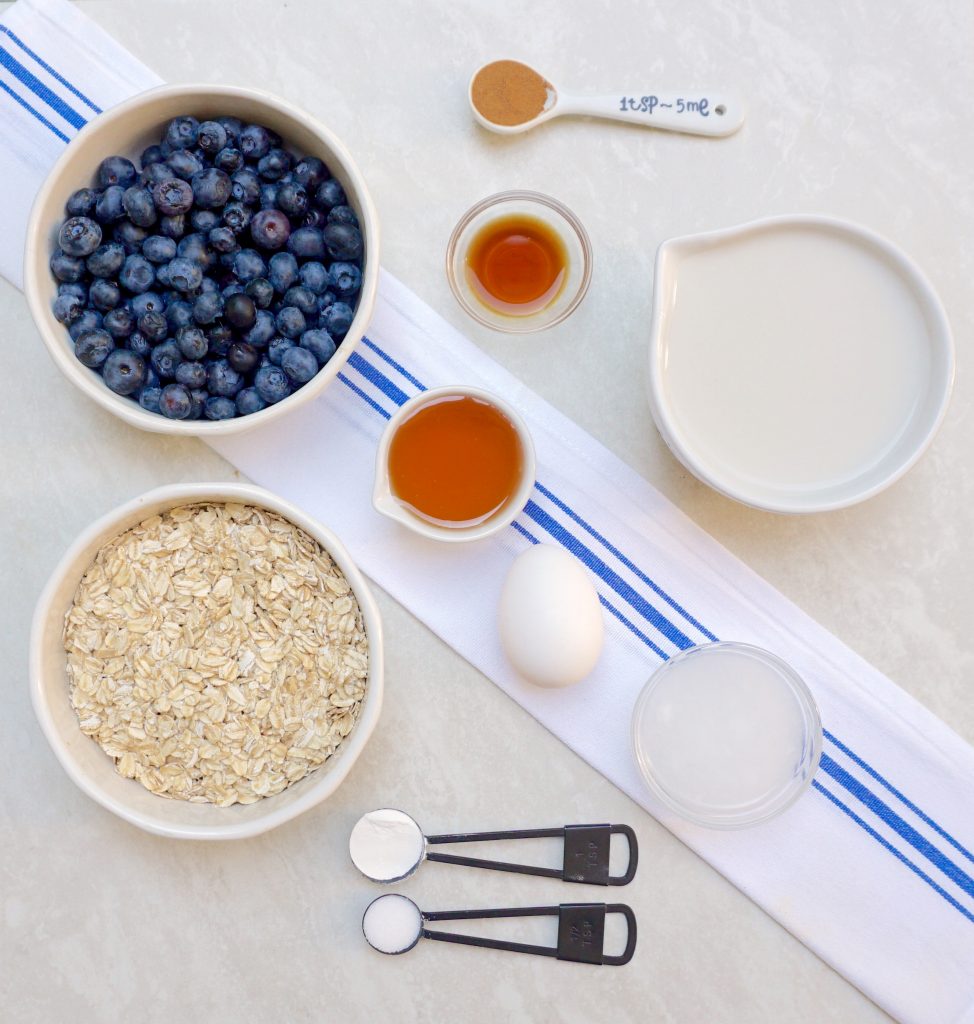 Blueberry Baked Oatmeal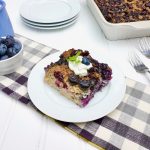 Print This
Ingredients
2 cups old fashioned oats

3 cups almond milk

1 large egg, beaten

¼ cup honey

3 tablespoons coconut oil

1 teaspoon baking powder

¼ teaspoon salt

1 teaspoon cinnamon

2 teaspoons vanilla extract

2 cups fresh blueberries
Instructions
THE NIGHT BEFORE:
Place the oats into a large bowl. Add the almond milk, egg, honey, coconut oil, baking powder, salt, cinnamon and vanilla extract. Stir to combine the wet ingredients and dry ingredients well.
Stir in the blueberries.
Spray a 9×9 inch baking pan with cooking spray. Pour the oatmeal into the pan. Cover the pan with plastic wrap or foil and place it into the refrigerator overnight for the best results.
THE NEXT MORNING:
Preheat the oven to 350 degrees.
Remove the oatmeal from the refrigerator and remove the cover.
Bake for 50- 55 minutes until it is completely set and golden brown. Ovens vary in temperature. If your oven runs hot, the baking time may be less so check in on this often.
Serve warm with a drizzle of maple syrup. Enjoy!