Rice Krispie Treats with Chocolate Chips and Ganache are an interesting twist on a classic favorite. I mean who doesn't like a Rice Krispie treat? We probably all grew up eating them and know how to make them. They are sweet and crunchy with an undertone of butter. You can color them, shape them, and put sprinkles on them. The question is, can you make them into something you would serve as an adult? You bet!
The addition of chocolate really enhances the basic Rice Krispie Treat recipe. Mini chocolate chips are stirred into the treats and then the are  covered in chocolate ganache. This alone would have been enough but then flaky sea salt is sprinkled over the ganache. This really adds another level of flavor and puts them over the top.
Sweet, salty, buttery and crunchy. Rice Krispie Treats for grown-ups!
If you are a fan of chocolate chip treats, check out Chocolate Chip Cookies, Chocolate Chip Banana Bread,Banana Chocolate Chip Muffins, Chunky Chocolate Chip Cookies, and Banana Chocolate Chip Sheet Cake.
If you have extra mini chocolate chips on hand, check out Mini Chip Layer Cake.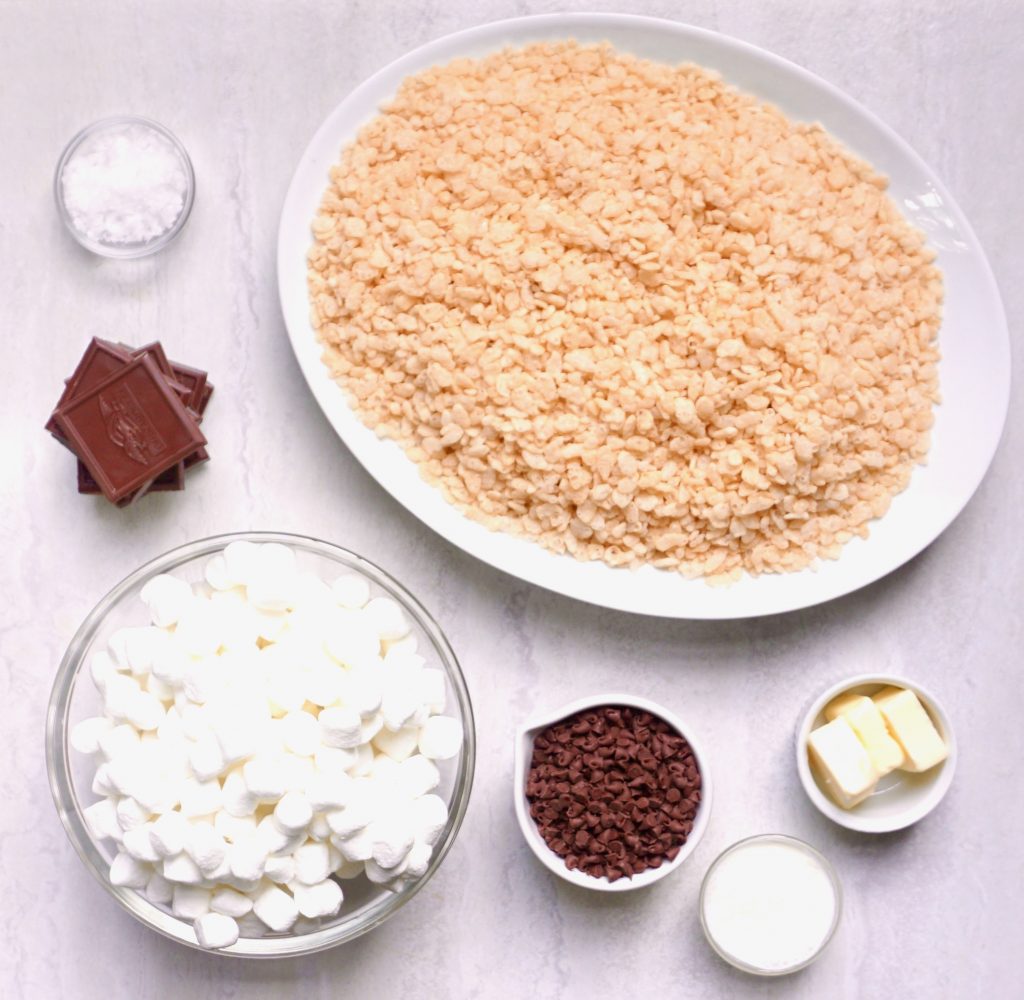 Rice Krispie Treats with Chocolate Chips and Ganache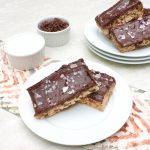 Print This
Ingredients
BARS:

3 tablespoons butter

1 - 10 ounce package marshmallows or mini marshmallows

6 cups Rice Krispies cereal

I cup mini chocolate chips, frozen

1 tablespoon flaky sea salt

GANACHE:

8 ounces semi sweet chocolate squares, finely chopped

½ cup heavy cream

TOPPING:

1 tablespoon flaky sea salt
Instructions
BARS:
Place the mini chocolate chips into the freezer in a single layer on a pie plate at least one hour before you make the bars. This will help to keep them intact when you stir them into the Rice Krispie mixture.
Melt the butter over low heat in a large saucepan. Add the marshmallows and stir until they are completely melted. Stir in the Rice Krispies.
Let this mixture cool for 2-3  minutes. Checking often to make sure you can still stir it. Add in the mini chocolate chips that you have frozen. This process is important as the chips will melt if added to the mixture while still hot.
Spray a 9 x 13 inch pan with cooking spray. Press the mixture into the pan. Place wax paper over the top of the mixture and roll a small rolling pin or glass back and forth over the wax paper so you have an evenly flat surface.
GANACHE:
Place the finely chopped chocolate into a heatproof bowl.
Pour the cream into a small saucepan  over low heat. Watch it carefully and when you see it start to bubble around the edges, remove it from the heat. This is important because if it is too hot it will burn the chocolate and it will become grainy.
Pour the cream over the chocolate and stir with a spatula until the chocolate has melted and you have a smooth ganache.
Using a rubber spatula spread the ganache evenly over the top of the bar mixture in the pan while it is still hot and easy to spread.
Sprinkle with the flaky sea salt.
Let the bars sit for an hour or until the ganache is fully  set. Cut into bars.