Mini Chip Layer Cake is everything that you love about a chocolate cookie in a cake form. It is basically all the same ingredients with the exception of extra eggs and milk. Those simple changes create a cake that is moist, dense and flavorful.
Mocha Buttercream is a good addition to the cake. It is light and fluffy and finishes the cake nicely.
Chocolate Chips are a great addition to so many things! Check out Banana Chocolate Chip Muffins, Rice Krispie Treats with Chocolate Chips and Ganache, Banana Chocolate Chip Sheet Cake, Chunky Chocolate Chip Cookies, Chocolate Chip Banana Bread, and Chocolate Chip Cookies for some other ways to use them.
SOME THINGS TO KNOW:
This cake can be baked in two 9 inch pans. the baking time will be about 22-25 minutes.
This can be baked in a 10″ Bundt pan. The baking time will be 65-70 minutes.
You must always grease and flour any size baking pan that you use.
If you do not have Espresso Powder you can substitute instant coffee granules.
If you do not have mini chips simply use chocolate chips. Milk chocolate or semi- sweet will both work well.
This cake will keep for 2-3 days. Make sure it is covered so it does not dry out.
You can freeze this cake frosted or unfrosted for 2-3 months. If you are freezing it with the frosting, place it on a baking sheet uncovered into the freezer. Once it is frozen, make sure that you wrap it tightly with freezer wrap.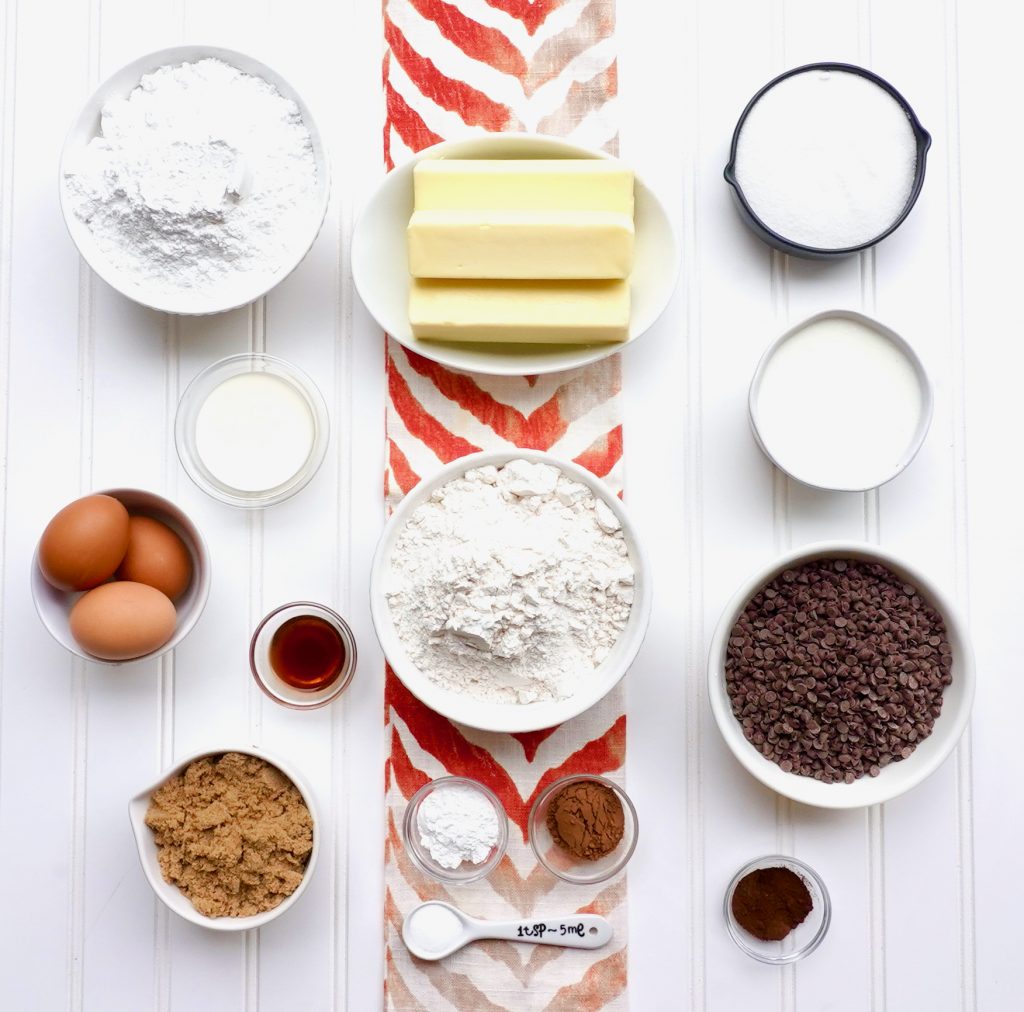 Mini Chip Layer Cake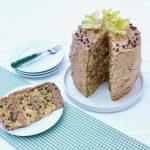 Print This
Ingredients
CAKE:

I cup butter, at room temperature

1 cup granulated sugar

1 cup dark brown sugar

2 teaspoons vanilla extract

3 large eggs

1 cup whole milk

2 ½ cups all purpose flour

2 teaspoons baking powder

1 teaspoon iodized salt

2 cups mini chocolate chips

MOCHA BUTTERCREAM:

1 cup butter, at room temperature

4 cups powdered sugar

1 tablespoon cocoa powder

1 teaspoon espresso powder

1 teaspoon vanilla extract

5-6 tablespoons heavy cream
Instructions
CAKE:
Preheat the oven to 350 degrees.
Grease and flour 3- 6 inch cake pans.
Use an electric mixer to beat the butter until it is fluffy.
Add the granulated sugar and beat well to combine.
Add the brown sugar and beat well to combine.
Add the vanilla and mix in well.
Add the eggs, one at a time, mixing well after each addition.
Add the milk and combine well.
Add the flour, baking powder and salt. Mix well.
Add the chocolate chips and mix on low speed until combined.
Divide the batter evenly between the 3 cake pans. It will be just over 2 cups of the batter for each pan.
Bake the cakes on a center rack for 30-35 minutes until completely set.
Let the cake cool in the pan for 5 minutes then remove them to a wire rack to cool completely.
MOCHA BUTTERCREAM:
Place the butter into a large bowl and beat with an electric mixer until fluffy.
Add the powdered sugar, cocoa powder and espresso powder. Combine well.
Add the vanilla extract and 4 tablespoons of the cream. Mix well.
The buttercream should be light and fluffy. Add more cream, one tablespoon at a time until this is achieved.
ASSEMBLY:
Place one of the cakes onto a serving plate.
Cover the top of the cake with a layer of the buttercream ½ inch thick.
Place another cake on top. Frost the top of the cake with a layer of buttercream ½ thick.
Add the third cake on top.
Use the remainder of the buttercream to even frost the sides and top of the cake.