Hummus is one of those foods that is a staple in my diet. On my weekly run to the grocery store I always throw a tub of it into my cart because it makes a great snack or dip. When I discovered that making hummus yourself is not only  easy but also more flavorful than pre-made, I was pretty excited! My favorite type of hummus is Red Pepper Hummus.
To make this version of hummus you simply add roasted red bell peppers to the basic hummus recipe of chickpeas, tahini, olive oil and lemon juice. Hummus is so easy to make! Throw a few ingredients into the food processor or blender and give it a whirl! When you make it at home you can experiment with adding your own favorite spices as well.
When I first set out to make hummus I read a lot of different recipes and posts about it. There are varying opinions as to whether you need to peel the chickpeas or not. The skins of the chickpeas pop off easily when you pinch them with your fingers, but it will take you about twenty minutes to peel the chickpeas from two cans. Removing the skins from the chickpeas gives you a silky smooth hummus. If you leave the skins on you will have some texture in the finished hummus. I personally take the time to remove the skins, but to each their own!
Red Pepper Hummus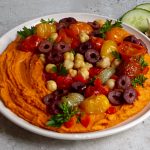 Print This
Ingredients
2 - 15 ounce cans chickpeas, drained and washed. Optional, peeled. Reserve 2 tablespoons for garnish

1/4 cup tahini

1 cup roasted red peppers, jarred or fresh

2 tablespoons lemon juice

2 garlic cloves, chopped

2 tablespoons olive oil

1/2 teaspoon black pepper

1/2 teaspoon kosher salt

1/2 teaspoon cumin

1/2 teaspoon paprika

1/8 teaspoon cayenne pepper

OPTIONAL GARNISH:

2 tablespoons chickpeas

1 cup cherry tomatoes, roasted

1/4 cup roasted red pepper, diced

1/2 cup kalamata olives, sliced

virgin olive oil for drizzling
Instructions
Add the chickpeas, red peppers and garlic cloves to a food processor or blender and pulse several times to begin to break them down. Add the tahini, olive oil, lemon juice, cayenne pepper, cumin, paprika, black pepper and salt. Process until the mixture is smooth, about one minute. Add an additional tablespoon of olive oil if you want a thinner mixture.
Garnish if desired.
To roast the cherry tomatoes, preheat your oven to 400 degrees. Place the tomatoes on a cookie sheet. Add 1 tablespoon of olive oil and a pinch of salt and pepper. Stir to combine. Roast for 10 minutes.
Serve with pita bread triangles, cucumber slices, or crackers.